Outdoor Kitchen Island Installation In Bryan, Archbold, Napoleon, And More Of OH And IN
Spruce up your yard with our premium outdoor kitchen island installation services.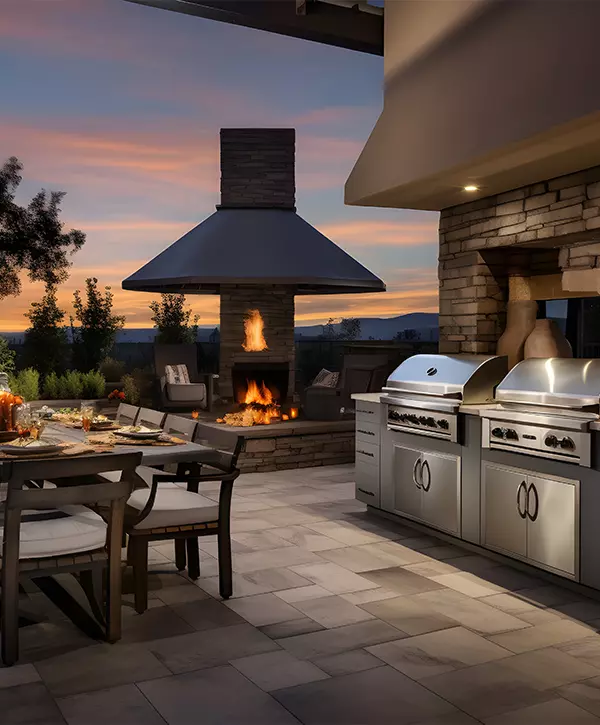 If you're looking to elevate your outdoor living experience and create a functional, beautiful space, an outdoor kitchen with a well-designed island is the perfect addition.
At Farrell's Lawn & Garden Center, we're passionate about turning your backyard dreams into reality. This guide will walk you through everything you need to know about outdoor kitchen island installation, ensuring you're well-informed before trusting us with your outdoor oasis.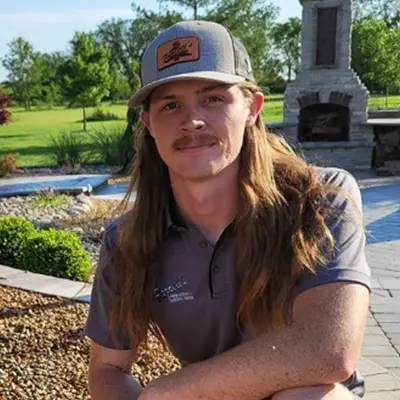 Clayton Farrell – Owner of Farrell's Lawn & Garden
With a wealth of experience and a passion for creating breathtaking outdoor spaces, Clayton is dedicated to implementing efficient hardscaping solutions that look amazing on your property. As the proud owner of the well-known Farrell's Lawn And Garden Center, Clayton works to build beautiful outdoor spaces you love to spend time in.
Unlock the Farrell's promise, which covers:
Benefits of Our Professional Kitchen Island Installation Services
With our skilled team and commitment to excellence, you can trust us to transform your outdoor kitchen dreams into reality. In this section, we'll explore the top four benefits of choosing our expert services for your kitchen island project. Discover why partnering with professionals ensures a seamless and satisfying outdoor kitchen installation experience.
Tap into our team's wealth of knowledge and years of experience in crafting outstanding outdoor kitchens. Our skilled professionals have honed their craft through various projects, guaranteeing the highest quality results for your kitchen island.
Customized Design and Personalization
Embrace a kitchen island that reflects your unique style and preferences. Our experts will work closely with you to tailor the design, materials, and features to perfectly suit your outdoor space and lifestyle.
Don't let DIY projects become a hassle. With our efficient and skilled team, we ensure your kitchen island is installed promptly and economically, saving you time and unnecessary expenses.
Rest easy knowing your outdoor kitchen island is in safe hands. Our professionals adhere to all safety protocols and building codes, ensuring a secure and compliant installation for worry-free enjoyment.
Contact us today to start building your outdoor kitchen to finally have friends and family over and cook delicious food while breathing in the fresh air.
Hear from Delighted Homeowners
We are thrilled to share some heartwarming testimonials from those whose lives we've touched through our outdoor kitchen island installations. Their stories highlight the joy, satisfaction, and cherished memories that our expert services have brought to their homes.
Clayton and Kevin were great. They went above and beyond. We are very pleased with the unique design and ultimate appearance. They checked in with us often and remained attentive to our needs. Would use them again.
The interaction's that I have had with the owner of Farrell's L&G have always been courteous and professional. I would highly recommend them for you needs!
What to Include in Your Outdoor Kitchen Island Installation
Creating your dream outdoor kitchen starts with a well-designed and functional kitchen island. This essential element acts as the heart of your outdoor cooking and entertaining space.
Grill Islands and BBQ Grills
The centerpiece of your outdoor kitchen island, the BBQ grill islands, and outdoor grills provide the ultimate cooking experience. Whether you're a grill master or just love cooking outdoors, our high-quality gas grills offer convenience and plenty of fun.
Sink and Refrigerator Stations
To enhance functionality and accessibility, we can integrate sinks and refrigerators into your grill island. This means you can prepare and store food with ease, making hosting gatherings a stress-free experience.
No outdoor kitchen is complete without storage. We design your kitchen island with plenty of storage options to keep cooking utensils, grilling accessories, and more, all within reach.
Your outdoor kitchen island deserves countertops that can withstand various elements, from extreme weather to cooking accidents. We offer a range of durable countertop options to suit your tastes and style.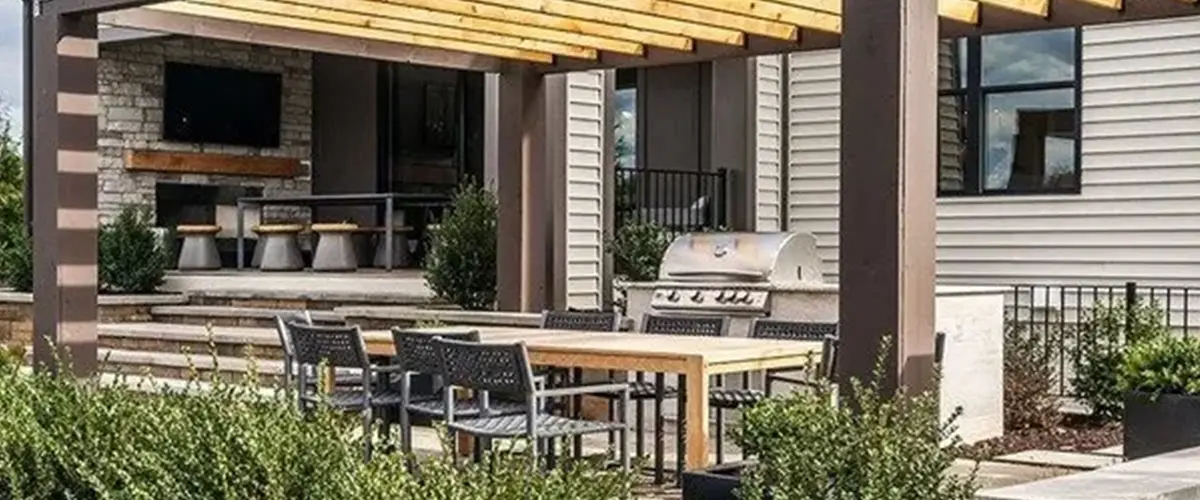 At Farrell's Lawn & Garden Center, we ensure that every outdoor kitchen island installation is a seamless and enjoyable process.
Our Outdoor Kitchen Island Installation Process
At Farrell's Lawn & Garden Center, we take pride in providing a seamless and hassle-free outdoor kitchen island installation process. Here's a comprehensive six-step guide that outlines what you can expect when you hire us to bring your outdoor kitchen dreams to life:
Our team will meet with you to discuss your vision, needs, and preferences for the outdoor space. We'll carefully assess your outdoor area, taking into account existing features and the overall layout. During this stage, we'll also explore design options, materials, and finishes to create a kitchen island that complements your home and aligns with your lifestyle.
Design and Material Selection
With your input and our expertise, we'll craft a personalized design plan for your outdoor kitchen island. This plan will include all the features you desire, such as an outdoor grill, sinks, refrigerators, storage, and countertops. Our wide range of durable materials ensures that your island withstands various outdoor elements while reflecting your unique style.
Before installation begins, our team will prepare the site carefully. We'll assess the area's terrain, ensuring proper leveling and drainage to prevent any water-related issues. Additionally, we'll take care of utility connections, such as gas, electricity, and water, to accommodate the appliances and fixtures you've chosen for your outdoor kitchen.
Professional Installation
With all the groundwork in place, it's time for the actual installation. Our skilled team will carefully construct and assemble your outdoor kitchen island according to the custom design plan. We'll ensure each element is securely installed to provide a solid foundation, ensuring the island's longevity and safety.
Testing and Quality Check
Once the outdoor kitchen island is fully installed, we conduct a thorough testing and quality check. We ensure that all appliances, fixtures, and connections function correctly and meet safety standards. Our team pays meticulous attention to every detail, leaving no room for compromise in craftsmanship.
The moment you've been eagerly waiting for has arrived! Your outdoor kitchen island is now complete and ready to serve as the heart of your outdoor living space. Whether you're hosting a backyard BBQ, preparing a family meal, or enjoying a peaceful evening outdoors, your new outdoor kitchen island promises unparalleled form and functionality.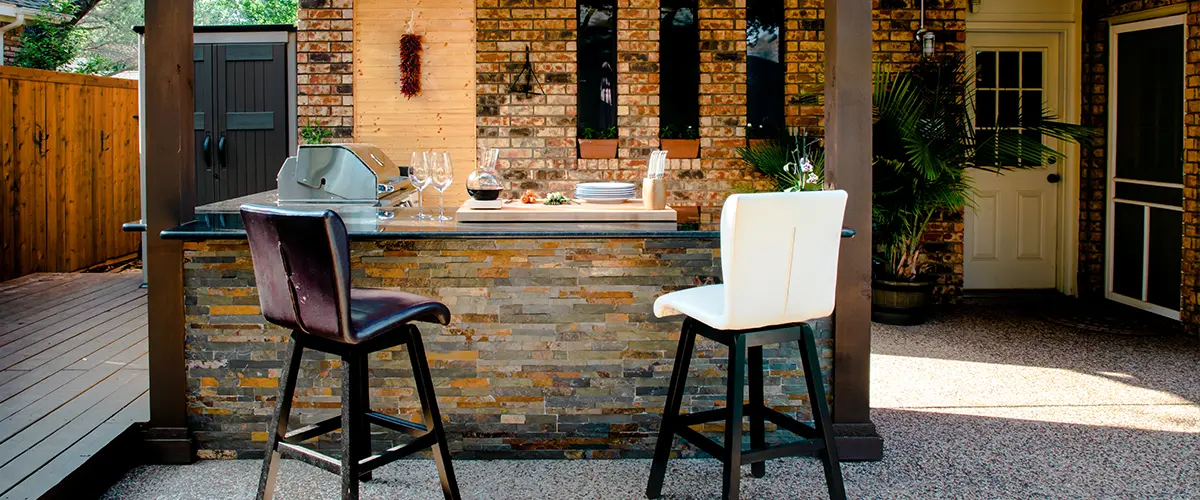 Our commitment to excellence and customer satisfaction ensures that you'll have a stunning and functional outdoor kitchen that enhances your outdoor living for years to come. Contact us today to begin your journey toward the perfect outdoor oasis!
Answering Your Questions About Outdoor Kitchen Island Installation in Bryan, OH
Contact Ohio's Trusted Outdoor Kitchen Contractors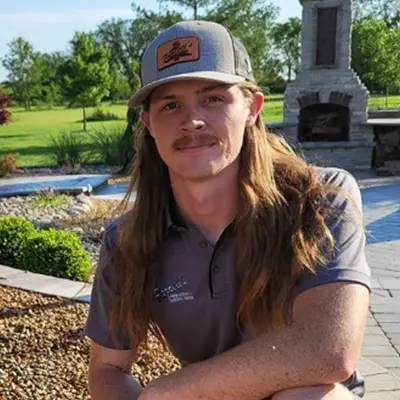 From personalized designs to expert craftsmanship, we're committed to delivering exceptional results that will leave you with a space to enjoy for years to come.
Contact us at (419) 298-5377 to schedule your initial consultation.
Farrell's treats our lawn for weeds and applies fertilizer to enhance our lawn. Our lawn looks the best it has looked in years. It is easy to pay on-line after each treatment.
After having our yard displaced, we had Farrell's reseed the yard and replace some overgrown trees and shrubs. We could not be more happy with the the results. Clayton and the crew exceeded our expectations with their work ethic and attention to the most minute details.