Patio Landscaping In Bryan, Archbold, Defiance, Napoleon, And More Of OH And IN
From installing Unilock pavers to mapping out the perfect landscape, we've got your dream outdoor space covered!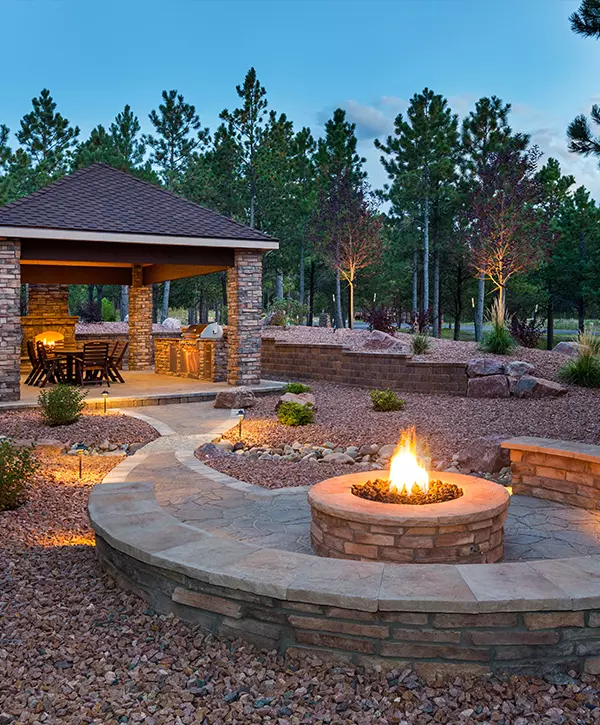 If you're yearning to transform your backyard into a stunning patio paradise, you've come to the right place!
From the initial concept to the final landscape installation, we take care of every detail – from choosing the ideal plants for your flower beds to expertly installing Unilock pavers for your patio area. You can trust us to deliver exceptional results that exceed your expectations and stand the test of time.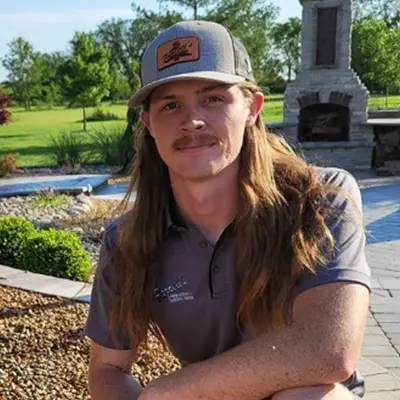 Clayton Farrell – Owner of Farrell's Lawn & Garden
Clayton has been an active part in the family business for as long as he can remember. As the proud owner of Farrell's 4-decades-old legacy, he continues to show his talent and commitment by designing, installing, and maintaining Ohio's and Indiana's landscapes.
As your landscape installers, we can deliver exceptional results that include:
6 Benefits of Patio Landscaping
Are you ready to transform your backyard and patio area into a stunning outdoor living room? Patio landscaping offers a myriad of benefits that will elevate your outdoor space to new heights, making it a true extension of your home.
From creating captivating flower beds to designing a cozy outdoor living area, here are six reasons why investing in patio landscaping is a game-changer.
Enhanced Landscape Design
Patio landscaping provides the perfect opportunity to incorporate a wide variety of landscape plants, foliage plants, and ground cover.
These elements not only add beauty and texture to your outdoor space but also create a lush and vibrant environment that complements your home's architecture.
Whether you desire a tropical paradise or a serene Zen garden, our expert landscape designers will bring your backyard landscaping ideas to life.
Expanding Your Outdoor Living Space
With a thoughtfully designed patio area, you can extend your living space beyond the confines of your home. Imagine hosting family gatherings, barbecues, or simply unwinding with a good book in your outdoor living area, complete with wicker furniture and a cozy outdoor fireplace.
Patio landscaping ensures that your outdoor space becomes a welcoming oasis for all your favorite activities.
By incorporating low-maintenance patio plants and container gardens into your design, you can enjoy a beautiful and vibrant backyard space throughout the year. From planting herbs for your culinary delights to nurturing your vegetable garden, patio planter pockets, and vertical wall planters maximize your gardening opportunities in limited spaces.
A well-designed patio area can serve as a striking focal point in your backyard. Whether it's a captivating fire pit or an outdoor kitchen, a carefully placed shade tree or an artistic patio border, our patio landscaping expertise ensures that your outdoor space boasts an attractive centerpiece that draws the eyes and hearts of all who visit.
Incorporating string lights into your patio landscaping adds a touch of magic and charm to your outdoor evenings. As the sun sets, the soft glow of the lights creates a cozy and inviting ambiance that complements the neighboring house's beauty and delights you and your guests alike.
Fresh Outside Air and Relaxation
The benefits of patio landscaping extend beyond aesthetics and design. By spending time in your outdoor living space, you can bask in the fresh outside air and enjoy the tranquility of your private retreat.
The sound of a nearby water feature or the gentle rustling of foliage in the breeze creates a soothing atmosphere, allowing you to unwind and de-stress after a long day.
Let us help you elevate your outdoor living space with our exceptional landscape installation and paver patio services, and experience the joy and beauty it brings to your home.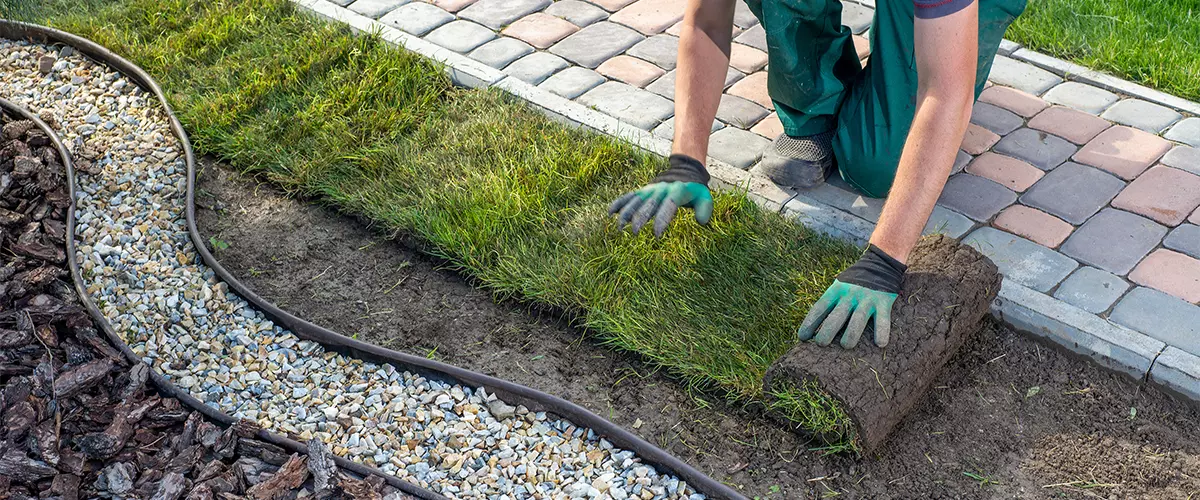 We Love Building Dream Outdoor Spaces For Homeowners Like You
Curious to know more about how we work with people? We'll let other homeowners do the talking for us!
My wife and I are very happy with the service which we had performed by Farrell's.
Clayton is very personable and understanding. Juan and Orlando did an amazing job with the patio.
In February, we had a water line break in our front yard and we had a mound of clay for a couple months. Now, the mound has been leveled and hydro seeded. We are looking forward to a nice lawn.
Clayton was GREAT to work with, very professional and friendly. He listened to what we wanted and designed the perfect patio area.
He consulted us with any and all idea proposals and price changes. Always on time and stayed in touch thru email or text as questions/concerts arose.
We can't wait for the work to be completed. We will update our review after the work is complete and rate the construction crew.
At Farrell's Lawn & Garden Center, we take pride in transforming ordinary backyards into breathtaking outdoor havens. With our landscape installation expertise, we can turn your outdoor space into a stunning patio paradise. Here are eight inspiring patio landscaping ideas that will make your home the envy of the neighborhood.
1. Cozy Retreat with a Fire Pit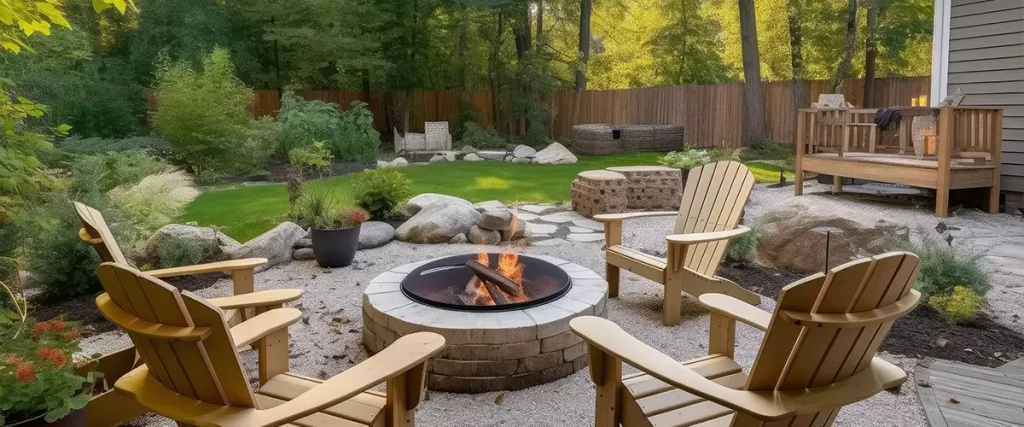 Create a warm and inviting outdoor living area by incorporating a stylish fire pit. Gather around with friends and family on cool evenings, toast marshmallows, and enjoy the crackling fire while embracing the beauty of your patio plants and landscape design.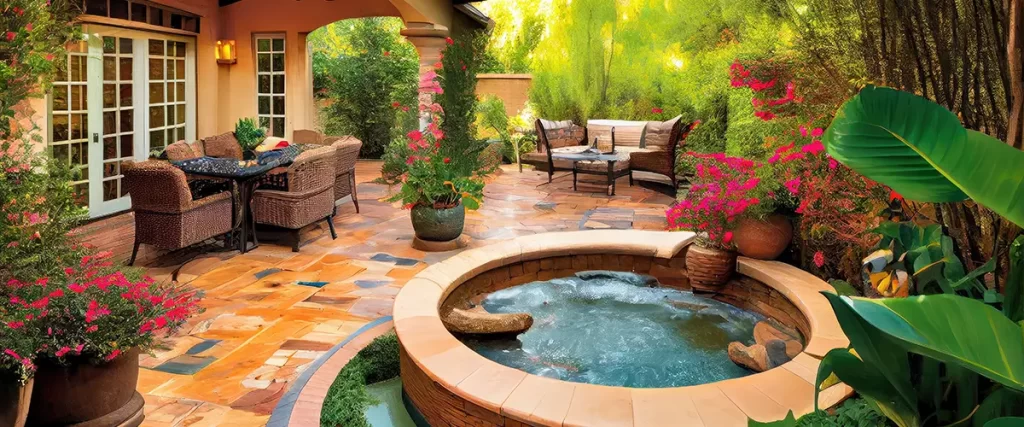 Bring the soothing sound of water to your patio area with a beautiful water feature. Whether it's a bubbling fountain or a tranquil pond, a water element adds a sense of calm and relaxation to your outdoor space.
3. Vertical Wall Planter Garden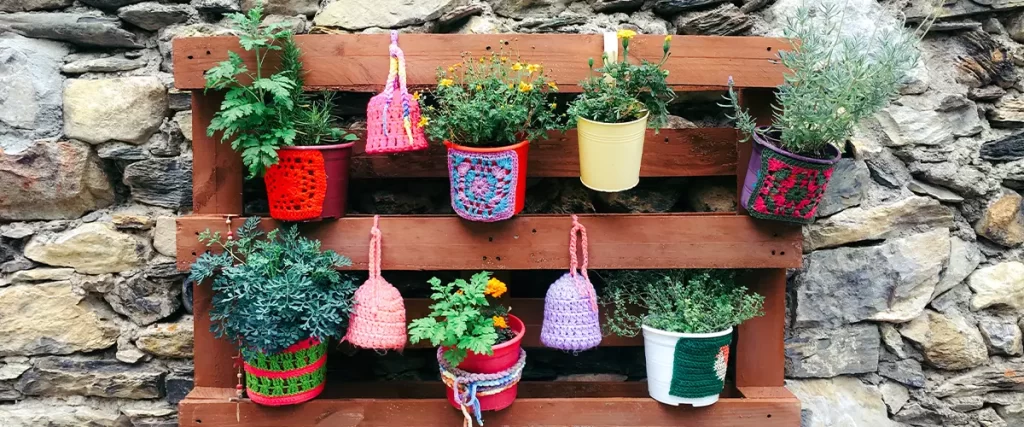 Maximize your planting space by adding a vertical wall planter garden. This innovative design not only showcases your favorite plants but also serves as a living art piece, adding a touch of elegance to your patio.
4. Outdoor Kitchen for Culinary Delights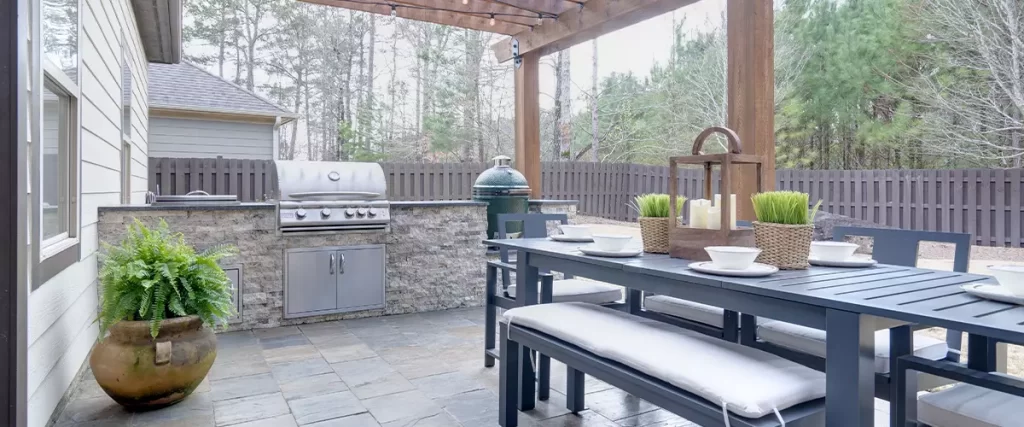 Take your patio entertaining to the next level with a fully equipped outdoor kitchen. With a built-in grill, countertops, and seating, you can host delightful gatherings and prepare mouthwatering meals while enjoying the fresh outside air.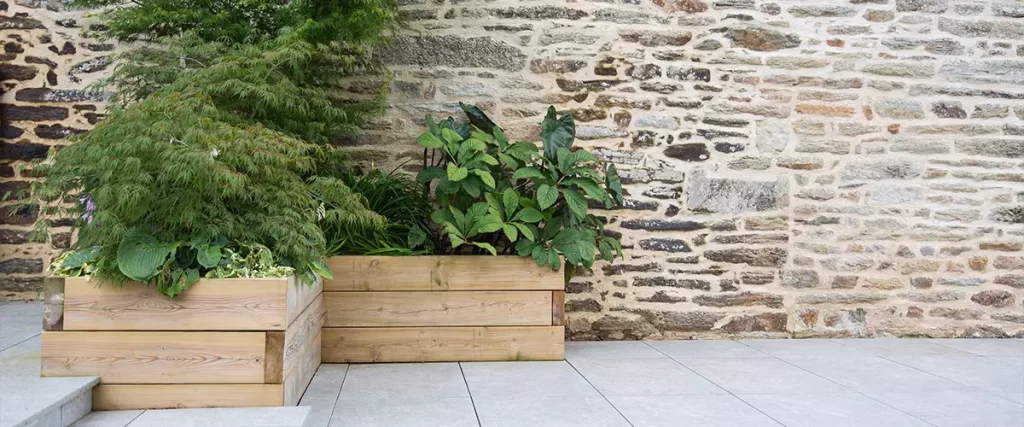 Add a splash of color and beauty to your patio with vibrant flower beds. Our landscape experts will carefully select a mix of seasonal blooms and foliage plants to create a captivating and ever-changing floral display.
6. Relaxing Hammock Retreat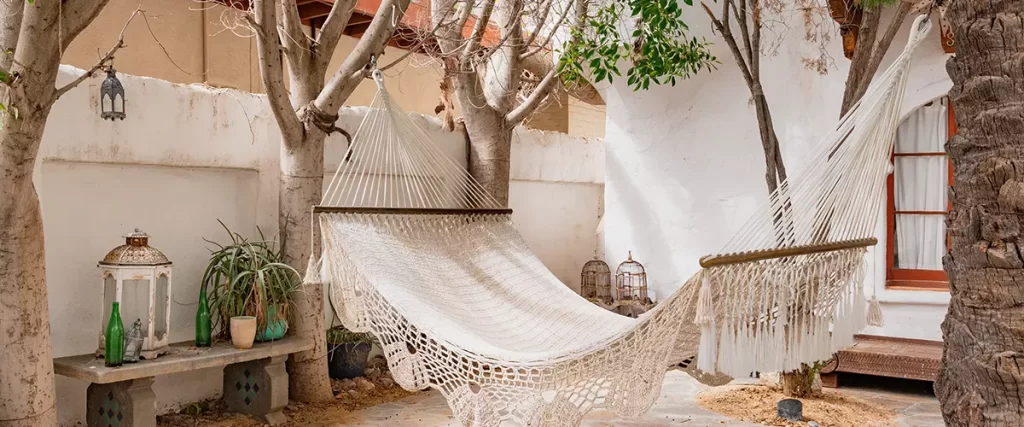 Create a private oasis for relaxation by hanging a comfortable hammock between shade trees. It's the perfect spot to unwind, read a book, or simply take a nap in the gentle breeze.
7. Picturesque Paver Patio
Elevate your patio area with a stunning paver patio installation. Choose from a variety of patterns and colors to suit your style and complement the architecture of your home.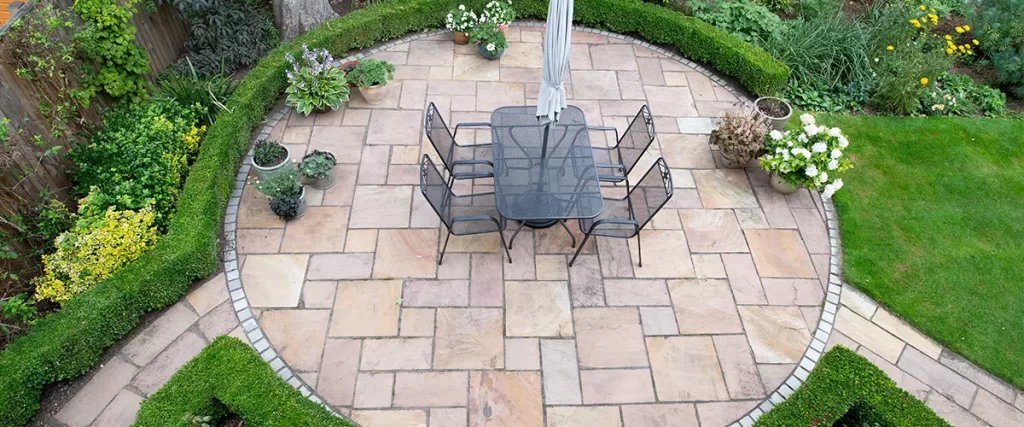 8. Shade and Privacy with Pergolas
Enhance the comfort of your outdoor living space with a pergola. It not only provides much-needed shade during hot summer days but also adds an element of privacy to your patio area.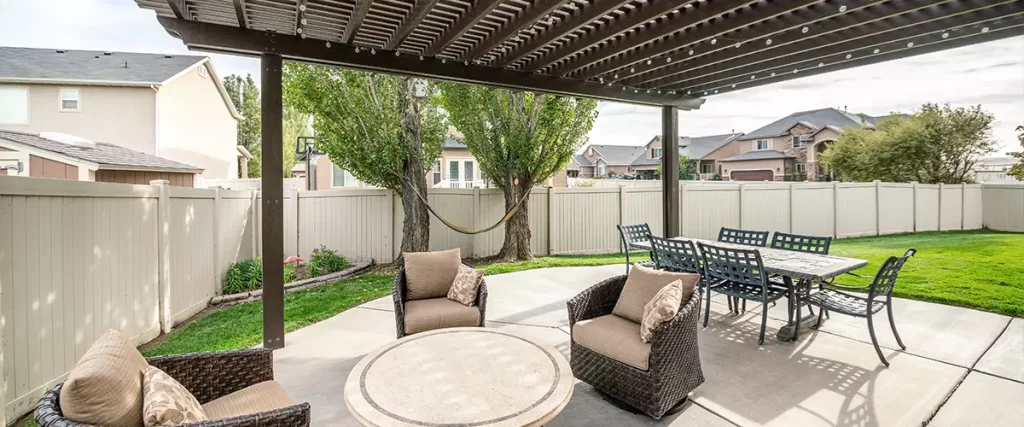 Contact us today to get started on transforming your backyard into an outdoor oasis that you'll cherish for years to come.
Embrace Your Perfect Patio Oasis with Farrell's Lawn & Garden Center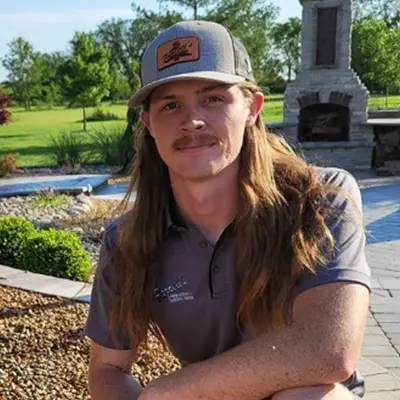 If you're ready to elevate your outdoor living space and unlock the full potential of your backyard, contact us today at (419) 298-5377 to schedule a consultation.
Our friendly and knowledgeable team is eager to guide you through the process and bring your patio landscaping vision to life.