Pool Heating Installation In Bryan, Archbold, Defiance, And More Of OH And IN
Welcome to your premier destination for creating the perfect outdoor living space.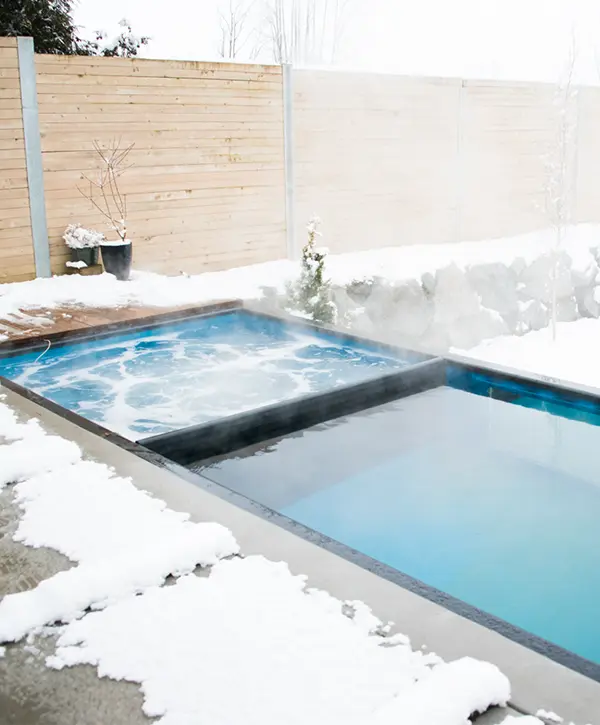 We take immense pride in crafting dreamlike backyard oases that exude comfort, beauty, and year-round enjoyment. As experts in pool care and outdoor living, we specialize in installing Modpools, the epitome of sophistication and versatility.
Join us on this exciting journey to transform your outdoor living space into an enchanting haven of comfort and luxury. Let the magic of Modpools combined with our expert craftsmanship elevate your backyard to new heights of splendor.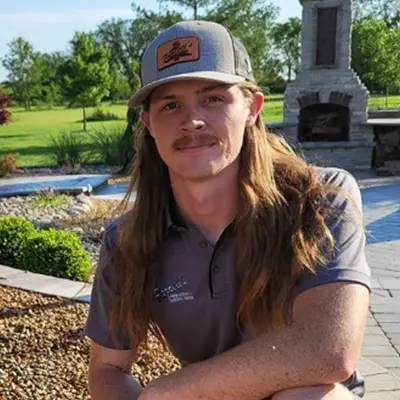 Clayton Farrell – Owner of Farrell's Lawn & Garden
With a wealth of experience and a passion for creating breathtaking outdoor spaces, Clayton is dedicated to implementing efficient hardscaping solutions that look amazing on your property. As the proud owner of the well-known Farrell's Lawn And Garden Center, Clayton works to build beautiful outdoor spaces you love to spend time in.
Unlock all-season fun with a service that offers:
The Benefits of Pool Heating
At Farrell's Lawn & Garden Center, we're delighted to offer you an incredible solution – pool heating installation for your Modpool. With this innovative addition, you can unlock the magic of all-season enjoyment, transforming your outdoor living space into a haven of comfort and luxury.
One of the most significant advantages of pool heating is the ability to extend your pool season. Say goodbye to the limited swim time during warm months; with a heated pool, you can enjoy swimming comfortably during cooler weather, extending your pool usage from early spring to late fall or even year-round if desired. No more waiting for the perfect weather to take a refreshing dip!
Embrace the luxury of year-round pool enjoyment. Whether you wish to bask in the warm waters on a chilly evening or take a leisurely swim during the crisp days of autumn, a heated pool ensures you have a welcoming oasis whenever you desire. It transforms your backyard into a private retreat, perfect for relaxation and family fun, regardless of the season.
Beyond leisure and entertainment, a heated pool offers several health benefits. The warm water provides a soothing and therapeutic experience, easing muscle tension and promoting relaxation. Swimming in a heated pool can be a gentle form of exercise, benefiting joint mobility and overall cardiovascular health. It's a perfect way to unwind and de-stress after a long day.
Versatility for Outdoor Living Spaces
A heated pool enhances the functionality of your outdoor living space. Imagine hosting pool parties and gatherings even during cooler months, making your backyard a year-round entertainment hub for family and friends. Whether it's a relaxing evening with loved ones or a fun-filled poolside party, the versatility of a heated pool makes it a valuable addition to your home.
Energy-Efficient Solutions
Modern pool heating systems are designed to be energy-efficient, minimizing operational costs while maximizing comfort. Heat pumps, solar pool heaters, and electric pool heaters offer various options to suit your preferences and budget. Heat pumps, in particular, utilize ambient air to generate warmth, consuming less energy compared to traditional methods.
Installing a pool heating system not only enhances your pool experience but also adds value to your property. Potential homebuyers appreciate the year-round usability of a heated pool, making your property stand out in the real estate market. It becomes a valuable selling point and a worthy investment in the long run.
Ready to experience the joys of year-round pool bliss? Get in touch with Farrell's Lawn & Garden Center today! Let us help you create the outdoor living space of your dreams, where you can escape to a world of comfort, luxury, and endless enjoyment.
Happy Customers, Thriving Landscapes
Clayton and Kevin were great. They went above and beyond. We are very pleased with the unique design and ultimate appearance. They checked in with us often and remained attentive to our needs. Would use them again.
The interaction's that I have had with the owner of Farrell's L&G have always been courteous and professional. I would highly recommend them for you needs!
Choosing the Right Heating System for Your Modpool
When it comes to selecting the perfect swimming pool heating system for your Modpool, you have a range of options that cater to different preferences, budgets, and environmental considerations. At Farrell's Lawn & Garden Center, we understand that finding the ideal solution is essential to ensure year-round enjoyment and maximum efficiency.
Pool Heat Pumps: Efficient and Eco-Friendly
Consider a pool heat pump for an energy-efficient heating solution. These pumps utilize ambient air to generate heat, making them highly efficient and cost-effective. They are environmentally friendly, producing lower greenhouse gas emissions compared to traditional heating methods. If sustainability and long-term savings are a priority, a heat pump might be the right choice for you.
Electric Pool Heater: Precise Temperature Control
Electric pool heaters offer precise temperature control, allowing you to set and maintain your desired pool water temperature with ease. They are relatively easy to install and do not require gas lines, making them a convenient option for many pool owners. Electric heaters are a reliable choice for maintaining a consistent pool temperature, regardless of outdoor weather conditions.
Gas Pool Heater: Quick Heating for On-Demand Use
If rapid heating and on-demand usage are priorities for you, gas pool heaters may be the best fit. These heaters use natural gas or propane to quickly warm your pool water, making them ideal for spontaneous swims and events. Gas pool heaters are effective even in colder weather, providing a reliable solution for pool heating throughout the year.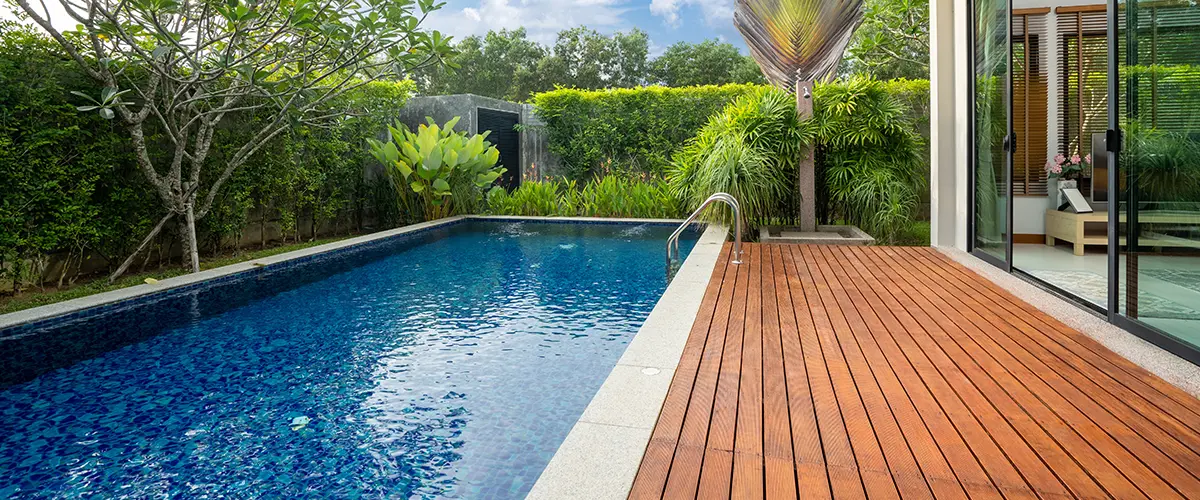 At Farrell's Lawn & Garden Center, we are committed to helping you make an informed choice and providing professional pool heater installation services that transform your Modpool into an oasis of comfort and joy.
Pool Heating Installation FAQs
Turn Your Modpool into a Year-Round Oasis with Our Expert Pool Heating Installation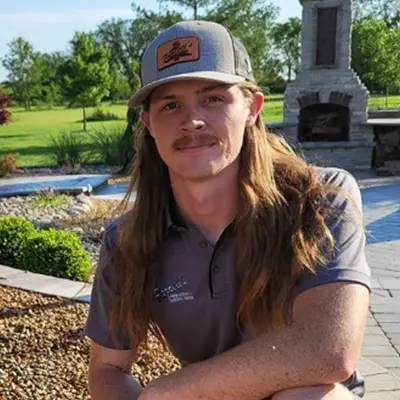 Take the plunge into a world of all-season pool enjoyment! Give us a call today at (419) 298-5377, and let Farrell's Lawn & Garden Center bring warmth and happiness to your backyard oasis.
Experience the magic of pool heating and create memories with family and friends that will last a lifetime!
Farrell's treats our lawn for weeds and applies fertilizer to enhance our lawn. Our lawn looks the best it has looked in years. It is easy to pay on-line after each treatment.
After having our yard displaced, we had Farrell's reseed the yard and replace some overgrown trees and shrubs. We could not be more happy with the the results. Clayton and the crew exceeded our expectations with their work ethic and attention to the most minute details.