Patio Landscaping In Bryan, Archbold, Defiance, Napoleon, And More Of OH And IN
We are dedicated to creating captivating outdoor environments that will leave a lasting impression.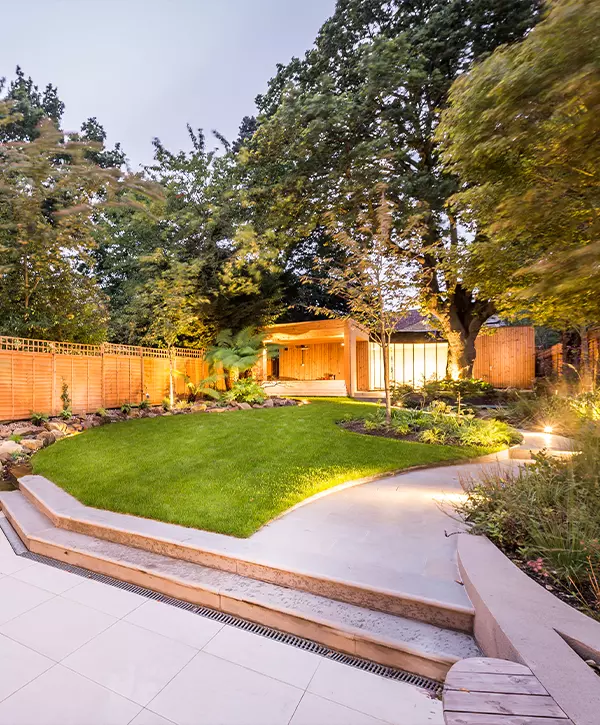 Landscape lighting offers numerous benefits, from extending the usability of your outdoor spaces to boosting curb appeal and increasing property value.
But landscape lighting installation is not just about placing fixtures here and there. It's an art that requires careful consideration of cable length, voltage drop, and wire connections to ensure optimal performance and longevity of your lighting system.
That's where our experienced team comes in, ensuring every detail is meticulously handled for a flawless installation.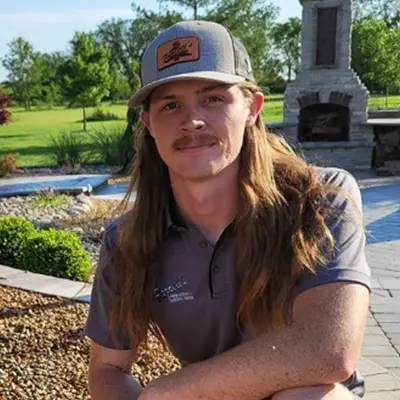 Clayton Farrell – Owner of Farrell's Lawn & Garden
Clayton has been an active part in the family business for as long as he can remember. As the proud owner of Farrell's 4-decades-old legacy, he continues to show his talent and commitment by designing, installing, and maintaining Ohio's and Indiana's landscapes.
With our landscape lighting installation, you can enjoy a yard that:
The Impact of Landscape Lighting
Landscape lighting offers an array of benefits that go beyond merely illuminating your property at night. With Farrell's Lawn & Garden Center's expert landscape lighting installation, you can experience the following advantages that will truly elevate your outdoor living space:
1. Enhances Safety and Security
A well-lit landscape ensures that you and your family can navigate outdoor areas safely, even during the darkest nights. By strategically placing lighting fixtures along pathways, stairs, and entrances, you'll reduce the risk of trips and falls, making your property much safer for everyone.
Additionally, the presence of landscape lighting acts as a deterrent to potential intruders, enhancing the overall security of your home.
2. Extends Usability of Outdoor Spaces
Your outdoor living spaces should be enjoyed day and night. Landscape lighting extends the usability of your patios, decks, and gardens well into the evening, allowing you to entertain guests, relax with family, or simply unwind after a long day.
With carefully selected fixtures, you can create a cozy and inviting ambiance that draws people to spend more time outdoors, making your property feel more spacious and versatile.
3. Accentuates Landscape Features
The natural beauty of your landscape deserves to be showcased, even when the sun sets. Landscape lighting enables you to highlight key features of your garden, such as striking trees, elegant sculptures, or colorful flowerbeds.
Through carefully directed lighting, we can bring out these elements' unique textures and shapes, adding depth and dimension to your outdoor environment. Your garden becomes a captivating spectacle, creating a visual feast that leaves a lasting impression on visitors.
4. Boosts Curb Appeal and Property Value
A thoughtfully designed landscape lighting system can significantly enhance the curb appeal of your home. The stunning visual impact created by well-lit exteriors can be captivating, making your property stand out in the neighborhood.
Not only does this elevate your home's overall aesthetics, but it also adds to its market value. Should you ever decide to sell your property, potential buyers will undoubtedly be drawn to the inviting atmosphere and enhanced charm your landscape lighting provides.
Thanks to our extensive landscape installation service, we can ensure you have a perfect outdoor space down to the last detail, and that includes landscape lighting installation.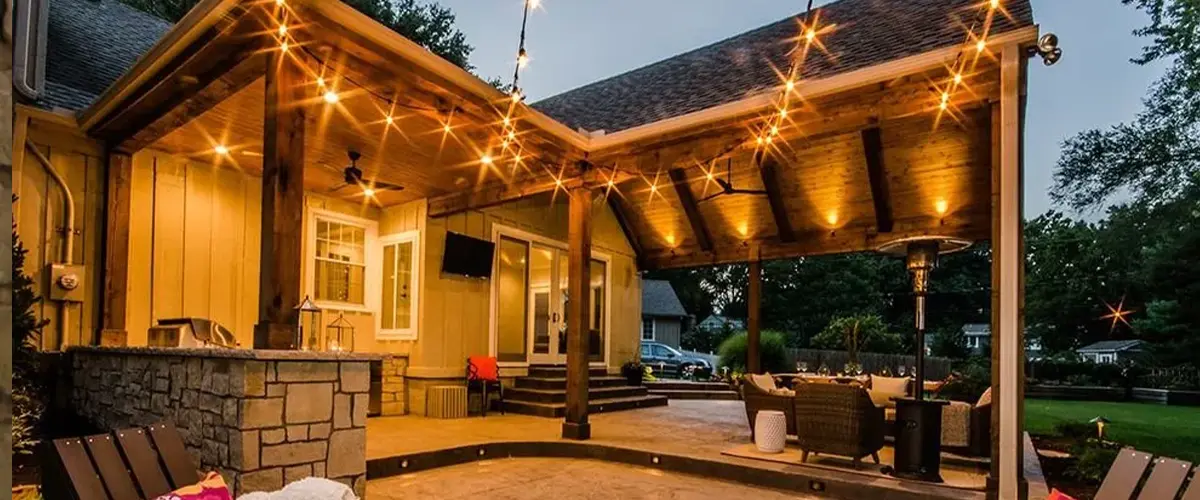 With our decades of landscaping experience, we've met some amazing homeowners who agreed to share their experience of working with us.
Farrell's lawn and garden center was very helpful on the planning and executing our landscaping project.
The staff was very knowledgeable regarding the products that were used in our project.
The staff is readily available to answer any questions you may have and to assist in anyway possible. We could not have done this project without their expertise knowledge and assistance.
Clayton was GREAT to work with, very professional and friendly. He listened to what we wanted and designed the perfect patio area.
He consulted us with any and all idea proposals and price changes. Always on time and stayed in touch thru email or text as questions/concerts arose.
We can't wait for the work to be completed. We will update our review after the work is complete and rate the construction crew.
Types of Landscape Lighting Fixtures
When it comes to enhancing the beauty and functionality of your outdoor spaces, choosing the right landscape lighting fixtures is crucial. At Farrell's Lawn & Garden Center, we offer a diverse range of landscape lights designed to suit various purposes and styles.
Whether you want to install landscape lighting for increased safety, aesthetic appeal, or both, our team of experts will help you select the right fixtures to achieve your desired outdoor lighting vision. With low voltage options and professional installation, you can rest assured that your landscape lighting system will be both efficient and aesthetically pleasing.
Pathway lights are an essential component of any landscape lighting design. These fixtures are perfect for illuminating walkways, driveways, and garden paths, ensuring safe and easy navigation even in the darkest hours. With low voltage landscape lighting options available, you can enjoy both energy efficiency and a captivating nighttime ambiance.
Flood lights are powerful fixtures that cast a broad beam of light, making them ideal for illuminating larger areas like the façade of your home or key architectural features. They also provide added security by brightening up wide sections of your property.
Welcome guests with a warm and inviting atmosphere using porch lights. These fixtures not only create a welcoming entrance to your house but also add a touch of elegance and charm to your outdoor spaces.
4. Uplights and Downlights
Uplights and downlights are versatile fixtures that can be mounted directly on the ground or other surfaces to highlight specific landscape elements, such as trees, statues, or water features. They add depth and drama to your landscape by creating striking shadows and emphasizing the vertical elements of your garden.
Spotlights are designed to provide focused illumination, making them an excellent choice for highlighting individual plants or garden focal points. You can easily adjust the direction of spotlights to achieve the perfect effect.
For water features like ponds or fountains, underwater lights can create a mesmerizing visual display. These fixtures add a magical touch, making your water features come to life after sunset.
Deck and step lights are specifically designed for safety and aesthetics. They help prevent tripping hazards by providing illumination on stairs and around decking areas, while also adding a subtle yet enchanting glow to your outdoor entertaining spaces.
Wall sconces serve as an elegant lighting solution for your outdoor walls, providing both functional and decorative lighting. They can be used to flank entryways, along outdoor seating areas, or to accentuate architectural elements.
Bollard lights are slender, free-standing fixtures that can define pathways and borders, while also adding a touch of sophistication to your landscape design.
For a more festive and cozy ambiance, consider string lights. These versatile fixtures are perfect for creating a magical atmosphere during special occasions or year-round enjoyment.
Contact us for your landscape lighting installation needs and we'll make sure to work on a system that increases safety throughout the yard and highlights important areas of the space.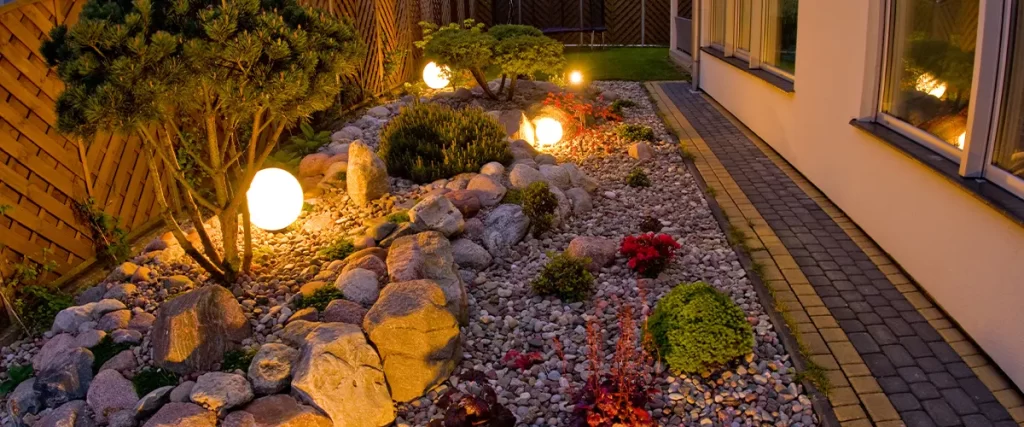 Landscape Lighting Installation FAQs
Illuminate Your Outdoor Paradise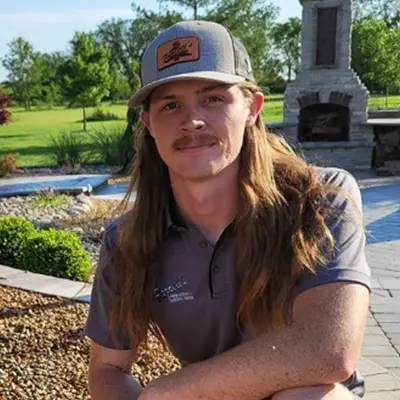 Ready to illuminate your outdoor living space with professional landscape lighting? Contact us today at (419) 298-5377 to schedule a consultation.
Let's work together to bring your vision to life and create a magical ambiance that will make your property stand out in OH and IN.