Snow Plowing In Bryan, Archbold, Defiance, And More Of OH And IN
Don't break your back shoveling snow out of the driveway this winter.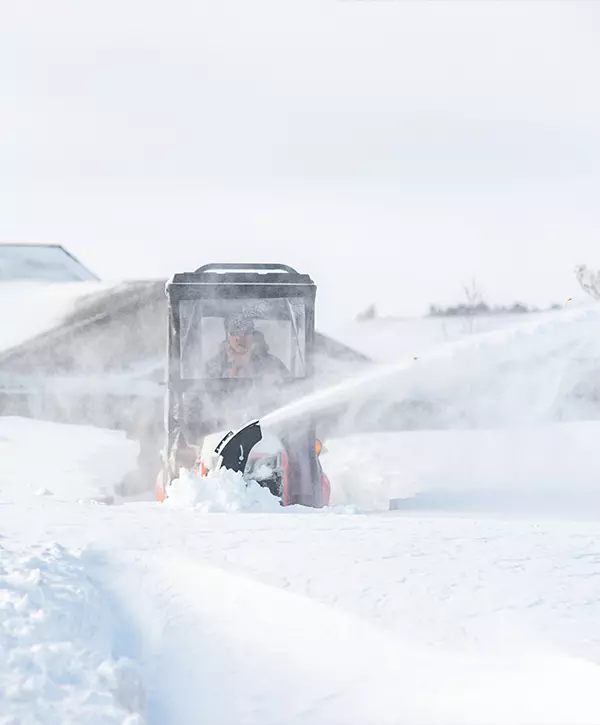 With our professional snow plowing services, we are here to turn your snowy landscape into a safe and accessible winter wonderland.
Say goodbye to the exhausting task of shoveling snow and welcome the convenience and peace of mind that comes with our all-inclusive snow removal maintenance package. Let us take the burden off your shoulders so that you can embrace the beauty of winter without the stress.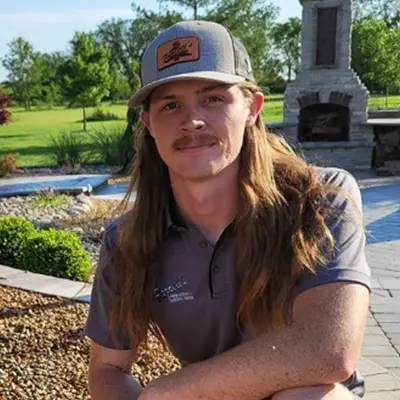 Clayton Farrell – Owner of Farrell's Lawn & Garden
With a wealth of experience and a passion for creating breathtaking outdoor spaces, Clayton is dedicated to implementing efficient hardscaping solutions that look amazing on your property. As the proud owner of the well-known Farrell's Lawn And Garden Center, Clayton works to build beautiful outdoor spaces you love to spend time in.
Choose Farrell's Lawn & Garden Center and enjoy:
Snow plowing is an essential winter service that involves the removal of snow and ice from driveways, walkways, and other outdoor spaces.
As winter storms blanket the landscape, snow accumulation can quickly become a safety hazard and cause inconvenience. That's where snow plowing services come in to save the day, ensuring safe and accessible pathways for homeowners.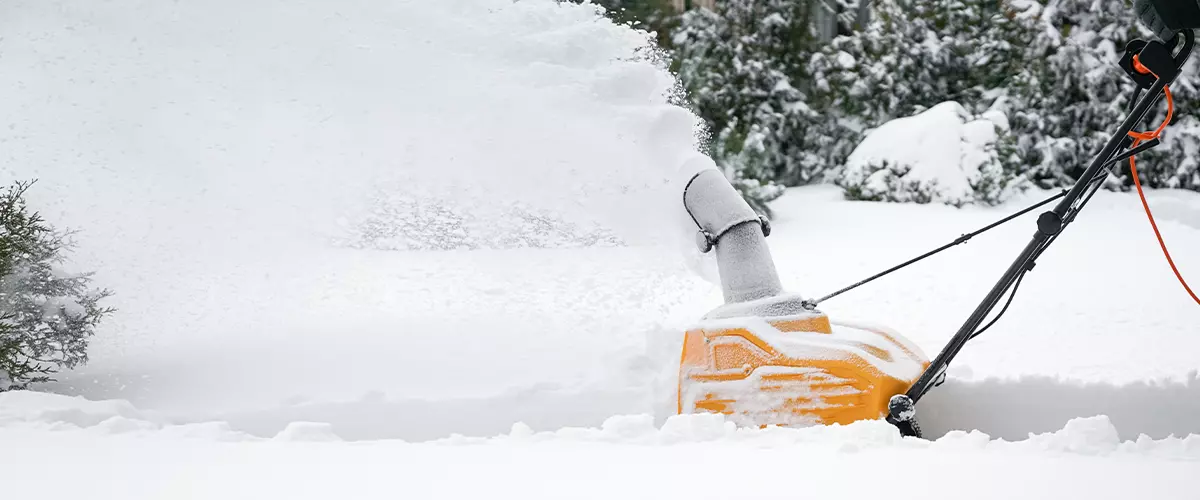 Enhanced Safety and Accessibility
Professional snow plowing services significantly improve safety and accessibility by efficiently removing snow and ice from driveways and walkways. This reduces the risk of slips and falls, ensuring a safe environment for family, guests, and delivery personnel.
Property Protection and Landscaping
Engaging snow plowing professionals prevents potential damage to your property and landscaping caused by heavy snow loads. Proper snow removal safeguards structures like roofs and fences while preserving the health of your lawn and plants.
By opting for professional snow plowing, you save time and energy, as the experienced crews handle the task quickly and efficiently. This allows you to focus on other important responsibilities and activities during the winter season.
Timely and Reliable Snow Removal
With timely response and state-of-the-art equipment, professional snow plowing services ensure prompt clearance of snow from your property, regardless of the weather conditions, keeping your pathways clear and safe throughout winter.
Embrace the winter wonderland without worry – contact us today for our reliable and hassle-free snow removal services, ensuring your property stays safe, accessible, and beautifully snow-free throughout the season.
Dedicated To Timely Services And Beautiful Home Landscapes
Discover why homeowners across Ohio trust Farrell's Lawn & Garden Center with their maintenance needs and what makes us such a reputable brand when it comes to everything landscaping.
Great people to work with. Applied grub killer to lawn and it is working great. On-time and on-budget. Highly recommend Ferrel's.
The interaction's that I have had with the owner of Farrell's L&G have always been courteous and professional. I would highly recommend them for you needs!
Improper Snow Plowing: Risks You Should Consider
When winter arrives and snow blankets our surroundings, the task of snow plowing becomes a crucial responsibility. While it may be tempting for homeowners to handle their own snow removal, there are numerous dangers associated with improper snow plowing practices that can lead to hazardous situations.
Snow and Ice Accumulation
Improper snow plowing or inadequate snow and ice removal can accumulate compacted snow and ice on driveways, walkways, and sidewalks. This can create treacherous surfaces for pedestrians and vehicles alike, increasing the chances of slips, falls, and accidents, which may lead to injuries and property damage.
Collisions with Snow Plow Vehicles
Homeowners attempting to plow their own driveways may inadvertently collide with snow plow vehicles or trucks spreading sand on neighborhood streets. These encounters can cause accidents, resulting in vehicle damage, injuries, and delays in snow removal operations conducted by the public works department.
Improper snow plowing can generate a snow cloud, reducing visibility for both the plow operator and other vehicles in the vicinity. This lack of visibility can lead to accidents, especially on busy roads or in cul-de-sacs where frequent backing of snow plow trucks is required.
Neglecting to clear sidewalks properly can be a safety hazard for pedestrians, as they may be forced to walk on icy surfaces. Slippery sidewalks increase the risk of injuries, and property owners may also face liabilities for injuries sustained on their premises due to inadequate snow removal.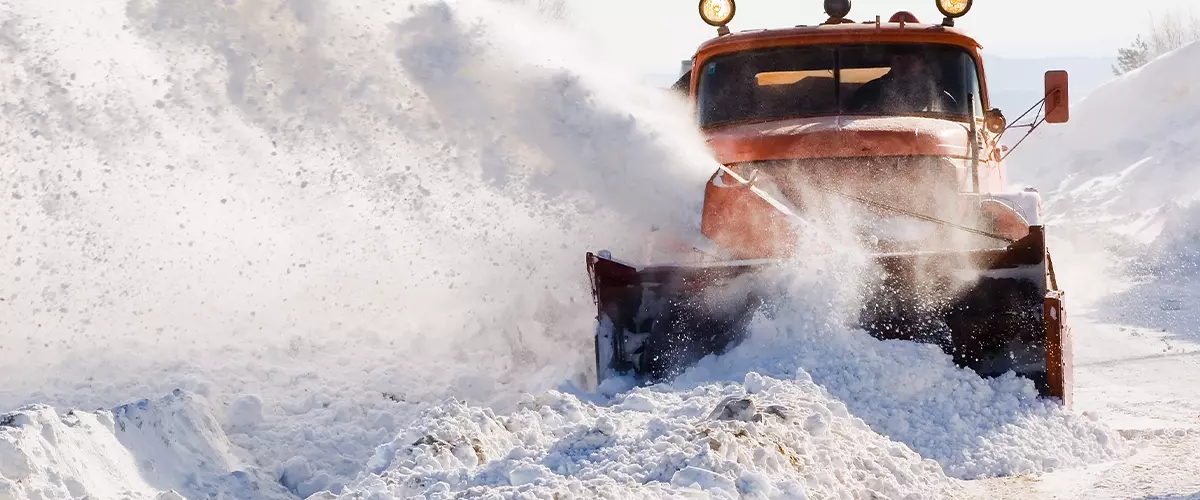 Experience the magic of the season without the stress by reaching out to us now for top-notch snow removal services, and let our expert team clear snow with a touch of professionalism and care.
DIY Snow Plowing Vs. Professional Snow Plowing
While some may consider taking matters into their own hands with a do-it-yourself approach, there are compelling reasons why professional snow plowing services offer a superior solution. Let's weigh the benefits of each option and tip the balance in favor of choosing professional snow plowing.
Opting for professional snow plowing saves you time and effort compared to DIY methods, as their skilled crews use advanced equipment for efficient and thorough snow clearance, ensuring prompt and effective results.
DIY snow plowing carries safety risks due to improper techniques and slippery surfaces. Professional snow plowing services prioritize safety, following best practices, ensuring your property stays safe, clear, and accessible without worries. Trust the professionals for peace of mind.
State-of-the-Art Equipment
Professional snow plowing services use state-of-the-art equipment, including powerful snow plow vehicles and specialized machinery, ensuring efficient snow removal even in large snowfalls. DIY equipment may not match their effectiveness, leading to incomplete clearance and recurring problems.
Timely Response and Reliability
Unlike DIY snow plowing, which can be delayed due to weather and availability, professional services provide timely and round-the-clock responses, ensuring your property is promptly cleared. Rely on their commitment to reliability, keeping your pathways safe regardless of unpredictable weather conditions.
Let's tackle your problems with professional snow removal equipment handled by one of Ohio's and Indiana's top landscape maintenance teams. Contact us to set up a plan that keeps your driveway snow-free this upcoming winter!
Removing snow can be a physically demanding task, especially after heavy snowfalls. Using basic tools like shovels can be time-consuming and exhausting. However, professional snow plowing services are equipped with advanced equipment and skilled crews, making the process much more efficient and less strenuous.
Snow plowing involves using specialized vehicles or equipment, such as snow plow trucks, to push snow to the side of the road or driveway, creating clear pathways. On the other hand, snow removal goes a step further, where snow is entirely cleared and transported away from the property using trucks or loaders.
At Farrell's Lawn & Garden Center, we offer our all-inclusive snow removal service package for $750 for the entire winter season. This comprehensive package includes 15 visits, covering complete driveway and walkway snow removal, ensuring your property stays safe and accessible throughout the winter months.
Please note that prices may vary based on specific requirements and property size. For accurate and detailed pricing, we recommend reaching out to our team for a personalized quote.
Embrace the Winter Magic with Farrell's Snow Plowing Services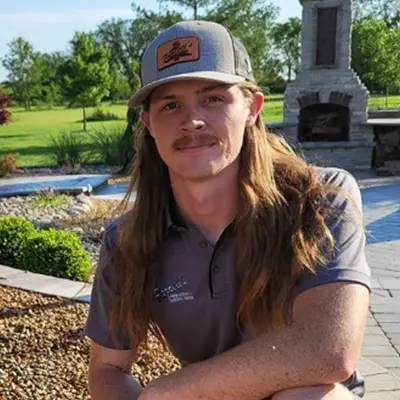 Don't let snow become a burden – contact us today at (419) 298-5377 to schedule your snow removal services.
Experience the Farrell's difference and make this winter season one to remember. Let us handle the snow, while you relish the joys of the snowy wonderland outside your door.
Great place for snow plowing services! Also, love going in to shop! Everyone is so friendly!
Farrells have serviced my lawn and snow removal for over 8 years. Professional, prompt and affordable.