Sod Installation In Bryan, Archbold, Defiance, Napoleon, And More Of OH And IN
Want a picturesque lawn that will be the envy of the neighborhood?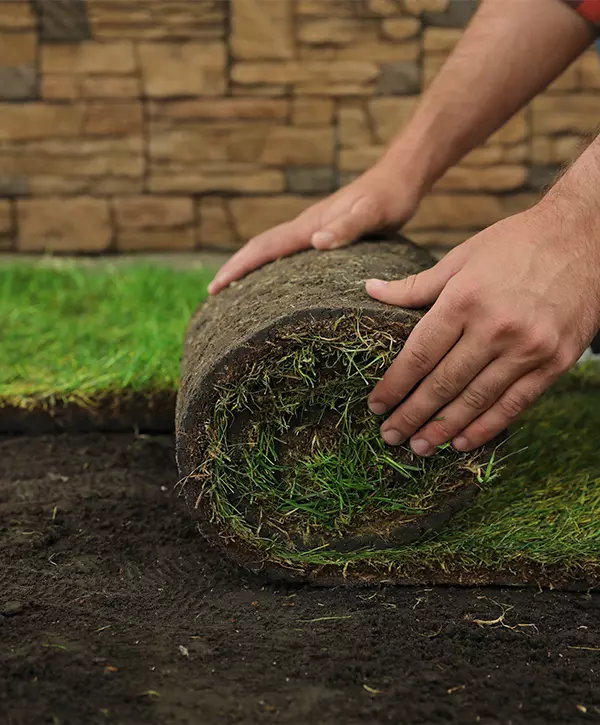 Our passion for creating lush outdoor spaces is at the heart of everything we do, and our expertise in sod installation is unmatched. Whether you're looking to revitalize your existing lawn or create a new green haven, our sod installation service is the key to achieving instant and lasting results.
At Farrell's, we understand the transformative power of sod – the way it blankets your lawn with vibrant greenery, creating an inviting and refreshing atmosphere for your family and guests. With our team of skilled professionals, state-of-the-art equipment, and premium-quality sod, we guarantee a seamless and successful sod installation process.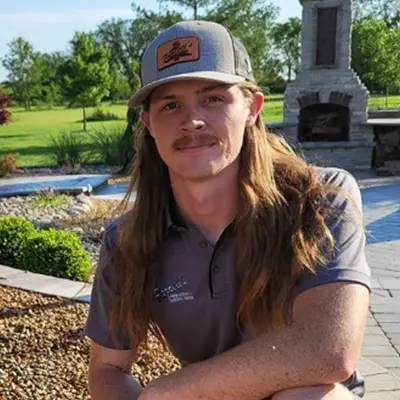 Clayton Farrell – Owner of Farrell's Lawn & Garden
Clayton has been an active part in the family business for as long as he can remember. As the proud owner of Farrell's 4-decades-old legacy, he continues to show his talent and commitment by designing, installing, and maintaining Ohio's and Indiana's landscapes.
When you choose us as your landscaping experts, you benefit from:
Advantages of Sod Installation
With instant greenery, strong roots, precise sod cutting, and improved soil quality, you'll enjoy a beautiful, healthy lawn without the hassles of traditional seeding.
Instant Greenery and Time Savings
When it comes to transforming your lawn quickly and effortlessly, sod installation reigns supreme. Unlike traditional seeding that demands patience and weeks of waiting, laying sod offers you the luxury of instant greenery. Within a mere 1 to 2 weeks after our professional team installs the sod rolls, you'll be enjoying a beautiful new lawn, ready for gatherings and relaxation. Say goodbye to the slow progress of seed germination and say hello to a lush, healthy lawn in record time.
Healthier Roots and Establishing a Strong Foundation
One of the key benefits of sod installation is the establishment of healthy grass roots from the get-go. Since sod is grown on specialized sod farms with carefully controlled conditions, the grass roots are well-developed and robust.
When we lay the sod on your prepared soil, these strong roots grow seamlessly into the native soil, ensuring a stable and reliable foundation for your new lawn. As a result, you'll have a lawn that not only looks beautiful but also stays healthier and more resilient over time.
Precise Sod Cutter for a Perfect Fit
DIY sod installation can be daunting and imprecise, but with our expertise and equipment, we ensure a flawless fit for your lawn. Our professional team utilizes a sod cutter, allowing us to measure accurately and cut the sod rolls to fit any unique garden beds or irregularly shaped areas.
We don't believe in a one-size-fits-all approach, and that's why we take the time to lay sod with precision, as if we're putting together a masterful brick pattern, ensuring every square foot of your lawn receives the care it deserves.
Improved Soil Quality with Soil Amendments
Installing sod is not just about rolling out new grass; it's also an opportunity to enhance the quality of your soil. Before we lay the sod, our experts perform a soil test and analysis to determine your soil's pH and nutrient levels.
If needed, we apply soil amendments to optimize the soil for the new grass, ensuring it thrives and flourishes in its new home. This extra step in our sod installation process guarantees that your lawn gets the best possible start, resulting in a vibrant and long-lasting new grass area.
Let Farrell's Lawn & Garden Center take care of your sod installation needs, so you can relax and revel in the joy of your stunning new lawn. Contact us today to get started on your journey to a greener and more vibrant landscape.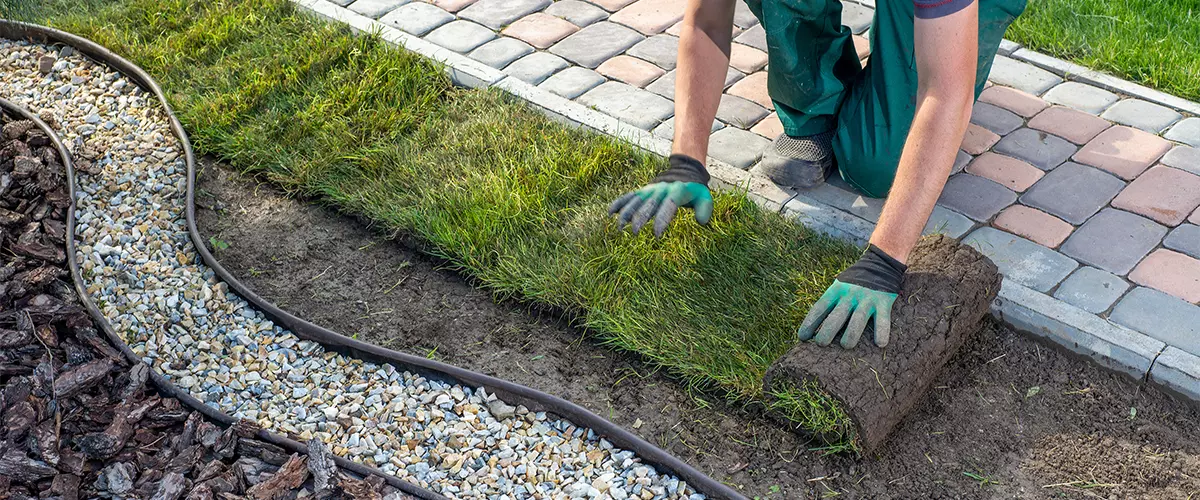 Discover why Farrell's is the top choice for creating beautiful and thriving outdoor spaces. Read on to see what our satisfied clients have to say about their journey with us.
Clayton and Kevin were great. They went above and beyond. We are very pleased with the unique design and ultimate appearance. They checked in with us often and remained attentive to our needs. Would use them again.
The interaction's that I have had with the owner of Farrell's L&G have always been courteous and professional. I would highly recommend them for you needs!
Preparing Your Lawn for Sod Installation
Congratulations on making the decision to transform your lawn with sod installation. At Farrell's Lawn & Garden Center, we are here to take care of every aspect of the process, ensuring you receive a lush and beautiful landscape without any worries or hassle.
Our team of professionals is well-equipped to handle the preparation phase, guaranteeing exceptional results for your lawn.
Before we begin the sod installation process, our experienced team will carefully assess the condition of your lawn. We identify any underlying issues and provide expert recommendations on whether sod installation is the right choice for your specific needs. With our guidance, you can be confident in making the best decision for your lawn's long-term health and beauty.
Preparing your lawn for sod installation requires attention to detail and expertise. Our skilled professionals will meticulously clear the area of any debris, old sod, or obstacles. We use the latest tools and techniques to ensure a level surface, creating the perfect canvas for your new lawn. With Farrell's, you can rest assured that your lawn will be in capable hands.
Creating a nourishing foundation for your new lawn is a key factor in its longevity and vitality. We conduct thorough soil tests to analyze its pH and nutrient levels. Based on the results, our team will implement the necessary soil amendments to optimize its health and promote optimal growth for your sod. Our goal is to create an environment where your lawn thrives for years to come.
4. Seamless Sod Installation
With Farrell's Lawn & Garden Center, sod installation is a stress-free and seamless process. Our team of experts will take care of every detail, from delivering fresh and high-quality sod rolls to laying them with precision and care. You won't have to worry about DIY mishaps or uneven installation; we ensure a professional finish that transforms your lawn into an instant green oasis.
Let us bring our passion for landscape installation to your doorstep, ensuring a flawless and exceptional job that will leave your lawn looking its finest.
Watering and Maintenance Tips for a Thriving Sod
By following these watering and maintenance tips, you can expect your new sod to flourish and create a lush and inviting landscape for your home.
1. Watering New Sod - The Key to Establishing Strong Roots
After we install sod on your lawn, proper watering is crucial for its successful establishment. During the initial two weeks, keep the sod consistently moist to encourage root growth.
Water your new sod daily, preferably in the early morning or late afternoon, when the temperatures are lower and the evaporation rate is reduced. Pay close attention to the edges and corners, ensuring they receive adequate hydration.
2. Install Sod over Old Grass - A Time-Saving Solution
If you have old grass that's thin, patchy, or struggling to grow, installing new sod is a time-saving and effective solution. The fresh sod laid over the old grass forms a dense and even layer, revitalizing your lawn with lush greenery.
Our professionals ensure that the old grass is properly prepared before laying the sod, ensuring seamless integration and optimal results.
3. Watering Existing Grass before Sod Installation
Before installing new sod, we thoroughly water the existing grass to keep the soil underneath moist. This step ensures better root-to-soil contact when the sod is laid, enabling the roots to penetrate and anchor more easily. By maintaining the right level of moisture in the soil, we set the stage for a healthy and successful sod installation.
4. Proper Watering after Sod Installation
Once the new sod is laid, it's essential to continue watering diligently during the first few weeks. Gradually reduce the frequency of watering as the roots take hold and the sod establishes itself.
Shift to a deep and infrequent watering schedule, allowing the soil to dry out slightly between watering sessions. This practice encourages the roots to grow deeper into the soil, making your lawn more resilient against drought conditions.
5. Sod Roll Quality - Essential for Healthy Growth
The quality of the sod roll you choose matters significantly for the health and appearance of your lawn. At Farrell's Lawn & Garden Center, we source high-quality sod from reputable sod farms, ensuring that you receive fresh and vibrant sod rolls for your installation.
Our sod is delivered promptly to maintain its freshness and vitality, guaranteeing a smooth and successful sod installation process.
6. Maintenance Tips for a Vibrant Lawn
Beyond watering, maintaining your new sod is essential for a vibrant and healthy lawn. Regular mowing, at the recommended height for your specific grass type, promotes strong growth and prevents thatch buildup.
Applying starter fertilizer during the initial stages provides essential nutrients for root development. We equip you with a comprehensive maintenance plan, tailored to your lawn's needs, to keep it looking its best year-round.
Contact us today to experience the joy of a stunning and healthy lawn with our top-notch sod installation service. When you work with us, you won't have to worry about a thing!
Determining the amount of sod needed for your lawn depends on its size and shape. To calculate the required sod, measure your lawn's dimensions in square feet (length x width). If you're unsure how to measure, don't worry! Our experts at Farrell's Lawn & Garden Center will visit your property, assess the area, and provide an accurate estimate for the amount of sod required to transform your lawn.
Soil testing is crucial for a successful sod installation. Conducting soil tests allows us to assess your soil's pH and nutrient levels, enabling us to tailor soil amendments and fertilization to your lawn's specific needs. This analysis creates an optimal environment for your new sod to thrive, ensuring a healthy and vibrant lawn.
At Farrell's Lawn & Garden Center, we cater to projects of all sizes. Whether you need sod for a small residential lawn or a large commercial space, we have the capacity to supply the amount of sod required to meet your specific project's needs. No lawn is too big or too small for our expert team!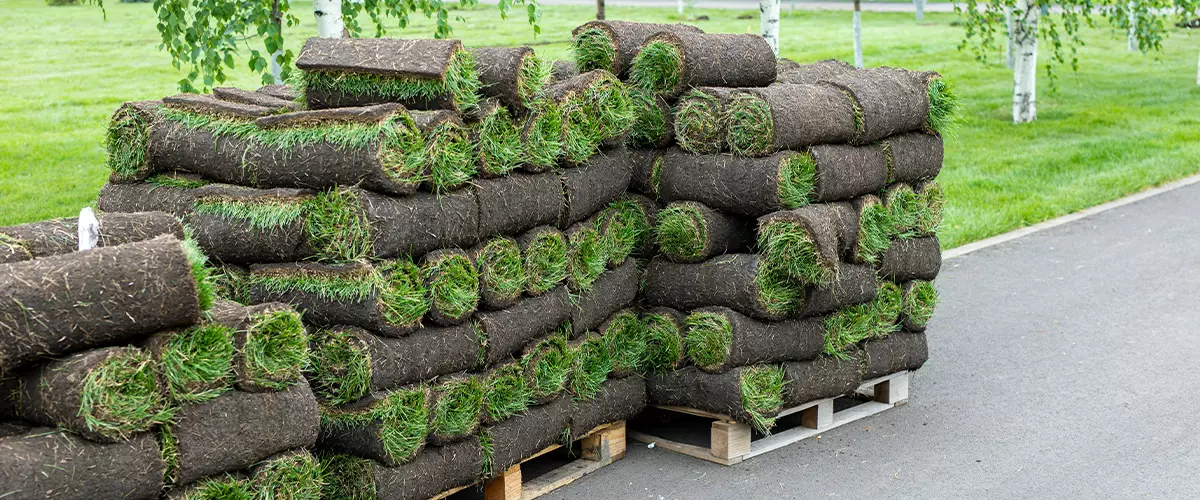 Contact Us Today for a Flourishing Lawn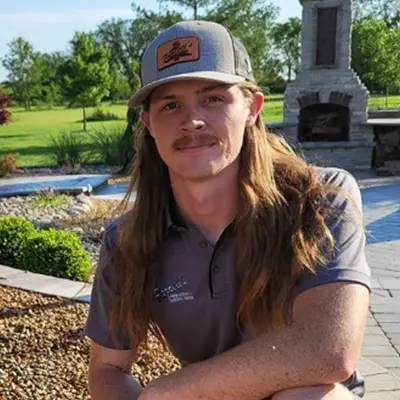 Transform your lawn into a verdant paradise with Farrell's Lawn & Garden Center. Don't wait any longer to achieve the lawn of your dreams.
Call us now at (419) 298-5377 to schedule a consultation and let our experienced team bring your vision to life. Your thriving lawn is just a phone call away!