Weed And Feed Lawn Fertilization In Bryan, Archbold, And More Of OH And IN
Make your lawn beautiful and safe for your family and pets.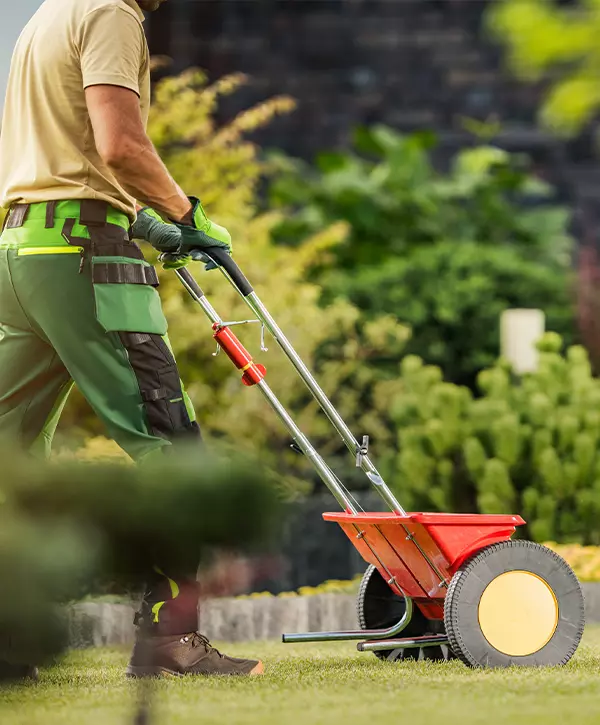 At Farrell's Lawn & Garden Center, we believe that a breathtaking lawn is within your reach. Our commitment to excellence shines through in every blade of grass we care for.
Introducing our signature "Weed and Feed" package (part of our lawn fertilization offer) – a cornerstone of our dedication to crafting vibrant, healthy, and weed-free lawns that stand as a testament to our expertise.
Dive into a world of lawn care innovation and join us on a journey to transform your outdoor space into a thriving masterpiece.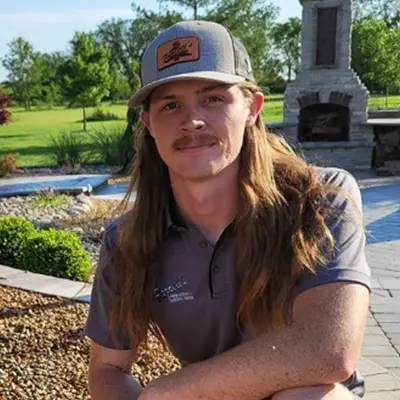 Clayton Farrell – Owner of Farrell's Lawn & Garden
Clayton has been an active part in the family business for as long as he can remember. As the proud owner of Farrell's 4-decades-old legacy, he continues to show his talent and commitment by designing, installing, and maintaining Ohio's and Indiana's landscapes.
With our Weed And Feed package, you can enjoy the following:
Understanding Weed and Feed for a Beautiful Lawn
Are you tired of those pesky lawn weeds taking away from the beauty of your outdoor oasis? We've got a solution that'll turn things around – introducing our exclusive "Weed and Feed" service.
The term "weed and feed" typically refers to a product that is designed to be applied to lawns in order to simultaneously address weed issues by killing existing weeds and preventing new ones from growing while also providing essential nutrients to promote healthy grass growth.
It's a convenient and efficient way to improve the overall health and appearance of a lawn by tackling two important aspects of lawn care in a single application.
Lawn Fertilizer and Weed Killer in One Powerful Punch
Our "Weed and Feed" service is like a superhero duo, teaming up to rescue your lawn from the clutches of weeds. Picture it as a carefully crafted potion designed to nurture your lawn while removing unwanted intruders.
The magic formula combines the benefits of lawn fertilizer and weed killer, working together to kill weeds while providing your lawn with the essential nutrients it craves for robust and healthy growth.
A Strategy to Eradicate Existing Weeds
Got existing weeds wreaking havoc on your lawn? Our specialized weed killers target these offenders with precision.
We understand that different lawn weeds require different approaches, which is why our selection of weed killers is designed to tackle the many weed species that can invade your yard.
Whether it's those common weeds with relentless weed leaves or those that thrive in the intense heat, our treatments cover the spectrum.
How Does Weed and Feed Work?
Our weed and feed products act as the lifeblood of your lawn, supplying the essential nutrients needed for optimal plant growth.

The cool thing? Our products are formulated to selectively target the most stubborn lawn weeds, kill weeds at their source while promoting a lush and vibrant carpet of cool-season grasses.
So, whether your lawn is as dry as a desert or as wet as a rainforest, our treatments adapt to give your lawn the ultimate care it deserves.
A Triple Benefit: Fewer Weeds, More Beauty, Stronger Roots
Imagine a scenario where every corner of your lawn is free from those unwelcome visitors – a sight to behold, right?
Our weed and feed treatments achieve just that, reducing weeds while promoting a whole lawn transformation.
As the weeds vanish, your lawn can now channel its energy into building strong roots that grip the ground like a pro athlete, ensuring resilience against weather, foot traffic, and everything in between.
Your lawn's journey toward newfound vitality and charm starts here. Get in touch with Farrell's Lawn & Garden Center today, and let's make your dream of a gorgeous, weed-free lawn a reality.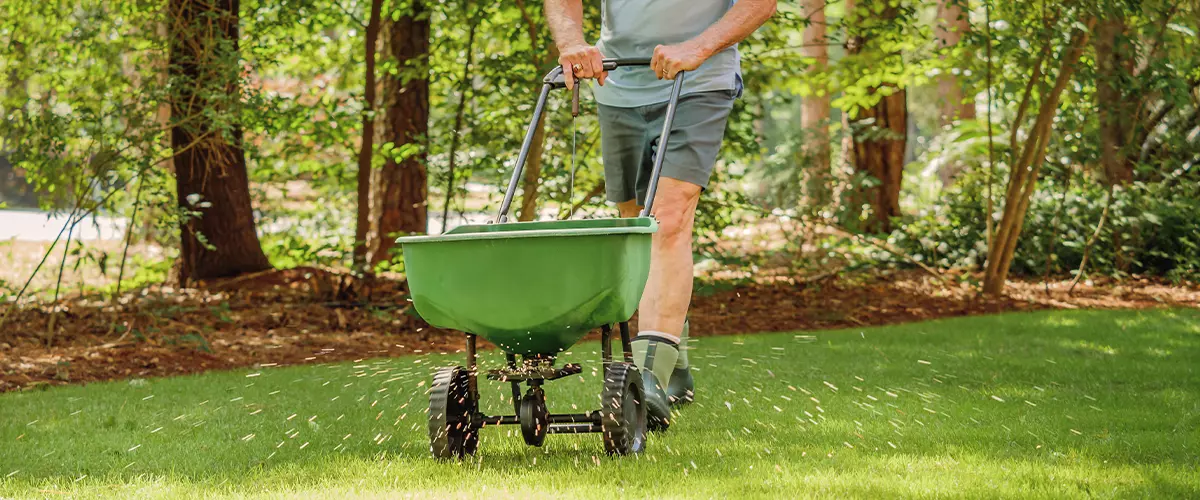 Learn Why Homeowners Enjoyed Working With Us
Hear from our satisfied customers and witness the transformative power of our services through their inspiring testimonials.
Great people to work with. Applied grub killer to lawn and it is working great.
On-time and on-budget. Highly recommend Farrell's.
Farrell's treats our lawn for weeds and applies fertilizer to enhance our lawn. Our lawn looks the best it has looked in years. It is easy to pay on-line after each treatment.
Curious about the magic behind our "Weed and Feed" service? Let's break it down into four simple steps that outline how this transformative process works to give you a lawn that stands out in the neighborhood.
Step 1: Precise Application
Our expert team kicks off the process with a precise application of our specialized weed and feed products. Just like a skilled artist applies each brushstroke to create a masterpiece, we strategically treat your lawn to target both existing weeds and the areas that could use an extra nutrient boost.
Step 2: Nutrient Infusion
Imagine your lawn as a growing child in need of a balanced diet to flourish. Our "Weed and Feed" service provides the equivalent of a nutrient-packed meal. The essential nutrients in our formula are absorbed by the grassroots, fueling vigorous growth, deep color, and overall lawn vitality. It's like giving your lawn a spa day, but for its roots!
With the nutrients doing their job, it's time to tackle those troublesome weeds. Our carefully selected weed killers go to work, attacking lawn weeds at their core. It's as if we're gently removing the unruly guests from your garden party, making space for your grass to flourish without competition.
Step 4: Ongoing Protection
Your lawn's transformation is an ongoing journey, and we're here to ensure its continued success. Our treatments not only give you an immediate weed-free lawn, but they also strengthen your grass's defenses against future weed invasions. Think of it as building a fortress around your lawn, shielding it from potential weed attacks.
A healthy lawn that's the envy of the block is just a call away. Let Farrell's Lawn & Garden Center guide take care of your lawn fertilization needs, and together, we'll turn your lawn into a stunning masterpiece that you'll be proud to call your own.
Ready to Unleash Your Lawn's Potential?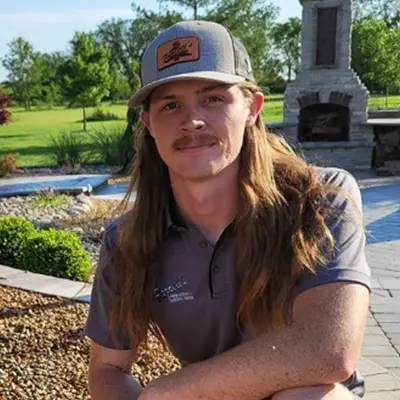 Join the ranks of satisfied homeowners who have witnessed their lawns bloom into breathtaking landscapes.
Contact us today at (419) 298-5377, or send us a message to embark on your lawn's transformation journey. Let Farrell's Lawn & Garden Center be your partner in creating a lawn that leaves a lasting impression.