Enjoy a functional backyard all year round with a paver patio in Bryan, Archbold, Defiance, Napoleon, Swanton, Whitehouse, And More Of Ohio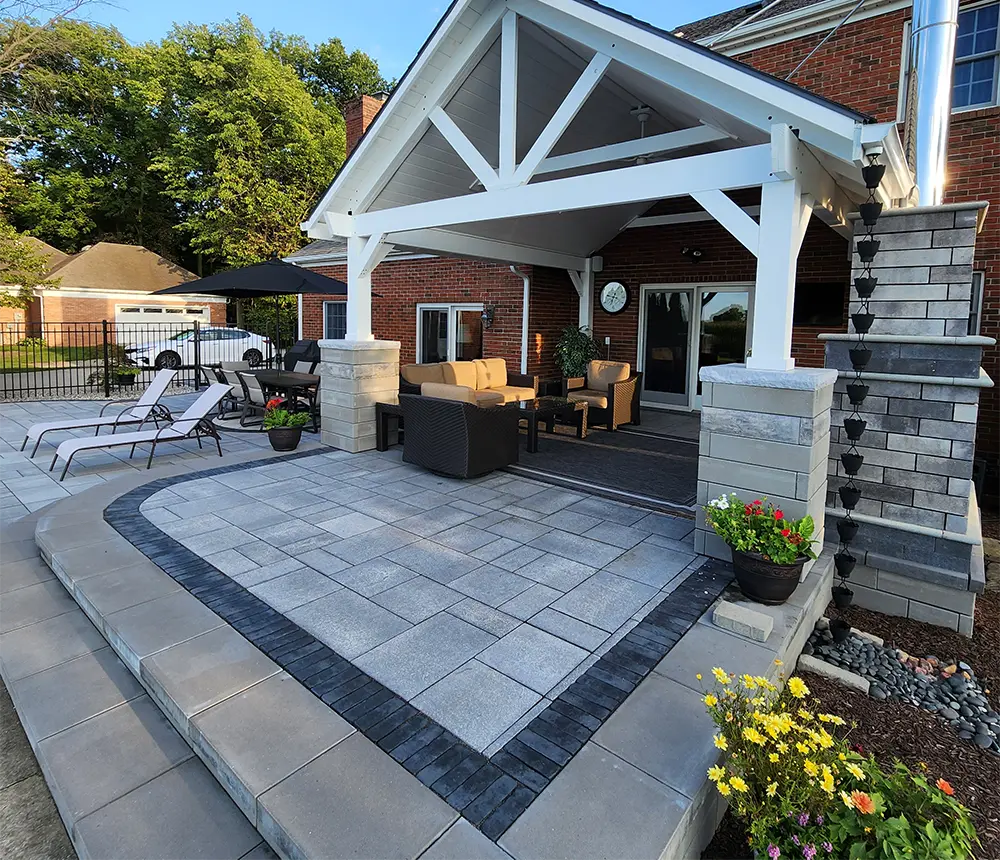 Scroll down to discover paver patio options, process, and pricing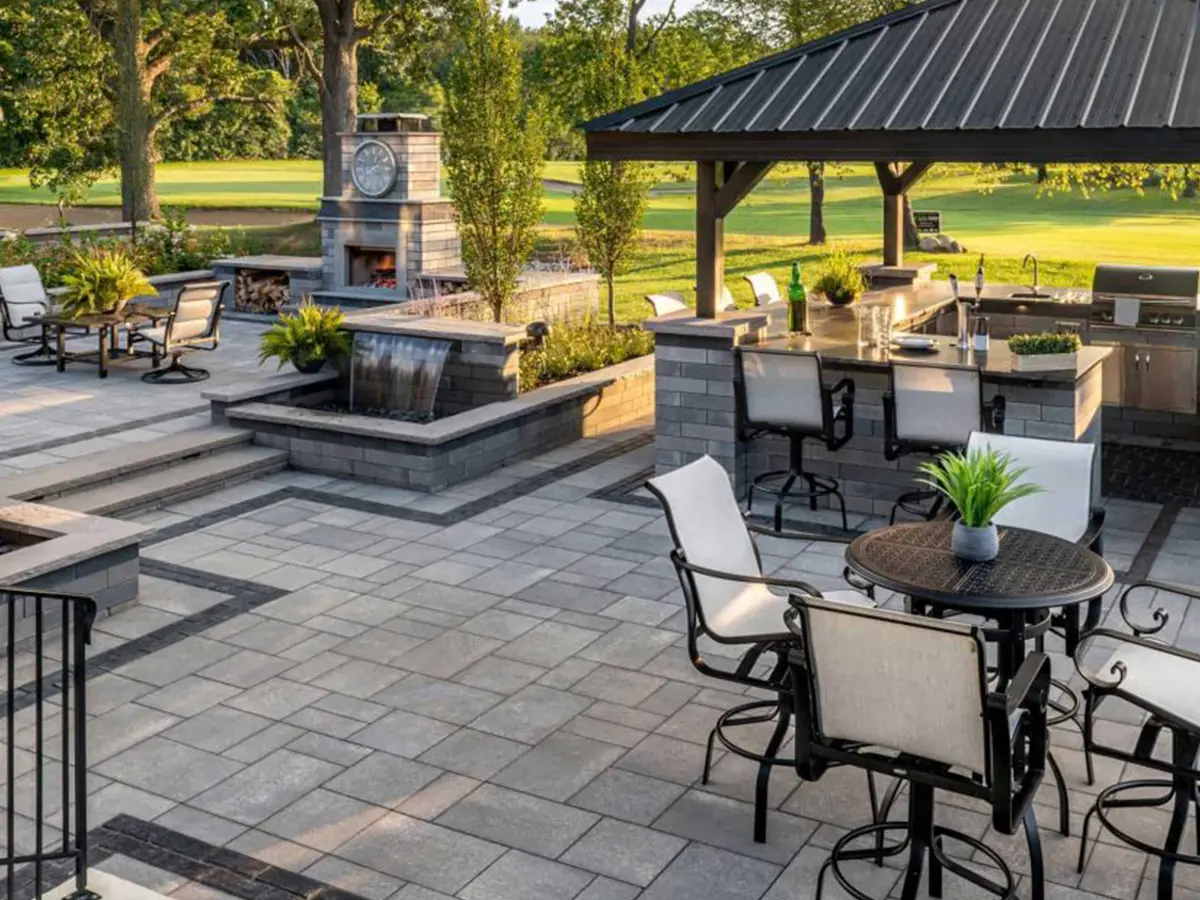 Bring family and friends together in a usable Backyard
Your patio can be a sanctuary that bridges the gap between indoor comfort and the beauty of nature. With a paver patio, you'll have the perfect space to gather, relax, and enjoy the outdoors, whether it's a cozy evening around the fire pit or a delightful meal on a sunny afternoon.
Our meticulously selected and installed pavers not only provide a solid foundation for your yard but also add visual appeal to your patio.
With a wide range of textures, colors, and sizes available, we can create a paver patio project that suits your style.
Make the most out of your backyard with patio upgrades such as:
Expand your living space with a Stunning paver patio
A paver patio installation involves multiple steps to achieve a durable and visually appealing outdoor space. These steps include removing any existing patio or vegetation and carefully excavating the area to create a stable base.
After installing the base stone and ensuring proper drainage with grading and sloping, the pavers are meticulously laid in the desired pattern, and custom cuts are made to perfectly fit the design. Concrete edging is then added for clear border definition, and polymeric or epoxy sand is applied to fill the joints between the pavers, completing the patio with a polished and cohesive look.
Smaller paver patios can typically be completed within about a week, while larger and more intricate projects may take up to 6 weeks or longer. Once we understand your needs and have a final 3D design, we'll be able to give you an accurate timeline for your upcoming patio.
Yes, we provide a 5-year warranty on workmanship, ensuring that the installation is performed to the highest standards. Additionally, the pavers themselves come with a lifetime warranty, reflecting their durability and long-lasting quality.
The cost of a paver patio installation job can vary depending on factors such as the size, complexity, paver selection, design intricacy, and any additional features or customization. Typically, paver patio projects start at around $10,000 and can go up to $150,000 or more. Most projects tend to fall within the range of $25,000 to $50,000, depending on specific requirements and preferences.
Your paver patio installation project will be handled by one of our in-house crews, who are trained and authorized by Unilock, a leading paver manufacturer. Our crews undergo annual training to stay updated on the latest industry techniques and maintain their professional experience.
Equipped with the best tools available, they are well-prepared to deliver high-quality installations and employ industry-leading techniques to ensure exceptional results.
Pavers tend to outlast concrete when properly installed. Unlike concrete, pavers are less prone to cracking and offer greater durability over time. They maintain their aesthetic appeal for longer periods, and their quality is enhanced by the higher-grade concrete used specifically for paver installations.
Pavers are also easier to maintain and repair if needed, allowing for easier upkeep and the ability to address any issues promptly.
Paver Patios Pricing Case Studies In Ohio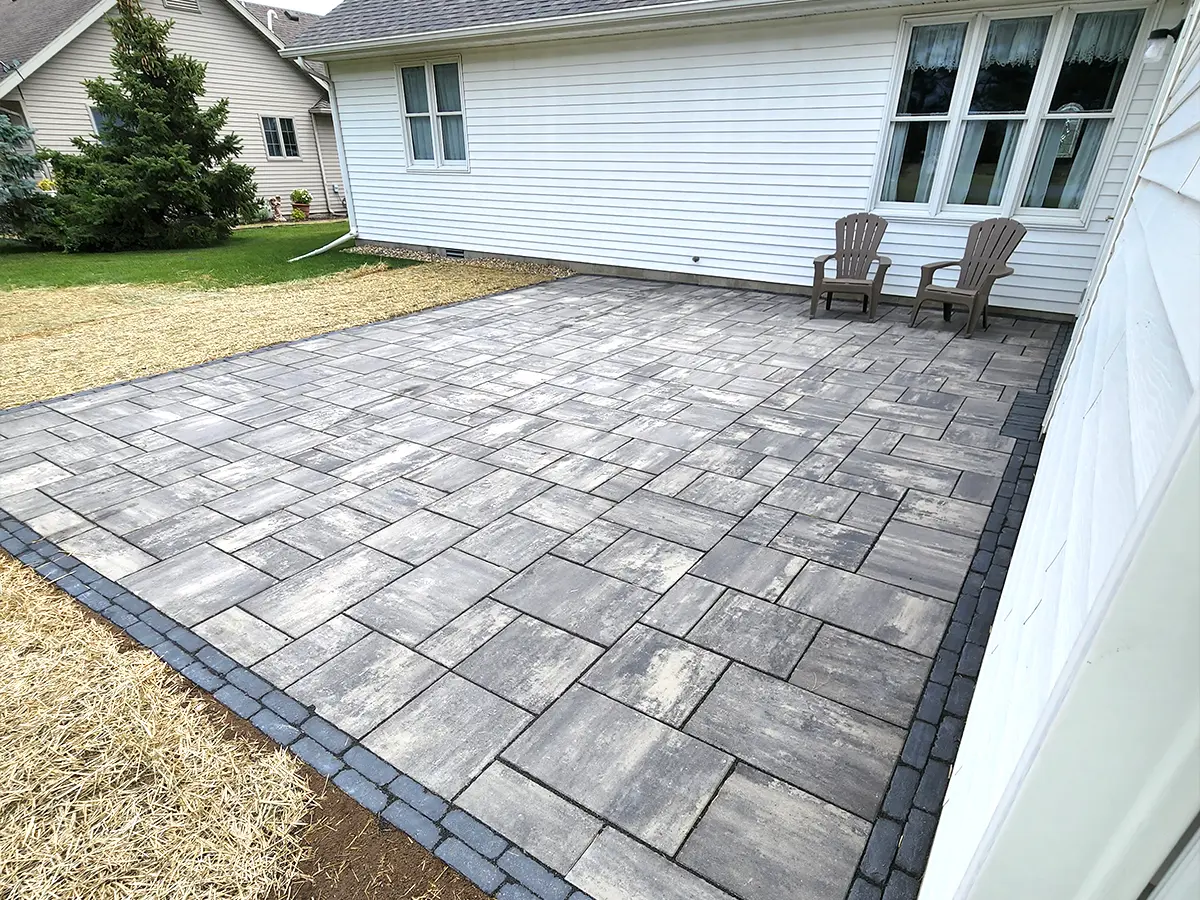 16x12 paver patio in Defiance, Ohio
This 200 sq. ft. paver patio project included:
The project was quoted at $10,900, where the paver patio itself was $8k.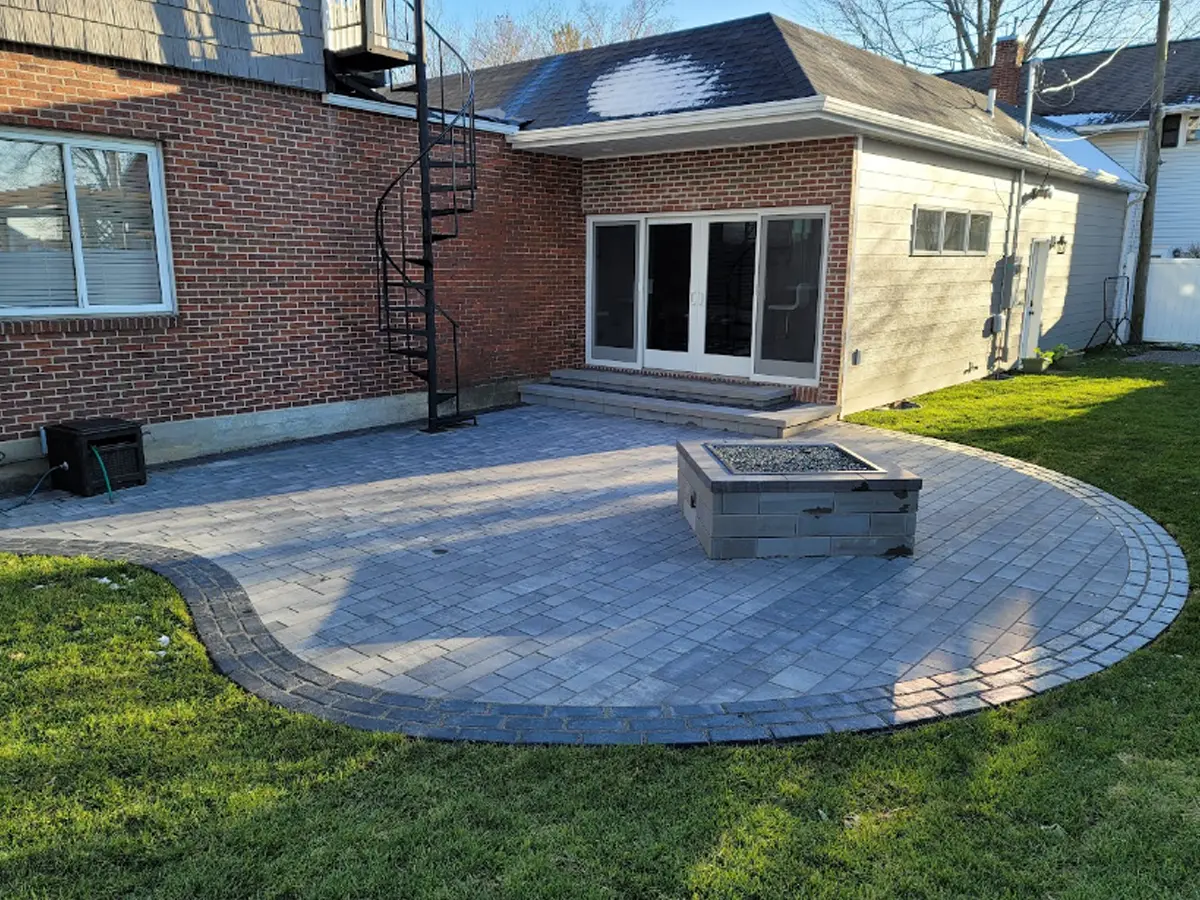 Rounded Paver Patio in Defiance, Ohio
This 675 sq. ft. paver patio project included:
The project was quoted at $44,500, where the gas fire pit was $5,500.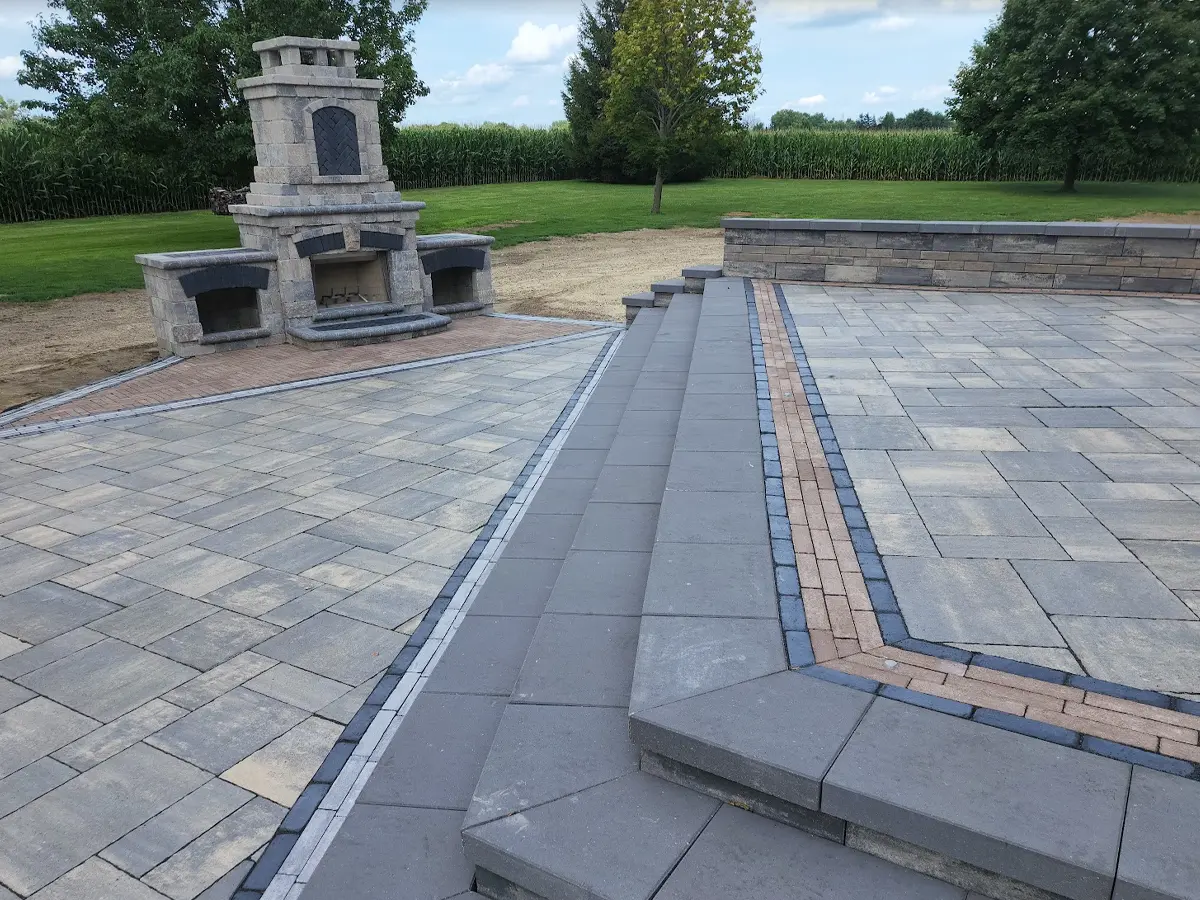 Full outdoor living space With paver patio In Bryan, Ohio
This custom paver patio project included:
The project was quoted at $124k, where the custom fire feature was $20k.
A paver patio is the best investment you can make when it comes to extending your outdoor space. Get started now, it only takes a minute.
Your New Paver Patio In 3 Easy Steps
From guidance to design and execution, we offer an all-inclusive service for your paver patio.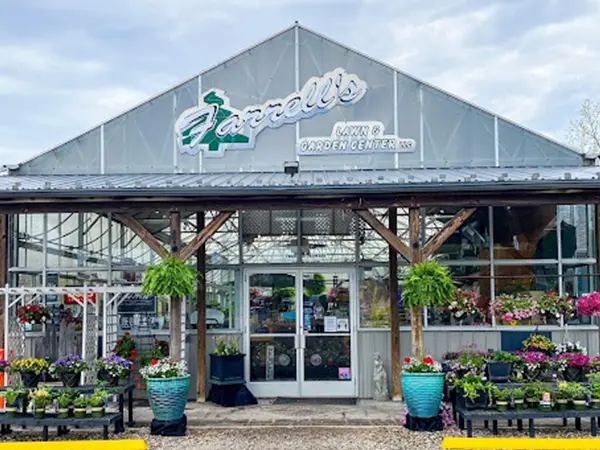 Tell us about your vision for your paver patio. Our designer will create a 3D rendering so that you can see how your patio will look like.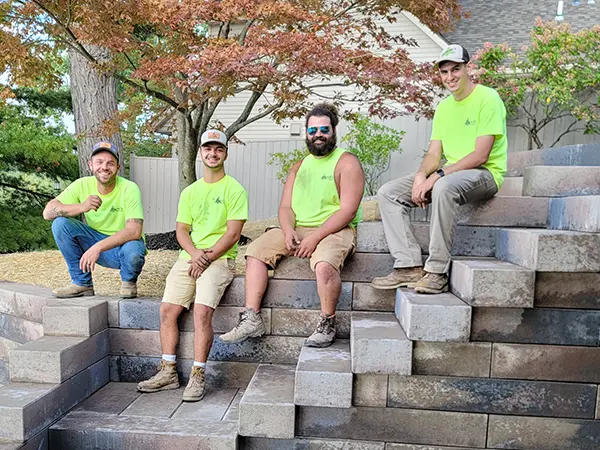 With the design complete, we order materials and get to work. Our trained technicians will install every paver and landscape element to perfection.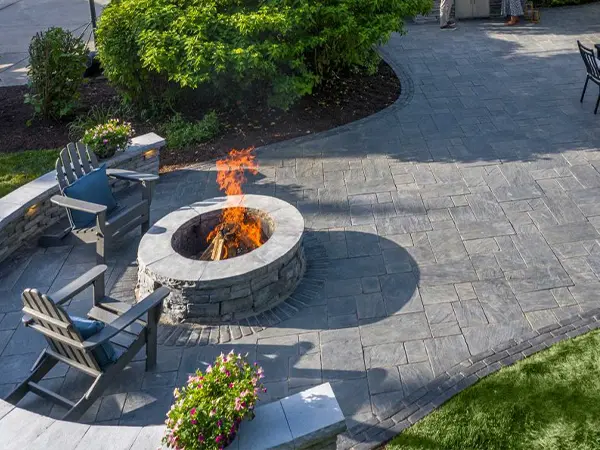 Step outside the back door on an inviting, clean, and functional space that allows you to gather your loved ones comfortably and spend time outdoors.
Farrell's is a Unilock Authorized Contractor, an ICPI Certified Concrete Paver Installer, member of the Ohio Green Industry Association, and a BBB Accredited business, which means we meet the industry's best criteria to deliver a paver patio that looks amazing and lasts for decades.
Enjoy The Guarantee Of Some Of The Best Brands And Technologies For Your Paver Patio
Enjoy the guarantee of some of the best brands and technologies for your paver patio
Your peace of mind is our first priority
Here's what homeowners like you say about their experience working with Farrell's:
My wife and I are very happy with the service which we had performed by Farrell's.
Clayton is very personable and understanding. Juan and Orlando did an amazing job with the patio.
In February, we had a water line break in our front yard and we had a mound of clay for a couple months. Now, the mound has been leveled and hydro seeded. We are looking forward to a nice lawn.
From start to finish Clayton and his team hit it out of the park! Verry professional, kept a neat and tidy job site and stayed at it once they began! I recommended them to a family member as well.
I was looking at another company that was close but out of state. I kept getting the run around from them and could not even get a quote on time!
I am Proud to say, my wife and I SUPPORTED LOCAL!! If you are considering hiring your landscaping done, I would definitely use Farrells!!
Clayton was GREAT to work with, very professional and friendly. He listened to what we wanted and designed the perfect patio area.
He consulted us with any and all idea proposals and price changes. Always on time and stayed in touch thru email or text as questions/concerts arose.
We can't wait for the work to be completed. We will update our review after the work is complete and rate the construction crew.
Blending Beauty and Functionality For Your Paver Patio
Farrell's brings unique advantages to your paver patio project
Farrell's is proud to be an authorized contractor of Unilock, one of US' leading paving products manufacturer. From pavers, slabs, fireplaces, and outdoor kitchens, you'll get the best products for your paver patio.
Rest assured that your project is in good hands with Farrell's, an ICPI Certified Installer. WIth ICPI, we have undergone comprehensive industry training and have up-to-date knowledge of the latest news and techniques in the pavers, bricks, and patio industry.
With our meticulous preparation, precise cutting, and expert installation of every paver in your patio, you can expect it to maintain its original appearance even after 15 years. No sinking areas, wobbly stones, or trip hazards.
Transform your home with a well-designed paver patio