Gate Installation In Bryan, OH
Elevate your home's look and safety with expert porch railing installation in Bryan and more of Ohio!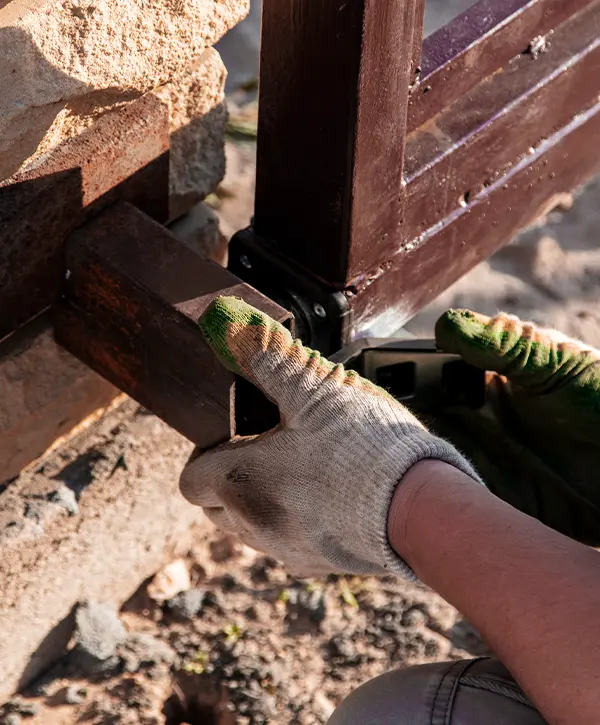 A gate installation is a crucial component for any property in Bryan, OH, offering not just functionality but also aesthetic appeal. 
A gate can significantly increase the property value, giving an impression of sophistication and elegance that makes the property stand out. In a community-focused area like Bryan, OH, where each property has its unique charm, a gate is a defining feature that adds to the overall allure and integrity of the property. If you're also installing a new fence for your property, gates are necessary to ensure a quick way out.
Here at Farrell's Lawn And Garden Center, most of the fences we're building come with a beautiful gate installation that finishes up the project, so you can receive a complete service and a lasting product.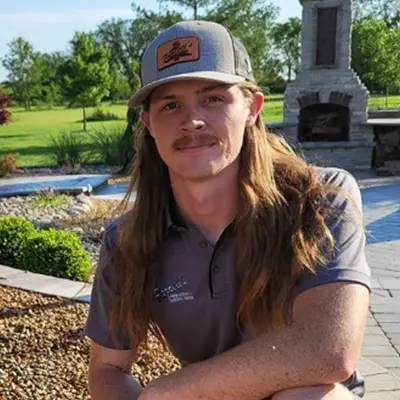 Clayton Farrell – Owner of Farrell's Lawn & Garden
With a wealth of experience and a passion for creating breathtaking outdoor spaces, Clayton is dedicated to implementing efficient hardscaping solutions that look amazing on your property. As the proud owner of the well-known Farrell's Lawn And Garden Center, Clayton works to build beautiful outdoor spaces you love to spend time in.
3 Reasons You Need A Gate Installation
Gates are required if you don't want to jump the fence. They offer a way in and out of your property and complete the look of your fence. Below are the 3 main reasons why our clients get a gate installed with us.
A well-installed gate significantly elevates the safety level of your property. Firstly, it acts as a physical barrier, deterring potential intruders and preventing unauthorized access. By having a gate, you effectively control who enters and exits your property, adding an extra layer of security. Secondly, if the gate is equipped with advanced features such as automatic locking systems, security cameras, or motion detectors, it can provide active surveillance and reduce the risk of theft or vandalism. For those with children or pets, a gate can ensure their safety by preventing them from wandering off the property.
Gates offer functional benefits and enhance curb appeal and property value. A well-chosen and installed gate adds distinction and grandeur as a focal point, complementing your home's style. Buyers perceive a gate as exclusive and luxurious, resulting in a higher asking price. Moreover, a beautiful gate signifies attention to detail and improved security, contributing to increased property valuation. Invest in a gate for an upscale ambiance and potential future returns. To achieve this, we'd recommend a wrought iron gate with decorative elements or a masonry and metal gate, as these are upscale materials, sure to make your property look expensive.
A gate is like the final piece of a puzzle, tying the entire landscape together into a cohesive space. It complements the design and style of the fence, ensuring a consistent look throughout the property. The gate serves as a transition point, a marker that distinguishes the property from the rest of the world, and a welcoming introduction to your home. It's a focal point that draws the eye, and when chosen well, it underscores the architectural style of your home and enhances the overall aesthetic. The gate not only provides a practical point of access but also finishes the visual line of the fence, offering a well-defined boundary and a clear entrance and exit point.
At Farrell's Lawn And Garden Center, our expert team ensures that your gate installation aligns seamlessly with your fence, creating a finished, polished look for your property.
Top 5 Materials For Your New Gate
Below are 6 porch railing materials you can get for your outdoor space. Keep in mind that each option will impact your space differently, but they're all better than nothing.
Wrought iron is a popular choice for gate material due to its durability, strength, and classic aesthetic appeal. It is resistant to harsh weather conditions and requires minimal maintenance. The intricate designs that can be crafted from wrought iron add an elegant touch and can be customized to match any architectural style. Although it is slightly more expensive than other materials, its longevity and timeless beauty make it a worthy investment.
Wood is a traditional choice for gate materials and adds a warm, natural look to your property. It is versatile and can be crafted into a variety of styles, from rustic to contemporary. While it does require regular maintenance to prevent decay and insect damage, a well-cared-for wooden gate can last for many years. Different types of wood, such as cedar, redwood, or pine, offer varied looks and levels of durability.
Steel gates are known for their strength and durability. They are highly resistant to damage and can withstand strong winds and impacts. Steel gates can be finished in a variety of ways, including painting or powder coating, to match the style of your property. They offer excellent security due to their robust construction and can be equipped with sophisticated locking mechanisms.
Vinyl gates are a more modern option with several benefits. They are resistant to rot and insects, and they will not warp or fade over time. This makes them a low-maintenance option compared to materials like wood. Vinyl gates are also available in a variety of styles and colors, allowing for flexibility in design. While they may not offer the same strength as iron or steel gates, they are an excellent choice for those seeking a cost-effective, durable, and attractive gate material.
Aluminum is lightweight, resistant to corrosion, and requires minimal maintenance, making it an excellent choice for gate material. Despite its light weight, aluminum can be very durable and sturdy, providing excellent security. It can be painted or powder-coated in a range of colors to suit your property's aesthetic. Aluminum gates are also environmentally friendly, as aluminum is a fully recyclable material.
Gate Installation Cost In Bryan, OH, Based on Material
Let's look at the cost of different gate sizes, materials, and features.
Driveway Gate Cost Estimator by Size
Electric driveway gates are available in a range of sizes, typically spanning from 12 to 18 feet in width and 4 to 10 feet in height. As the size of the gates increases, so does the overall cost of the project.
| Factor | Average Cost |
| --- | --- |
| Waterproofing | $1,900 - $6,300 |
| HVAC | $5,000 - $11,000 |
| Electrical | $2,000 - $13,500 |
| Plumbing | $2,500 - $20,000 |
| Framing | $1,100 - $4,500 |
| Insulation | $600 - $4,600 |
| Drywall | $750 - $8,300 |
| Painting | $800 - $2,500 |
| Ceiling | $1,000 - $6,000 |
| Flooring | $1,000 - $36,000 |
| Egress window | $2,000 - $5,000 |
| Staircase | $xxx - $xxx |
| Door | $225 - $1,900 |
| Lighting | $100 - $650 |
Swing gates are widely used and easy to operate. They consist of one or two gates that swing inward or outward and are supported by hinges attached to sturdy columns or posts that can support their weight. The cost of installing such a gate ranges from $500 to $8,500.
Sliding gates Detailed Costs Breakdown
Sliding gates move on wheels along a track across the driveway. They can be double gates that meet in the middle or a single gate that slides across the entire opening. Their installation is often complicated and costs more due to the groundwork required for the track and drainage. Prices for this gate range from $1,050 to $5,200.
| Material | Average Costs (Manual) | Average Costs (Automatic) |
| --- | --- | --- |
| Chain Link | $180 - $1,000 | $730 - $5,500 |
| Vinyl | $200 - $1,100 | $750 - $5,600 |
| Wood | $300 - $4,000 | $850 - $8,500 |
| Steel | $600 - $4,000 | $1,150 - $8,500 |
| Wrought Iron | $600 - $4,000 | $1,150 - $8,600 |
| Composite | $800 - $5,000 | $1,200 - $9,000 |
| Aluminum | $1,800 - $4,100 | $2,350 - $8,600 |