What would you like to explore?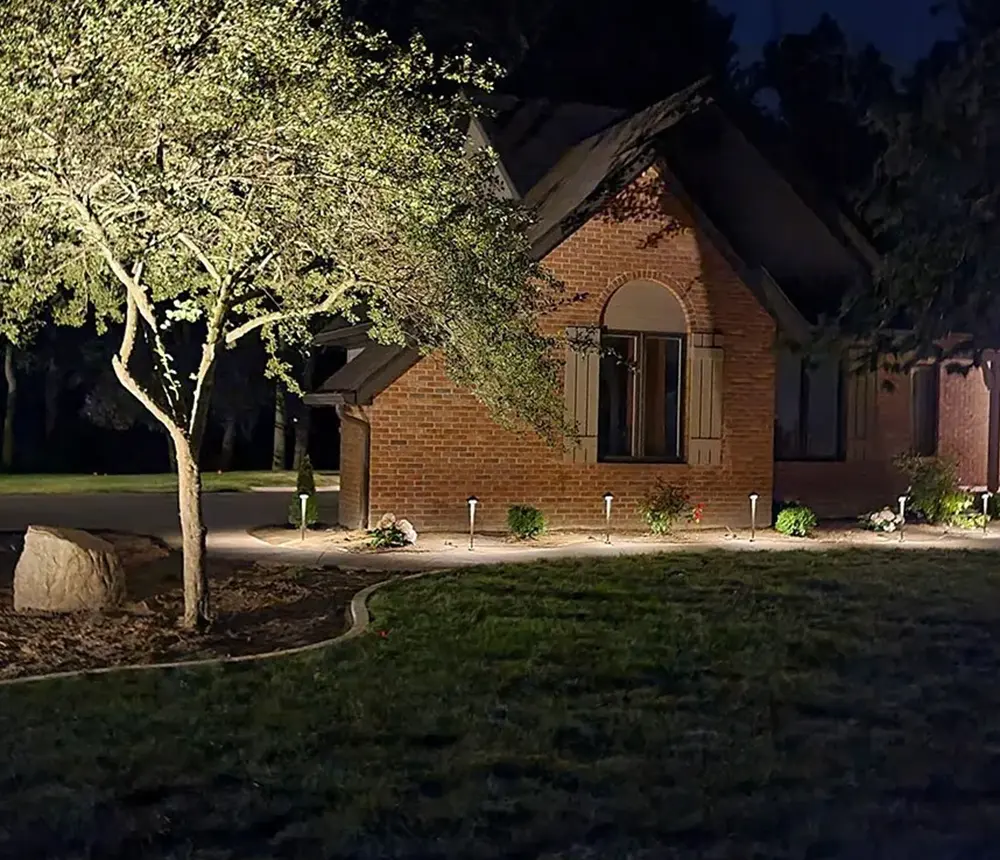 Scroll to browse gallery and case studies on your own
warranty on plant material
I've been working with Clayton for awhile now and understanding how he runs the business at Farrell's.
I'm impressed with how professional and thought out the operation is. I know Clayton cares deeply about his clients as well as his team. I would trust him to provide a great client experience on any landscaping project!
We were looking for some privacy on our property and Clayton and his team came highly recommended.
They were great to work for and extremely professional. We've since hired them back out to install a beautiful unilock fireplace and patio.
Clayton was amazing to work with. He helped me make my vision come to reality. The company is a joy to work with.
I would highly recommend them to anyone.
Travis was very knowledgeable and offered great suggestions as well as helped us to create our outdoor living space.
We are super excited to get this project started.
My dad's backyard was overgrown and a real mess. They did an excellent job cleaning it up and making it look fantastic! Responsive and great customer service, would definitely recommend them.
I now have a weekly service set up.
My wife and I are very happy with the service which we had performed by Farrell's. Clayton is very personable and understanding. Juan and Orlando did an amazing job with the patio.
In February, we had a water line break in our front yard and we had a mound of clay for a couple months. Now, the mound has been leveled and hydro seeded. We are looking forward to a nice la
Landscape Installation Case Studies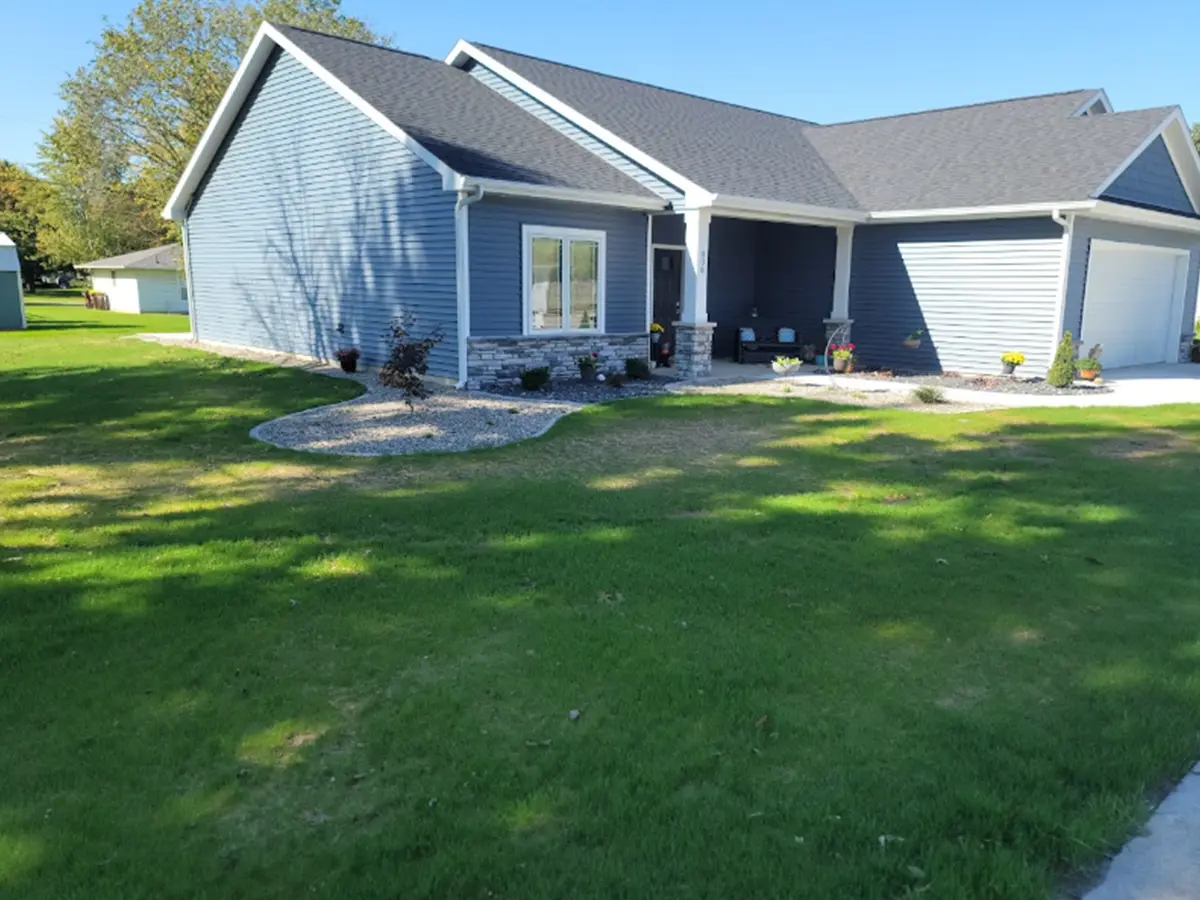 New home construction landscape in Hickville, OH
For this full-home landscaping project, our client wanted to create a beautiful and inviting outdoor space that complements their new home in Hickville, OH. We began by designing a landscaping plan that incorporated a variety of plants and trees to add natural beauty and curb appeal.
The lawn installation was done with care to ensure a lush and healthy green space. To enhance the overall look, we added brick edging, which not only defines the landscape but also adds a touch of elegance.
For easy maintenance, we installed a weed barrier to prevent weed growth, and instead of using mulch, we opted for ground cover stone, which provides a lasting and low-maintenance solution. The entire project, including the landscaping around the house, was quoted at $15k, with the house landscaping accounting for $10k.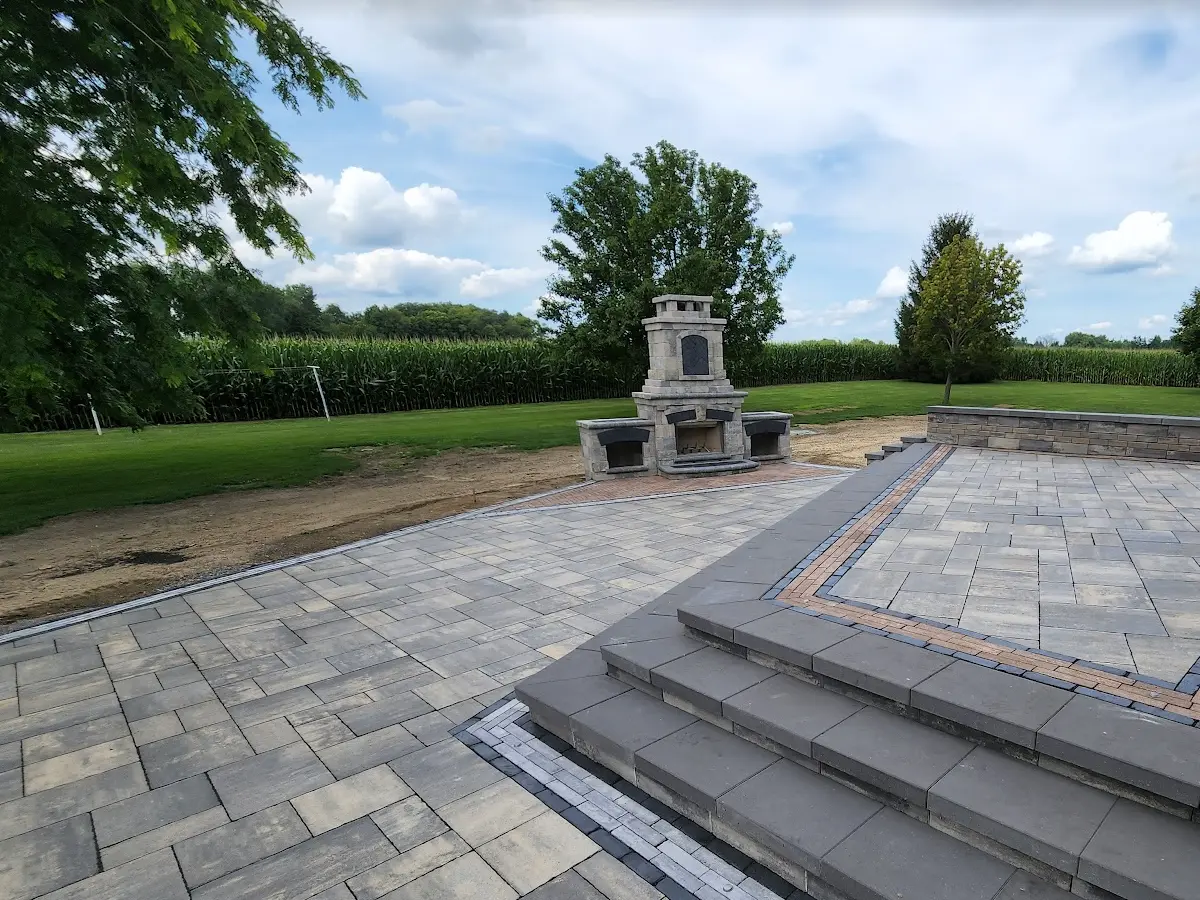 Landscaping And Patio Installation In West Unity, Ohio
In West Unity, Ohio, our team took on an exciting landscaping and patio installation project. The landscaping around the house was accentuated with elegant brick edging. To ensure easy upkeep, we carefully selected low maintenance plant materials. Adding both charm and accessibility, we constructed a paver patio walkway, seamlessly connecting different areas of the landscape.
Landscape lighting was installed to create an enchanting atmosphere during evenings. Privacy was addressed through thoughtfully placed privacy plantings, and for a lasting and low-maintenance solution, we used ground cover stone instead of traditional mulch. The landscaping portion of the project was quoted at $47k, with the walkway accounting for $15k of the total cost.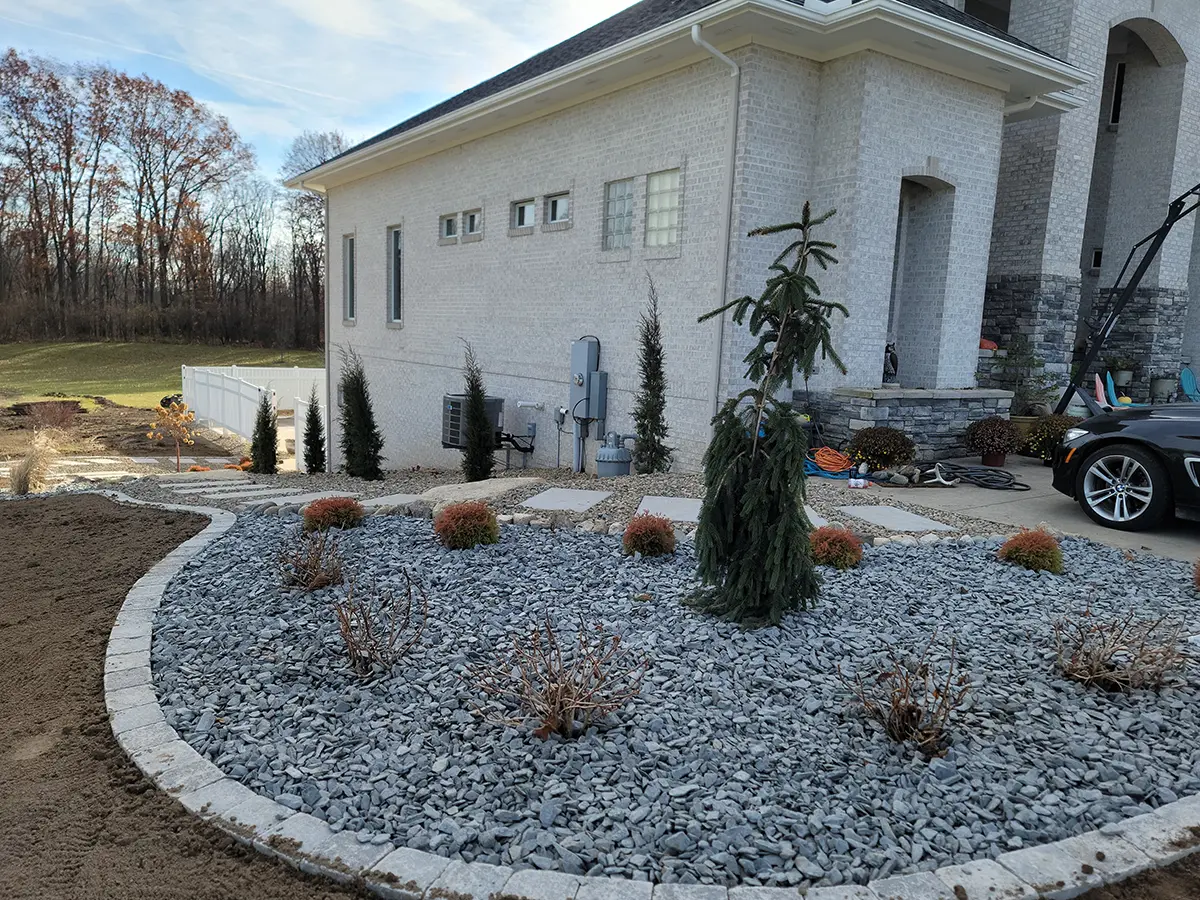 Full Home Landscaping and Steps Leading Down to Pool and Patio in Bryan, Ohio
Our client in Bryan, Ohio, wanted low-maintenance plantings, so we carefully selected a combination of different plant materials that thrive well in the region.
To add accessibility to their pool and patio area, we built elegant steps leading down to the outdoor living space. We included fencing for privacy and safety, installed a fire pit area and a bar area, perfect for entertaining guests and family gatherings.
As part of the project, we also addressed lawn remediation to ensure a healthy and lush lawn. The entire landscaping project, including the patio and fireplace area, was quoted at $81k, with the patio and fireplace contributing $20k to the total cost.
Get Your Flawlessly Designed And Built Landscape
We're here to help with 3D technology and perfect installation of each element of your landscape.
Clayton was GREAT to work with, very professional and friendly. He listened to what we wanted and designed the perfect patio area. He consulted us with any and all idea proposals and price changes. Always on time and stayed in touch thru email or text as questions/concerts arose.
We can't wait for the work to be completed. We will update our review after the work is complete and rate the construction crew.
Clayton and Kevin were great. They went above and beyond.
We are very pleased with the unique design and ultimate appearance. They checked in with us often and remained attentive to our needs.
Would use them again.
Farrell's lawn and garden center was very helpful on the planning and executing our landscaping project.
The staff was very knowledgeable regarding the products that were used in our project. The staff is readily available to answer any questions you may have and to assist in anyway possible.
We could not have done this project without their expertise knowledge and assistance.
Paver Patios Case Studies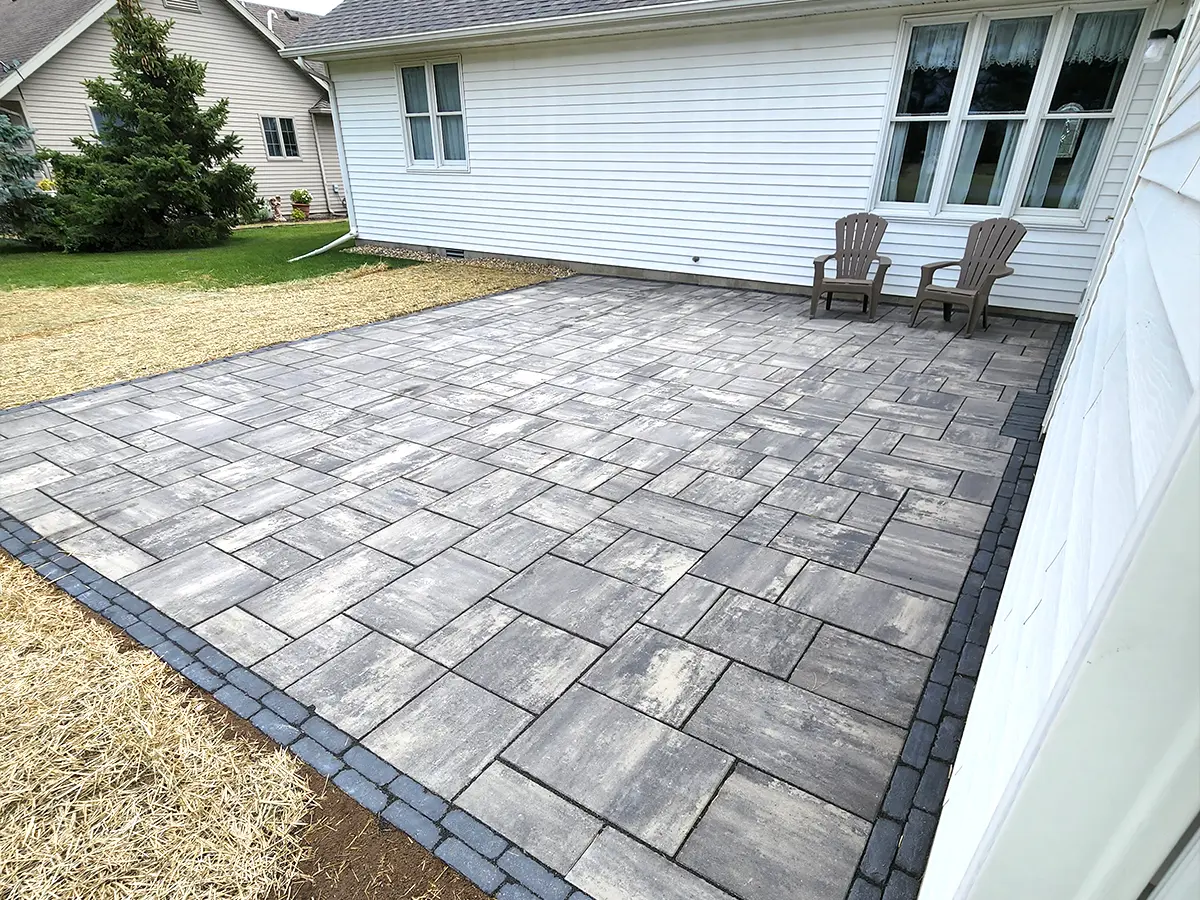 16x12 paver patio in Defiance, Ohio
In Defiance, Ohio, we undertook a straightforward yet impactful 16×12 paver patio project, covering an area of 200 sq. ft.
We carefully removed the old concrete patio and prepared the area for the new installation. To ensure proper drainage, we meticulously installed a drainage system to prevent any water pooling issues.
For the new paver patio, we used Beacon Hill pavers complemented with a town hall border. 
The entire project, including the paver patio itself, was quoted at $10,900, with the paver patio alone accounting for $8,000.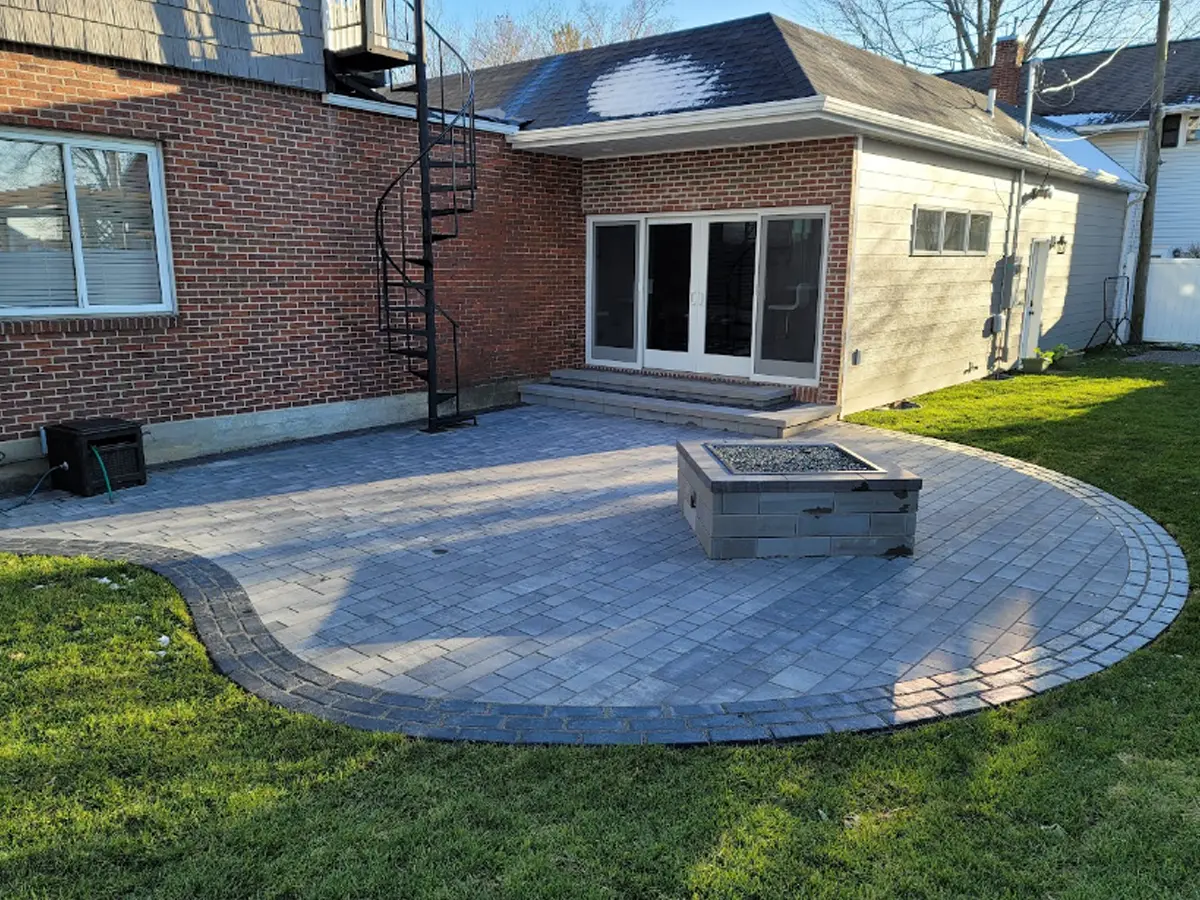 675 Sq. Ft. Paver Patio in Defiance, Ohio
Also in Defiance, Ohio, we completed this 675 sq. ft. paver patio project, which featured an artline paver design with a town hall border.
The patio included U-Cara steps for easy access and a modern touch. Adding to the ambiance, we installed an HPC gas fire pit with Bluetooth app connectivity.
As a final touch, we conducted sod installation to create a lush and inviting outdoor space and lawn.
The total project cost was $44,500, with the gas fire pit alone priced at $5,500.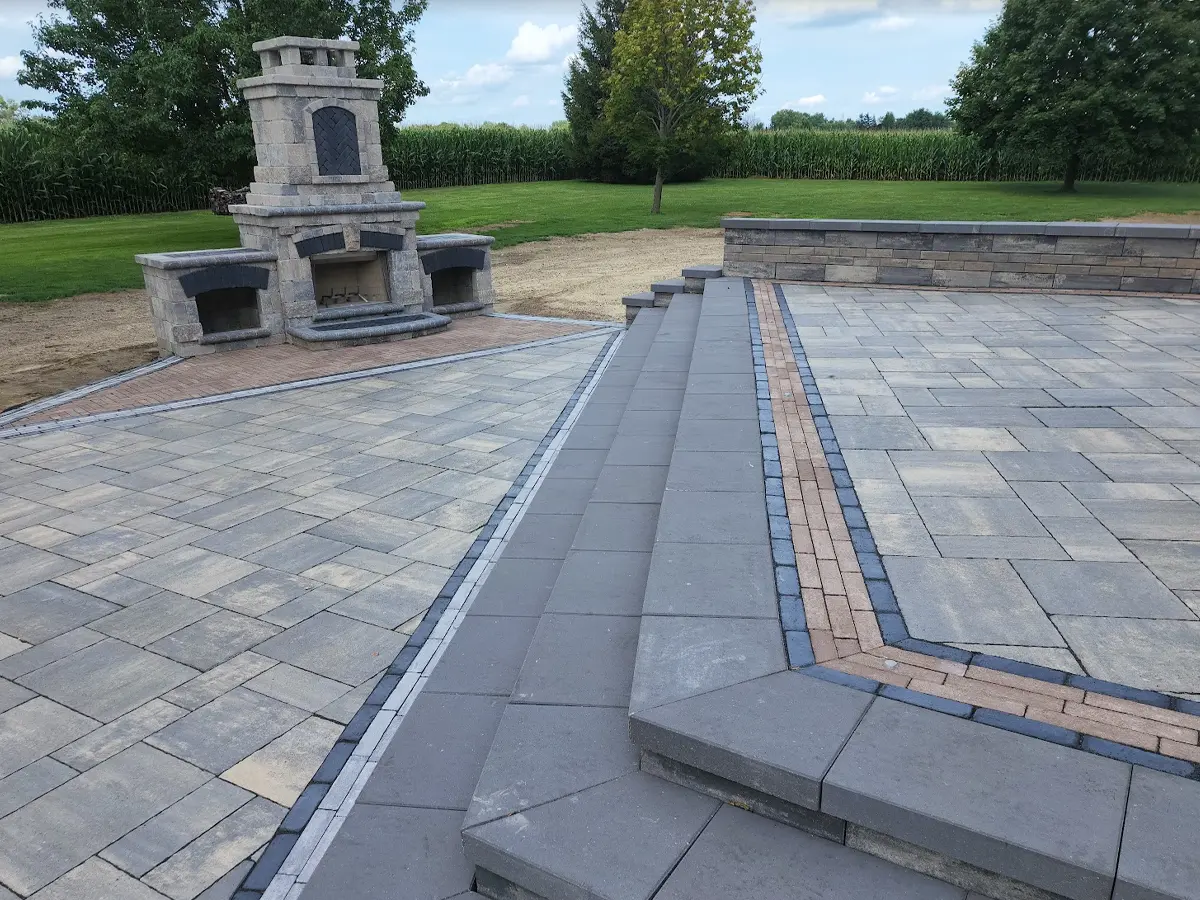 Full outdoor living space With paver patio In Bryan, Ohio
This extensive outdoor living space project in Bryan, Ohio, included a stunning paver patio with raised walls and steps and a sitting wall that blended seamlessly with the patio's design. The custom fireplace, complete with wood boxes, is the centerpiece that offers warmth and a cozy ambiance.
The garden bed adds a touch of greenery to the space. We also installed built-in paver lighting, providing subtle and elegant lighting, and remediated the lawn so the entire landscape looks pristine.
The entire project was quoted at $124k, with the fire feature alone adding $20k to the total cost. 
Expand Your Living Space With A Custom Paver Patio
Forget about a muddy backyard, unfit for family entertainment.
Before
After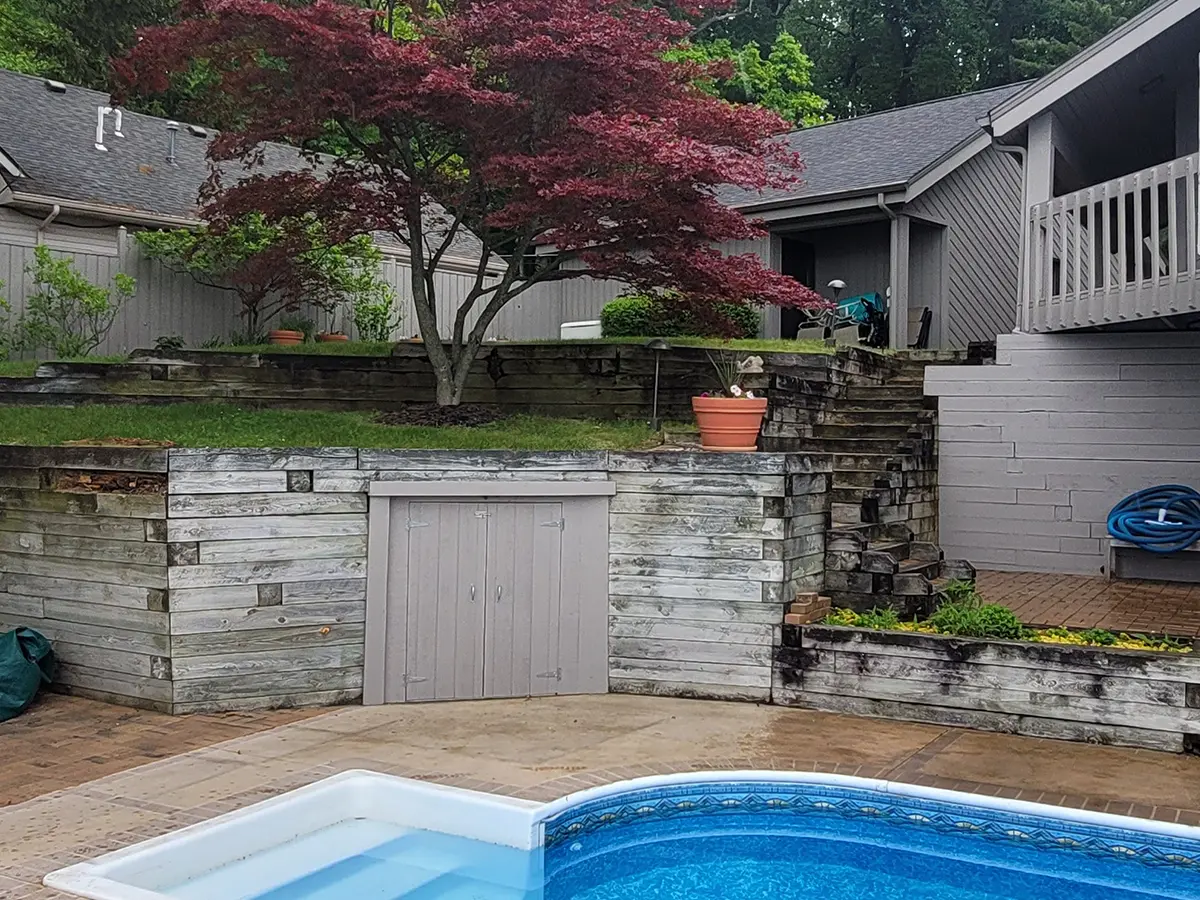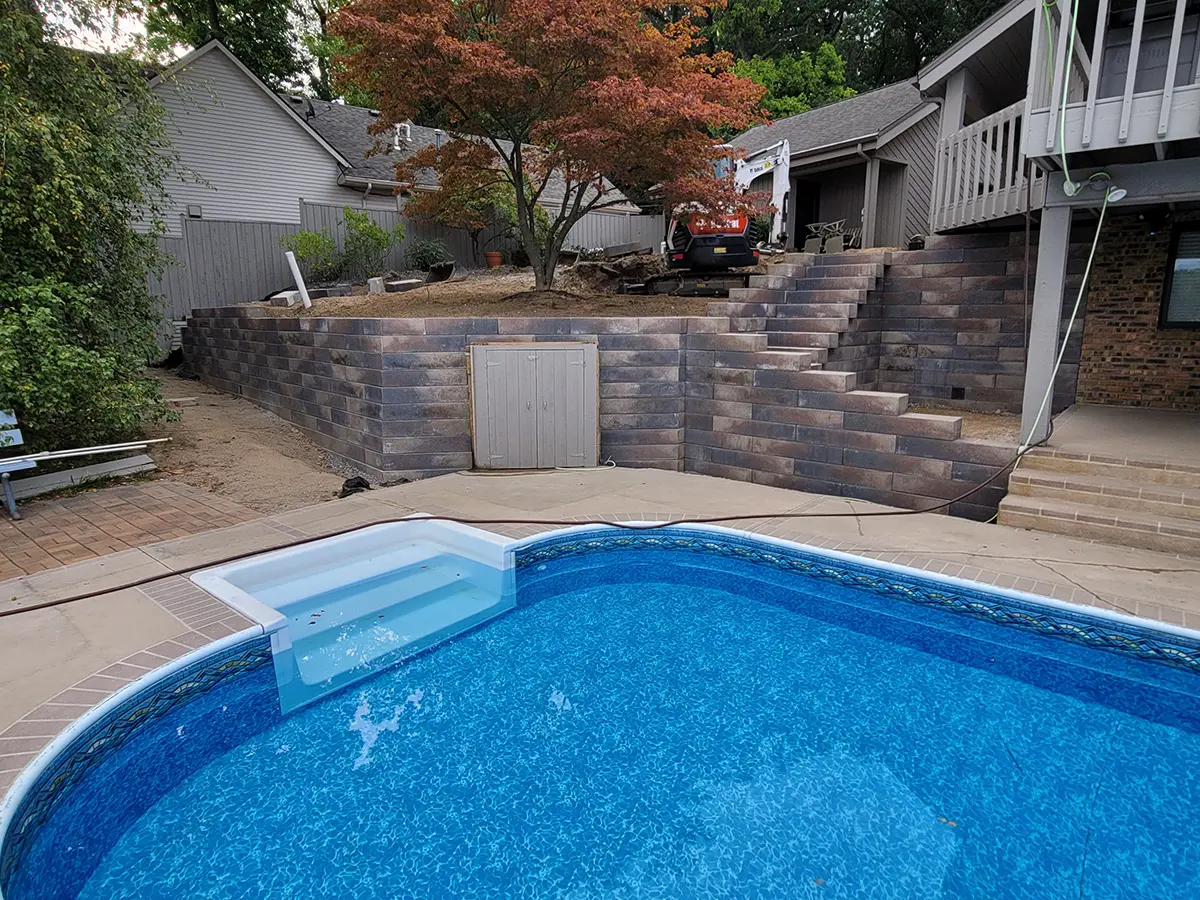 Before
After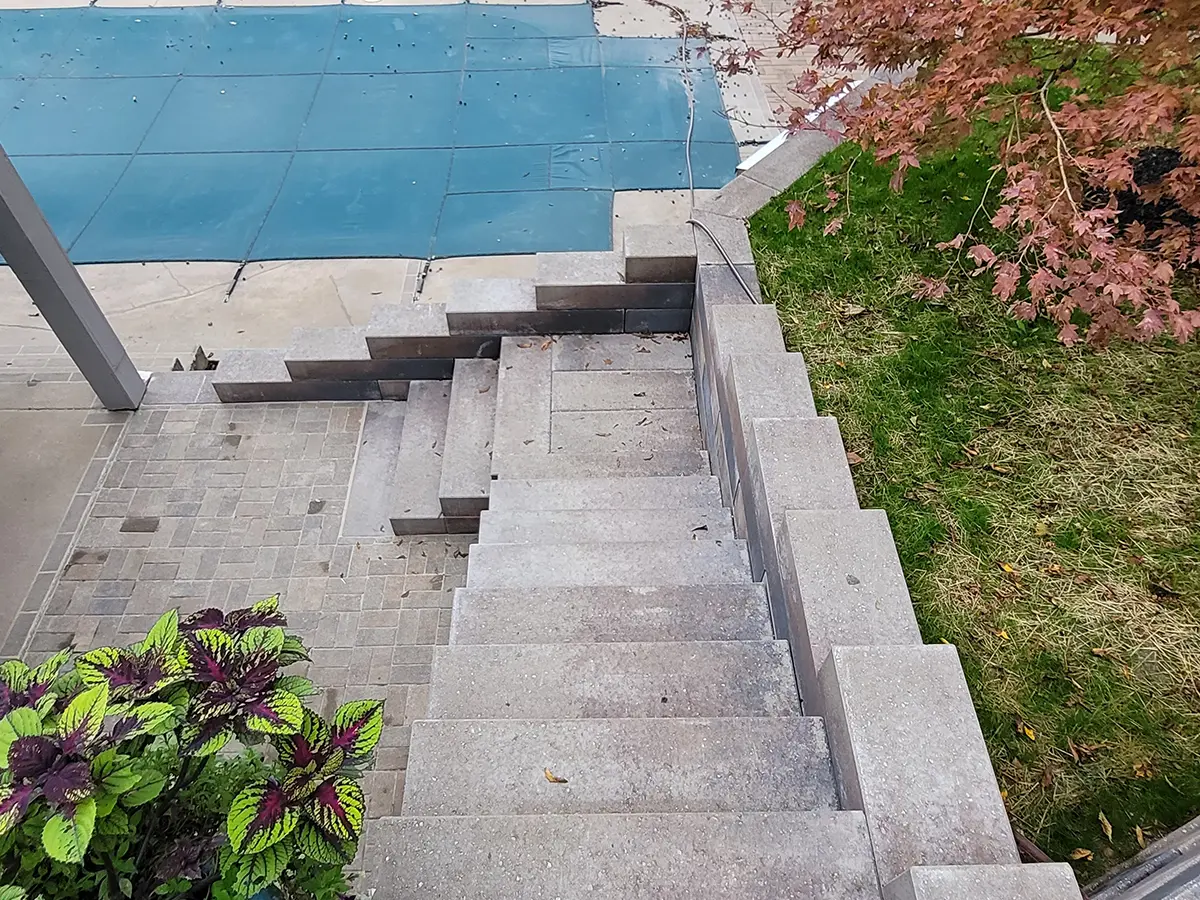 Before
After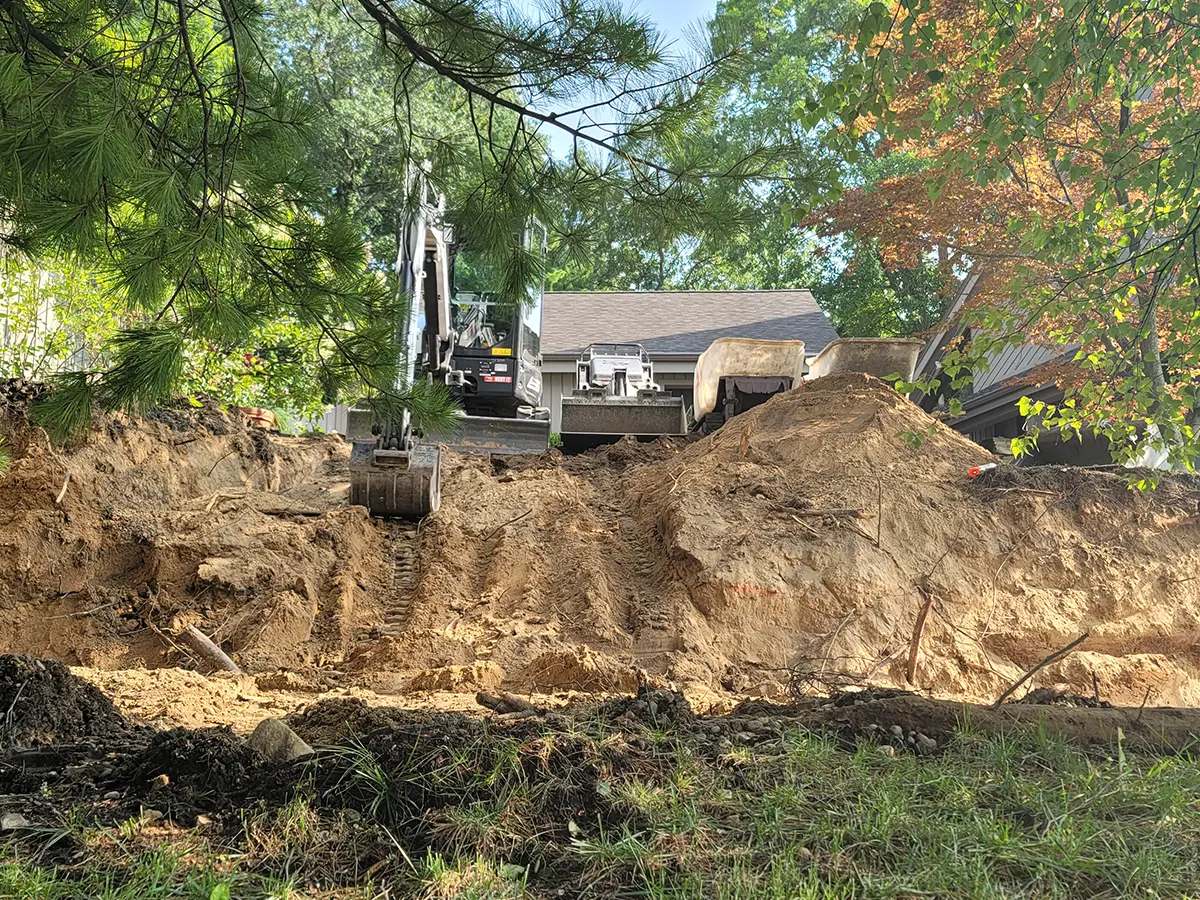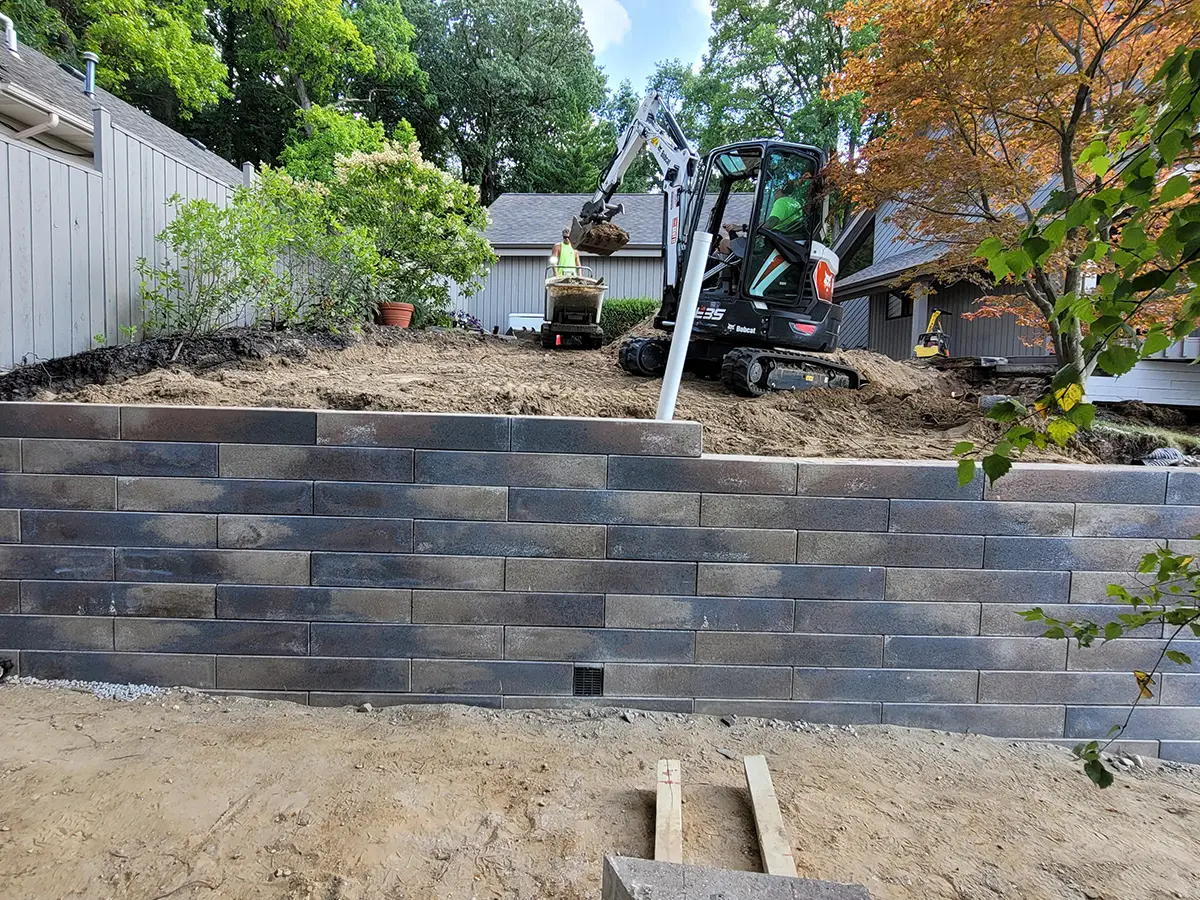 Before
After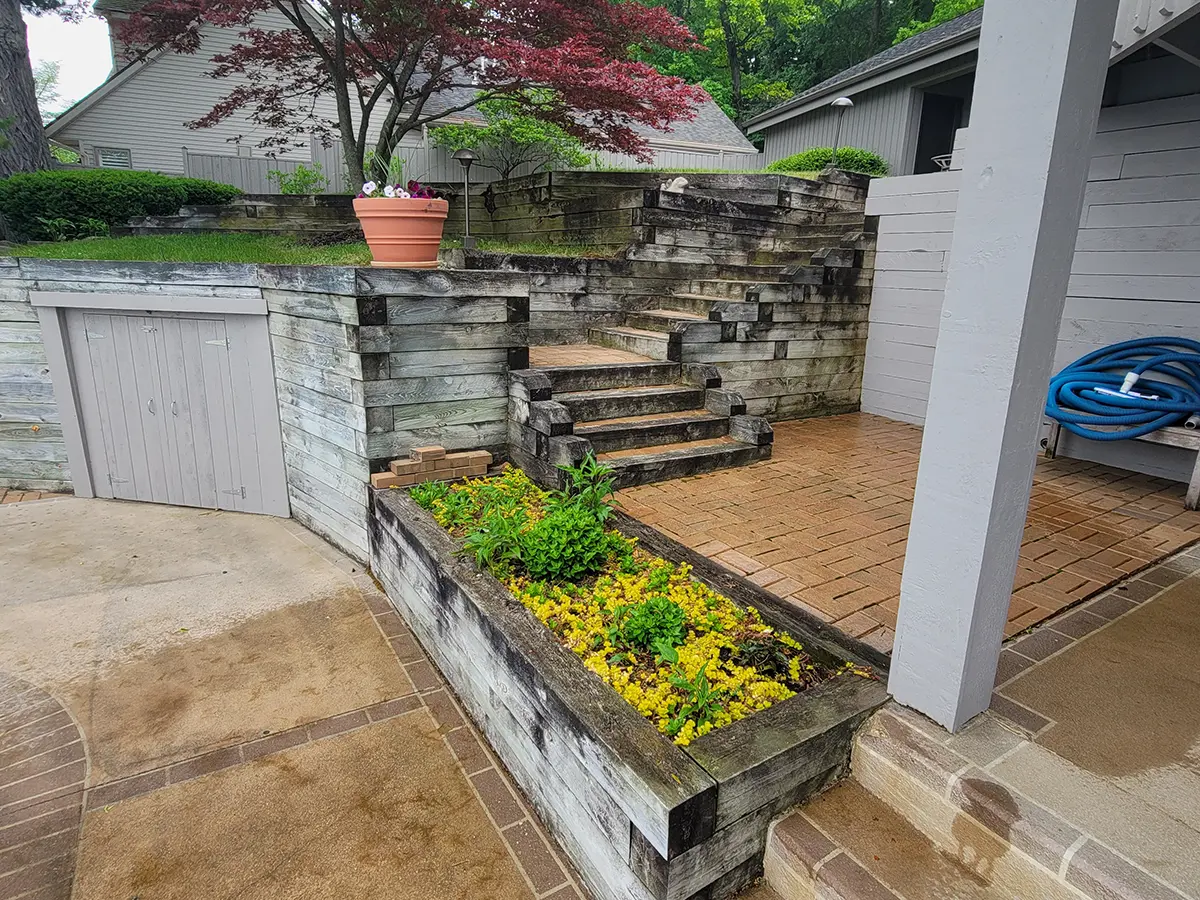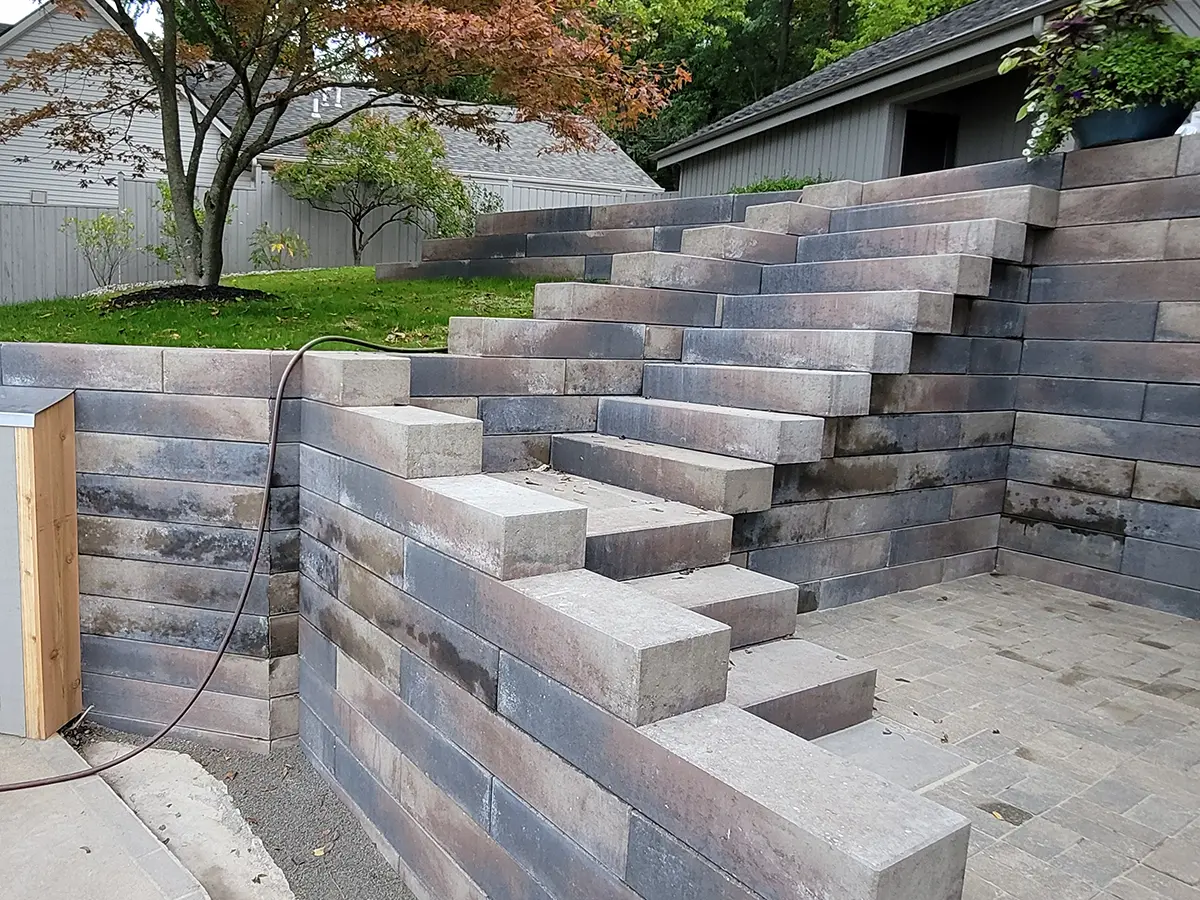 Before
After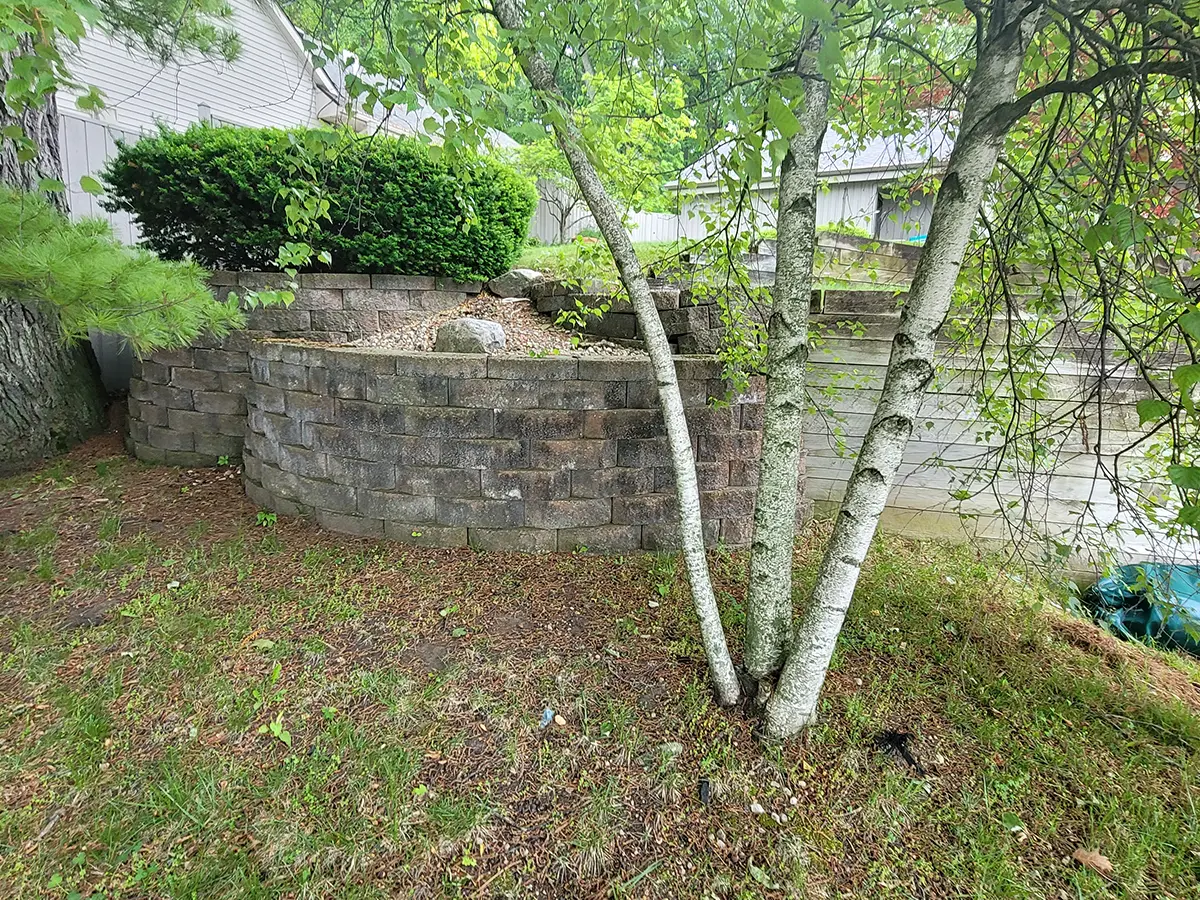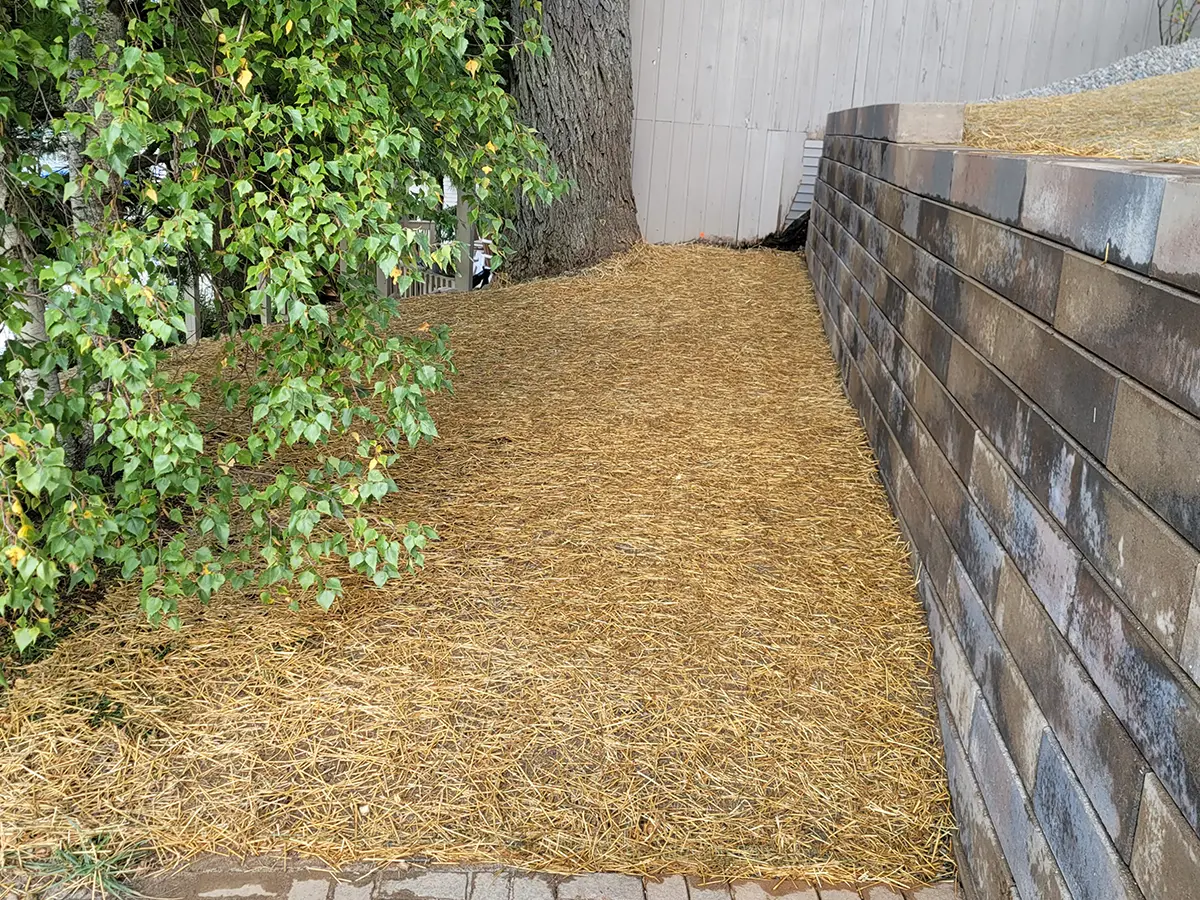 Before
After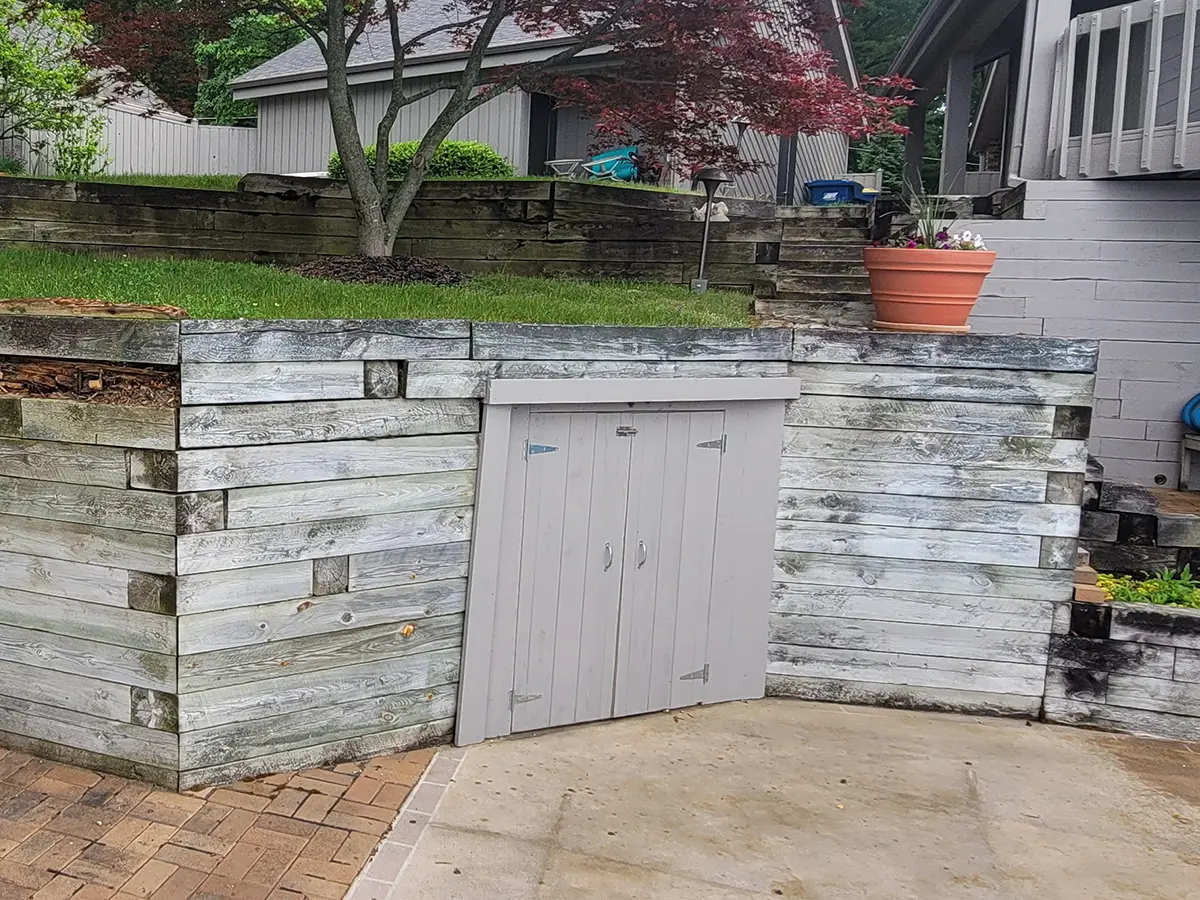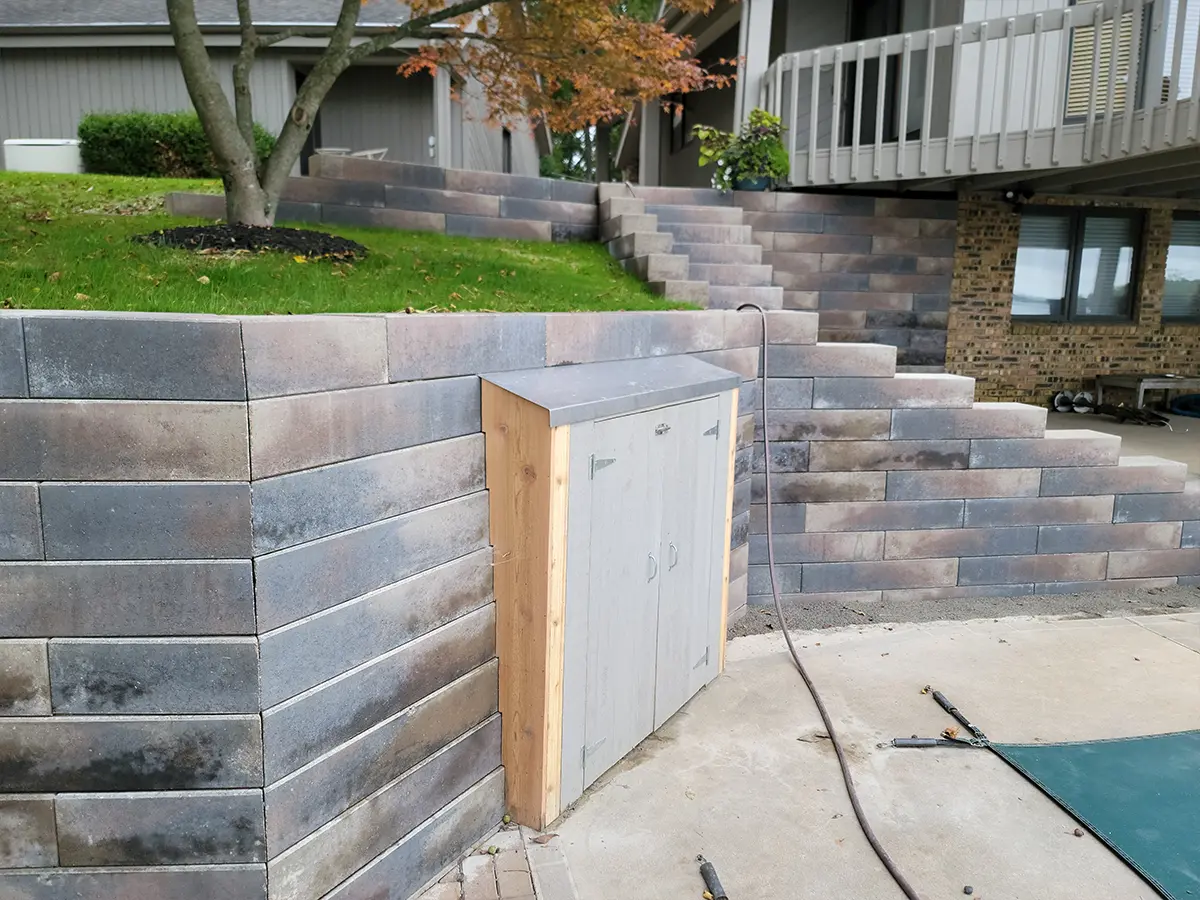 After having our yard displaced, we had Farrell's reseed the yard and replace some overgrown trees and shrubs. We could not be more happy with the the results.
Clayton and the crew exceeded our expectations with their work ethic and attention to the most minute details.
Had new landscaping done around home. Old removed and new put down. Did good job of explaining alternatives.
Work done at reasonable price and quality met expectations. Just an FYI-I never give 5 star review as that indicates perfection.
FLG is by far a state of the art company when it comes to your new outdoor living space, small landscape job or whatever you have in mind.
They will do it and do it right. Very communicative and nice people to work with.
Hardscaping Pricing Case Studies In Ohio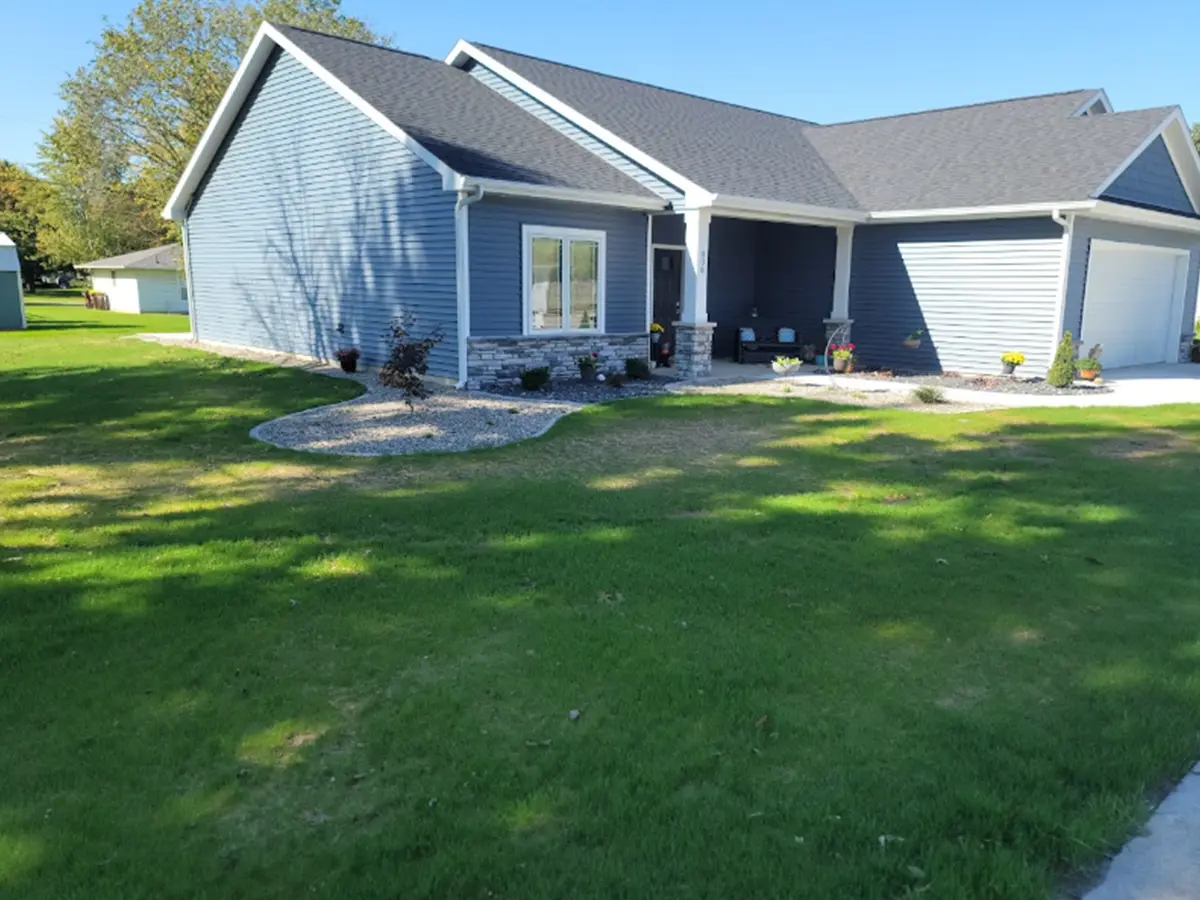 Retaining walls around a new pool in Sylvania, OH
In Sylvania, OH, this hardscaping project included building retaining walls around a new pool. The process began with careful excavation to prepare the base materials.
Our team then skillfully laid the 2-ft high tiered retaining walls, ensuring stability and durability for the pool area. To prepare for plantings, we backfilled the area with topsoil, providing a fertile environment for future landscaping.
The project was quoted at $33k, with the cost of materials alone amounting to $15k.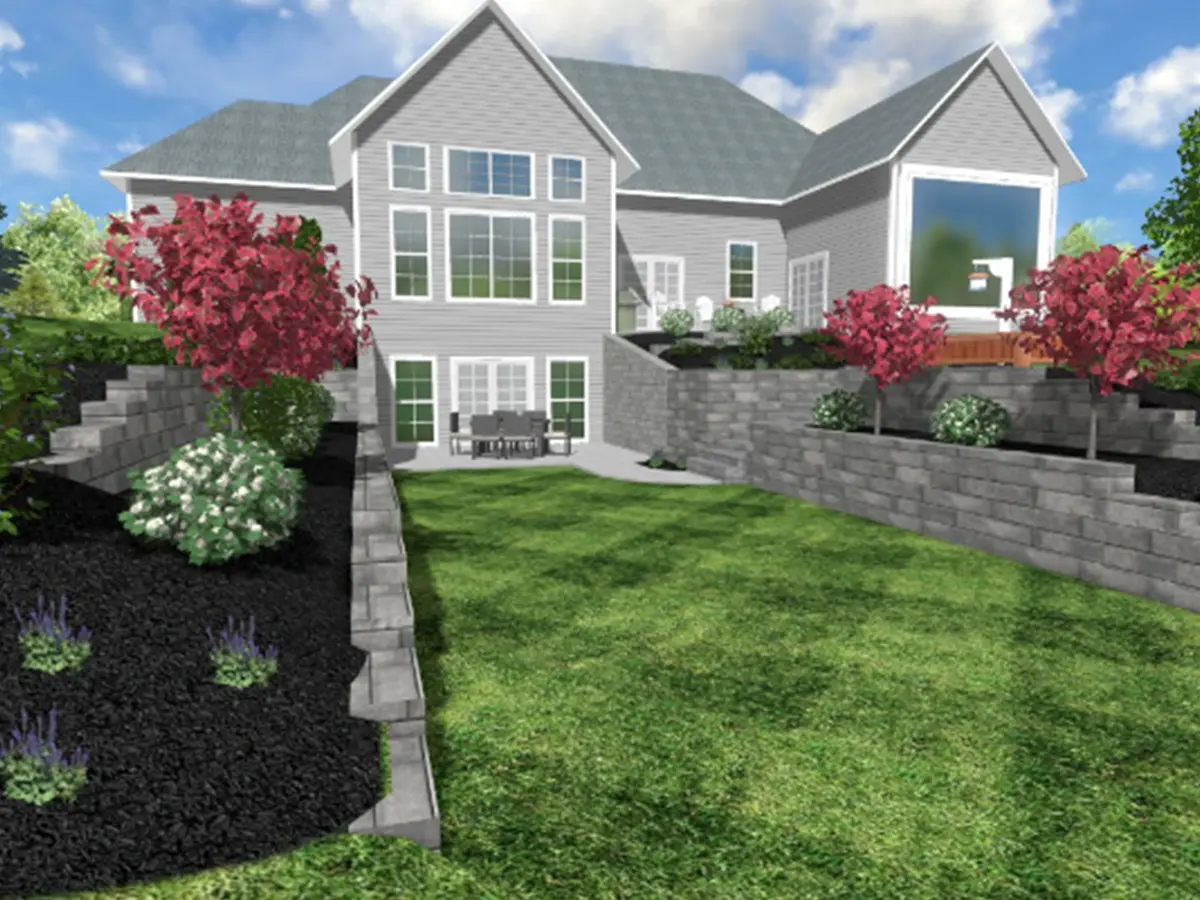 Tiered retaining walls in sloped yard in Defiance, OH
In Defiance, OH, we tackled a hardscaping project involving tiered retaining walls in a sloped yard. We removed existing landscaping and excavated a stable base using stone.
The main focus was installing intricate retaining walls that added both beauty and functionality to the landscape. We completed the walls with new landscaping and conducted lawn remediation.
The project was quoted at $100k, with the retaining walls alone accounting for $70k.
Before
After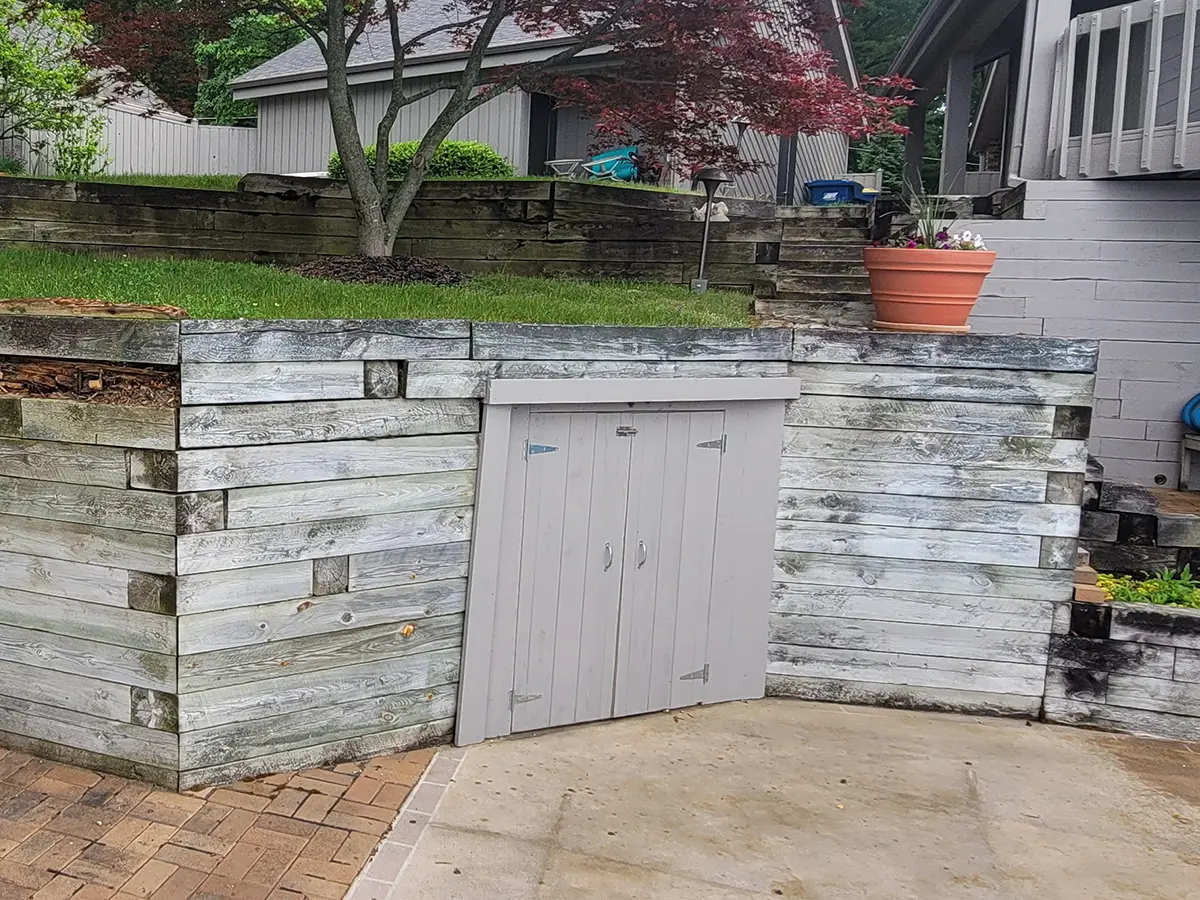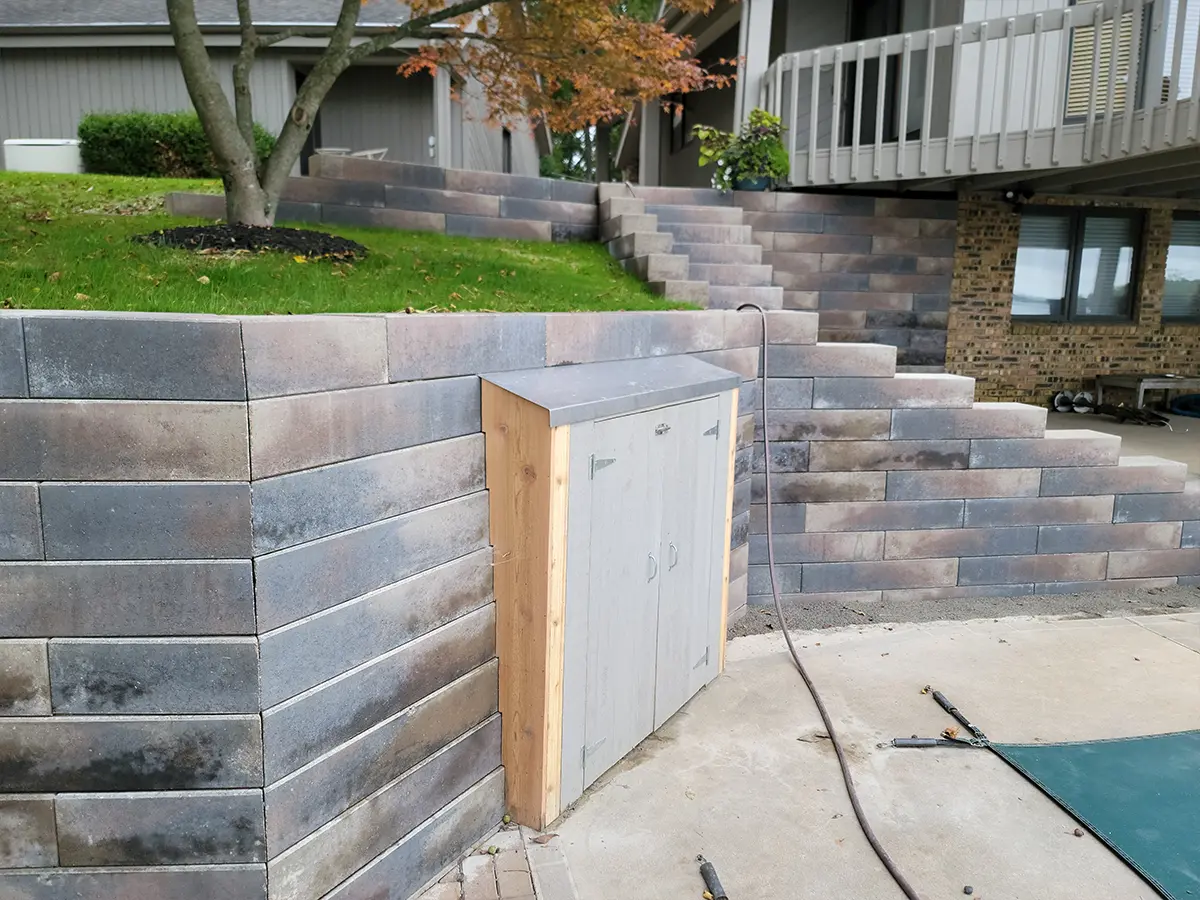 Multiple-tier retaining walls with steps in Fremont, IN
In Fremont, IN, we completed a hardscaping project featuring multiple-tier retaining walls with steps. The project involved removing failing wood timber walls, excavating for a stable base, and installing a new Unilock Siena Edge retaining wall and steps.
Proper drainage was implemented, and we preserved an existing tree within the patio area. Additionally, we created a new lawn, paver patio, and walkway. The complex retaining wall system alone accounted for $75k of the $120k project cost. 
Tame Your Landscape To Your Needs With Hardscaping
A custom design and a team of hardscaping specialists are all you need.
The work was professional, high quality, and is beautiful to look at. My friends and neighbors have remarked on how wonderful my new patio is!
Always done good work for us.
The interaction's that I have had with the owner of Farrell's L&G have always been courteous and professional. I would highly recommend them for you needs!
MOD Pool Installation Case Studies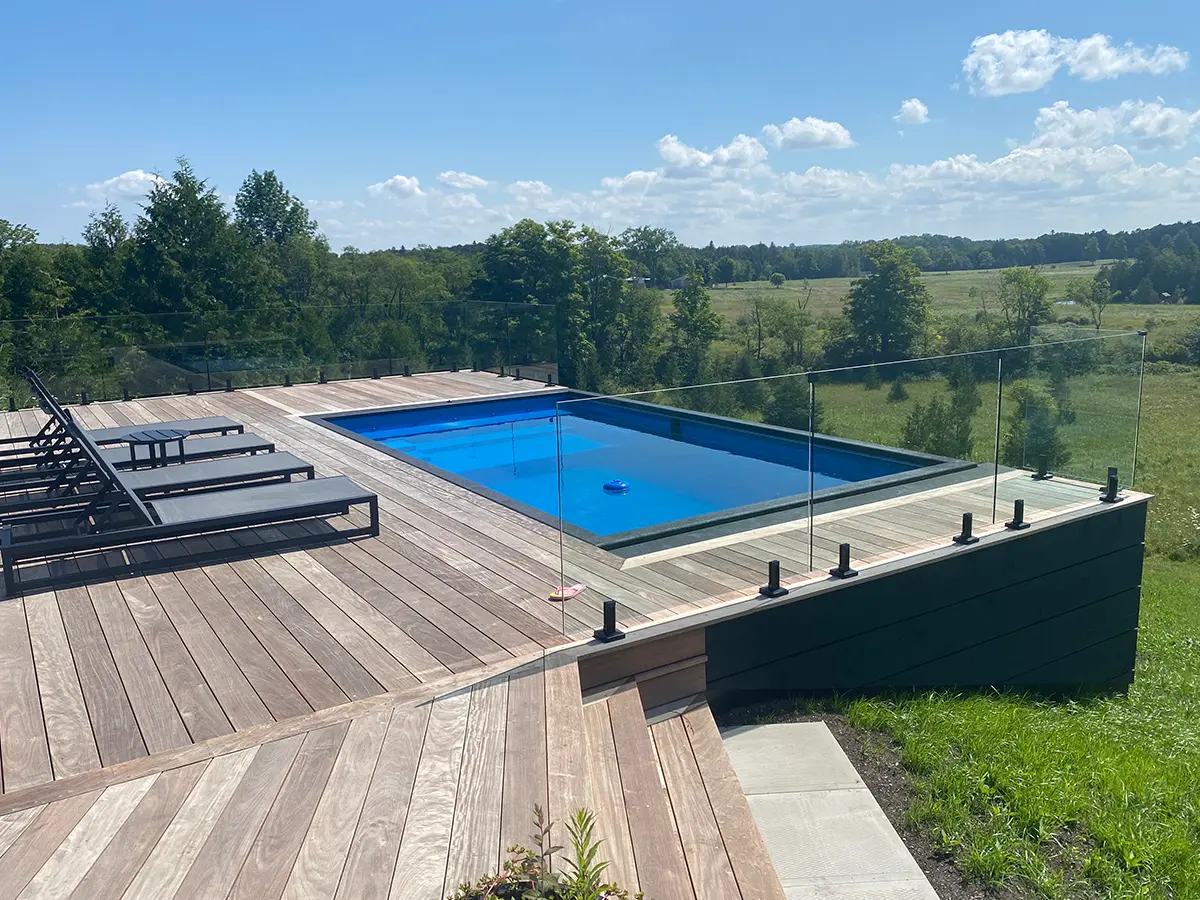 8x20 Modpool in Napoleon, Ohio
In Napoleon, Ohio, we completed an exciting Modpool project measuring 8×20.
After preparing the yard, our work included installing the Modpool and adding a pool divider wall for a hot tub function. To enhance the pool area, we crafted a custom deck with sleek glass railings.
The project was quoted at $80k, with the Modpool alone costing $40k. Our team's expertise delivered a stunning outdoor space that our client can enjoy to the fullest.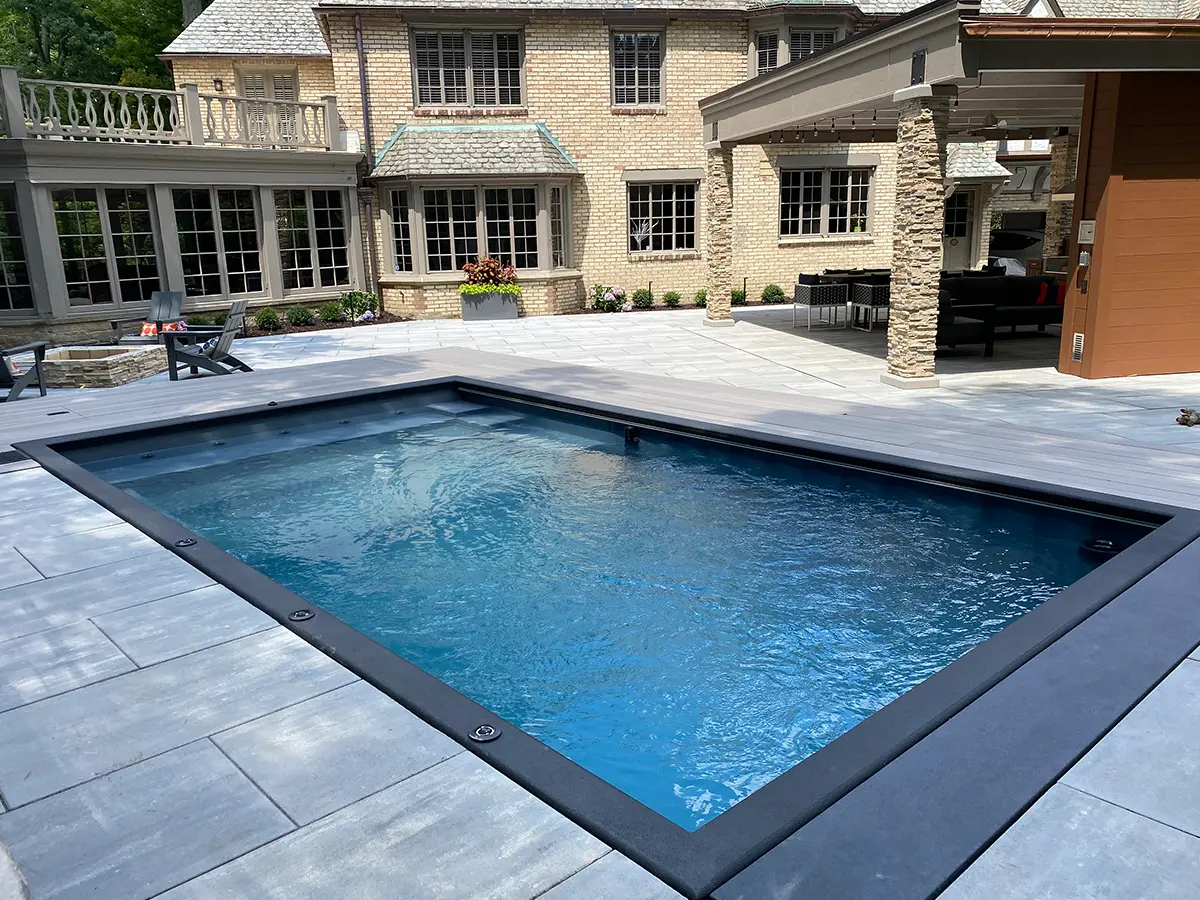 12x20 Covered Modpool With Patio and Landscaping in Archbold, Ohio
In Archbold, Ohio, we completed an impressive backyard project featuring a 12×20 covered Modpool. The project also included installing a paver patio around the pool, steps, a pool auto cover, and a heater.
We also designed and executed the landscaping, added landscape lighting, and constructed a decorative retaining wall around the patio. To complete the space, we installed a firepit for cozy gatherings.
The total project cost was $150k, with the Modpool at $56k and the paver patio at $75k. Our client now enjoys a stunning and functional outdoor oasis to relish for years to come.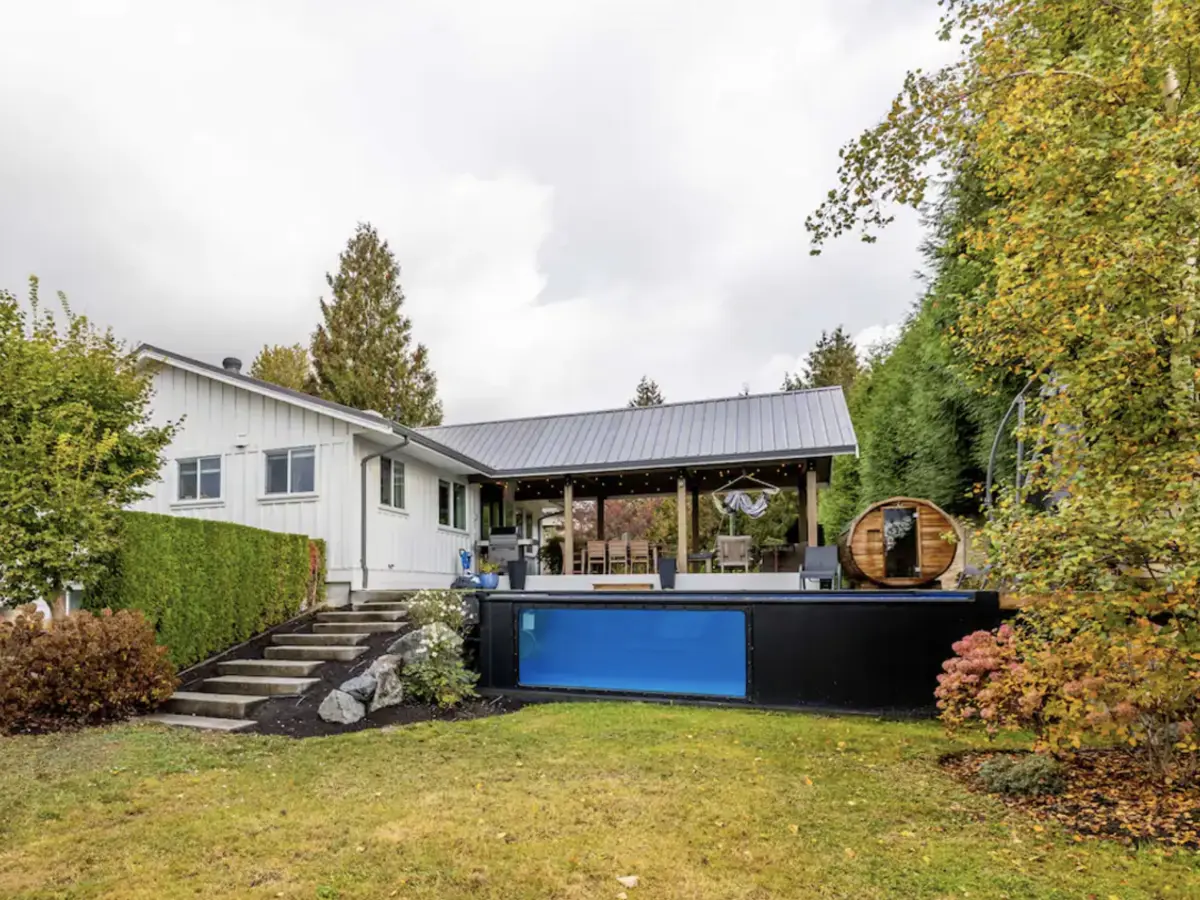 12x30 Modpool with window, cover, and Tru Guard mineral system
In this Modpool project, we installed a 12×30 Modpool with a window, cover, and Tru Guard Mineral System. The project also included a paver patio with steps, a pool auto-cover, and heater.
Additionally, we designed the landscaping, added landscape lighting, and constructed a small decorative retaining wall around the patio.
To complete the space, we installed a fire pit. The total cost was $150k, with the Modpool at $56k and the paver patio at $75k. Our client now enjoys a stunning and functional outdoor oasis to relish for years to come.
See Your Picture-Perfect Home Come to Life
The dreaming days are over. Let us take care of your home or business landscape from top to bottom, all year round.