The Best Paver Patios In Napoleon, OH
Do you want to expand your garden with a patio? Why not consult an expert?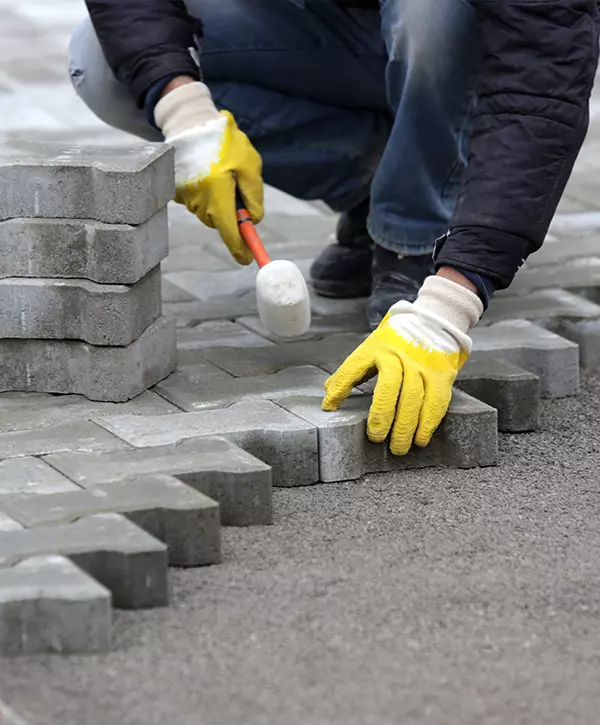 Are you dreaming of a breathtaking paver patio to elevate your yard? Look no further! At Farrell's Lawn And Garden Center, we bring over 45 years of expertise in creating stunning outdoor spaces.
Let us transform your backyard and turn your vision into reality. Get ready for a complete backyard makeover that will leave you in awe!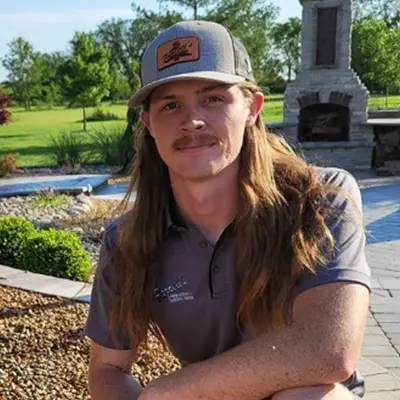 Clayton Farrell – Owner of Farrell's Lawn & Garden
Clayton has been an active part in the family business for as long as he can remember. As the proud owner of Farrell's 4-decades-old legacy, he continues to show his talent and commitment by designing, installing, and maintaining Ohio's and Indiana's landscapes.
Paver Patios Now Come With A Lot More Perks
Experience the joy of getting this upgrade by working with our reliable local professionals. At Farrel's Lawn And Garden, we take pride in going above and beyond for every project, ensuring our clients' utmost satisfaction. Prepare to be amazed as we take your project to new heights and exceed your expectations!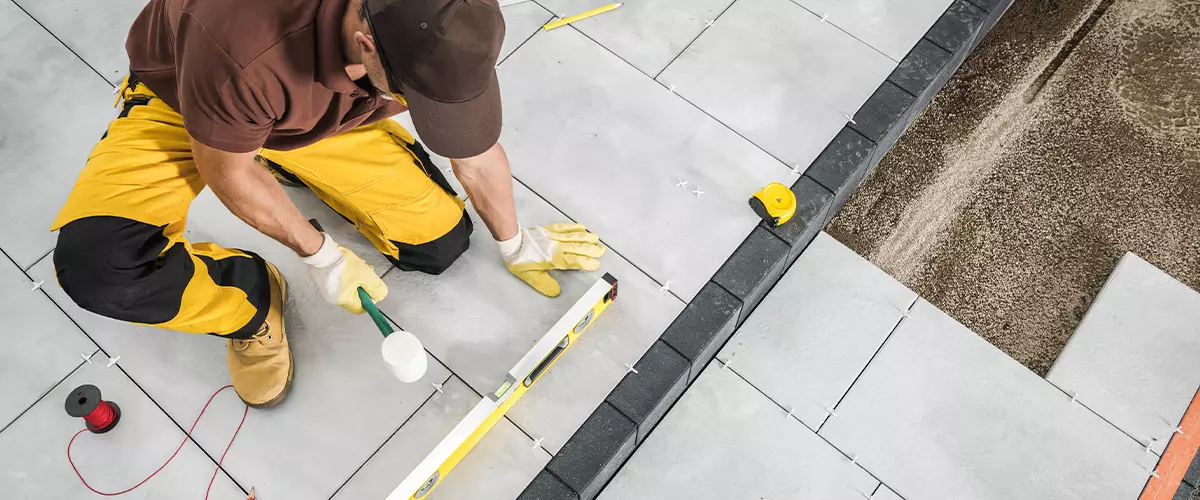 Here's a glimpse of the incredible benefits you'll enjoy…
Catch A Glimpse Of Our Past Paver Patio Projects
Interested in getting a glimpse of our stunning patios? Take a moment to explore our portfolio and witness firsthand the captivating transformation your backyard can undergo with a patio like the ones showcased here!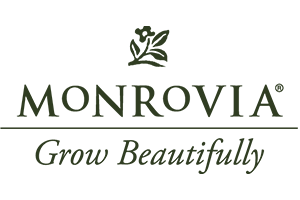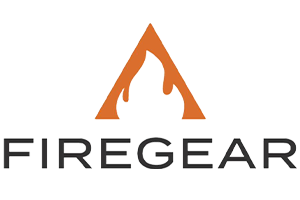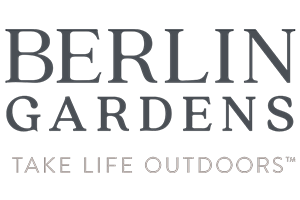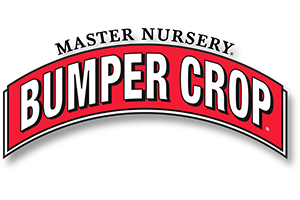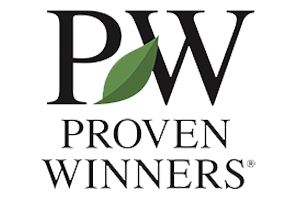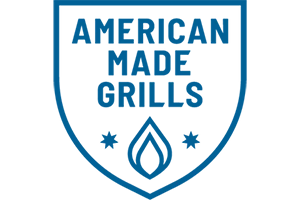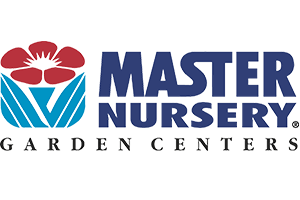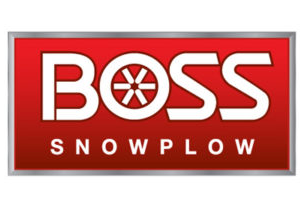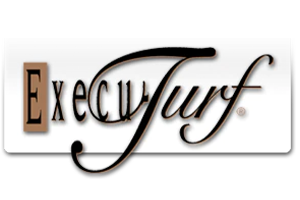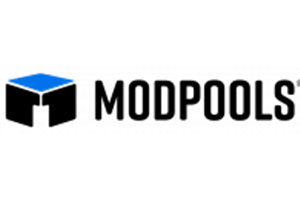 One Brands, Four Major Benefits
Unilock pavers are our go-to choice for the majority of our projects due to their exceptional design that creates long-lasting outdoor spaces customized to your specific preferences. Their durability and versatility make them the perfect option for crafting beautiful and functional outdoor areas.
Unilock Pavers have the power to elevate the visual charm of your yard, imparting an air of elegance and sophistication. With a plethora of choices for designs, colors, and patterns, you have the opportunity to craft a bespoke patio that harmonizes with the architectural style of your home and your individual tastes, resulting in a stunning outdoor space that is sure to captivate.
Paver patios offer low-maintenance benefits compared to other outdoor flooring choices. The interlocking design of Unilock pavers inhibits weed growth and simplifies repairs in case of any individual paver damage. By performing routine cleanings and periodic resealing, you can effortlessly maintain your patio's pristine condition.
Aver patios provide abundant opportunities for customization. Tailor them to fit your lifestyle, whether it's for dining, lounging, or gathering around a cozy fire. Moreover, their adaptability allows for easy adjustments and expansions, ensuring they align with your evolving preferences and needs.
Paver patios boast exceptional durability and longevity. Crafted from premium materials such as concrete, brick, or natural stone, they effortlessly withstand heavy foot traffic, inclement weather, and the test of time. Opting for a paver patio demonstrates a savvy decision for a sound long-term investment.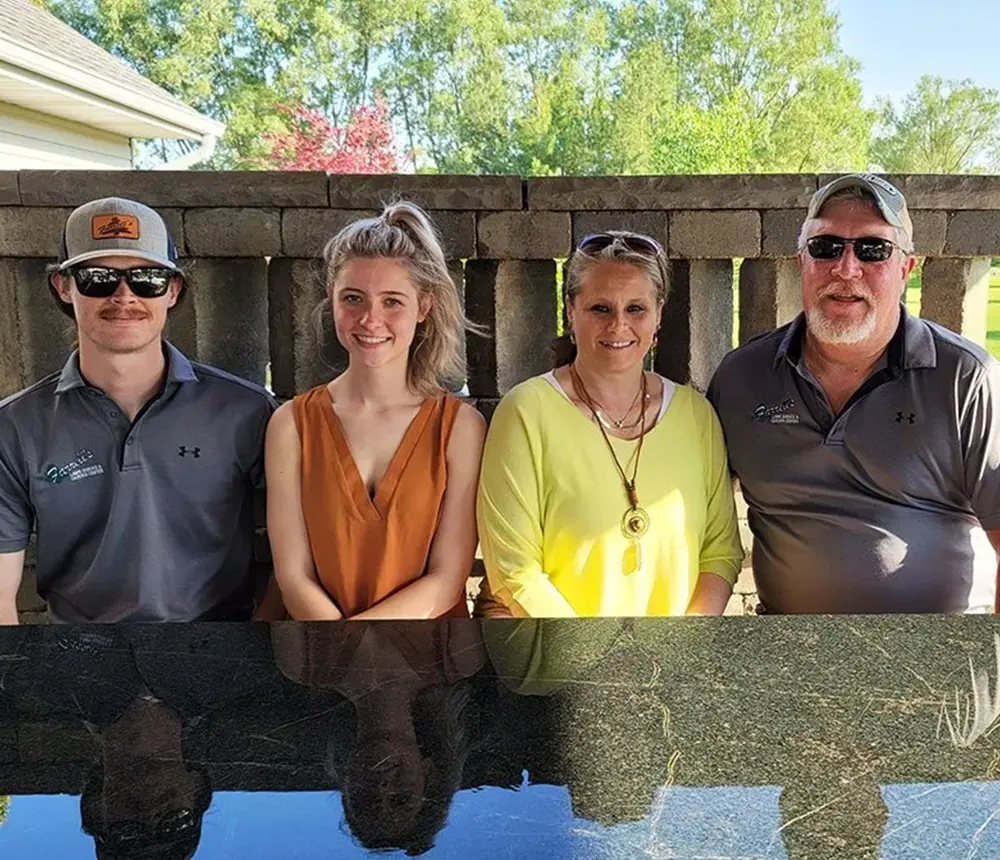 Contact us at (419) 298-5377 or complete our contact form to embark on transforming your outdoor space. Collaborate with industry leaders and indulge in exquisite craftsmanship, all at a reasonable and competitive price.
Homeowners Love Working With Us!
We've installed hundreds of Unilock Patios for our clients in Napoleon, OH, and surrounding areas. People love working with us because we're reliable, professional, and friendly. Here's what your neighbors say about working with us!
Called and asked for a quote for weed and feed plus overseeding they had someone out with in a day. 
Price was fair and the service was great. Weeds have left and grass is coming in thicker.
Tony serviced my snow plow, very timely and was super quick to return a call for questions I had. Great Job!
Average Patio Pavers Cost In Napoleon, Ohio
In Napoleon, OH, the average cost of patio pavers is approximately $50 per square foot. However, the final price may vary based on factors such as the size of the yard, the complexity of the design, and ground conditions.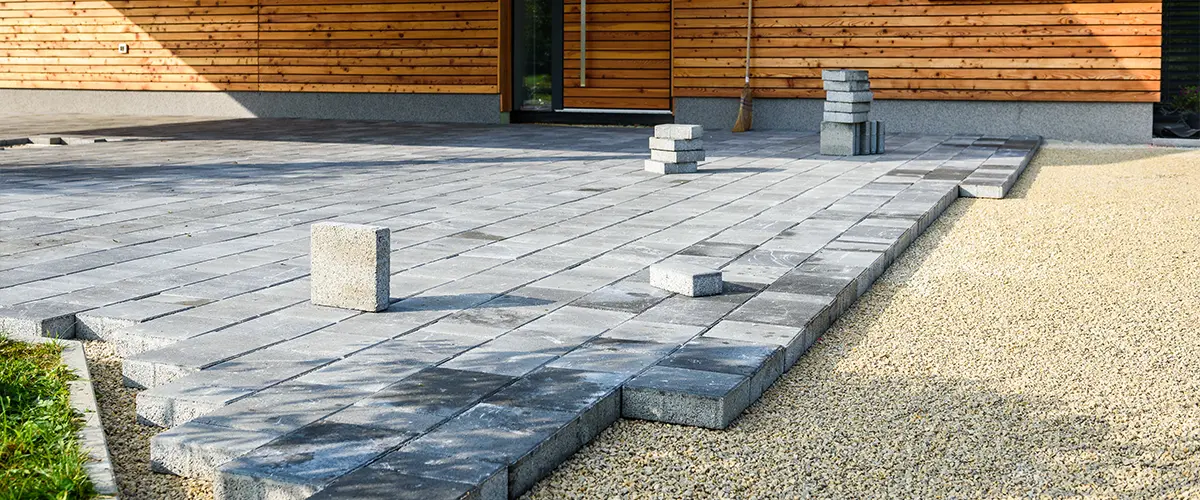 Your paver patio cost is mostly influenced by...
Average Paver Patio Installation Cost Per Square Foot
| Item | Average Cost* |
| --- | --- |
| Low-End Patio Pavers | $15/square foot |
| Good Quality Patio Pavers | $50/square foot |
| High-End Patio Pavers | $100/square foot |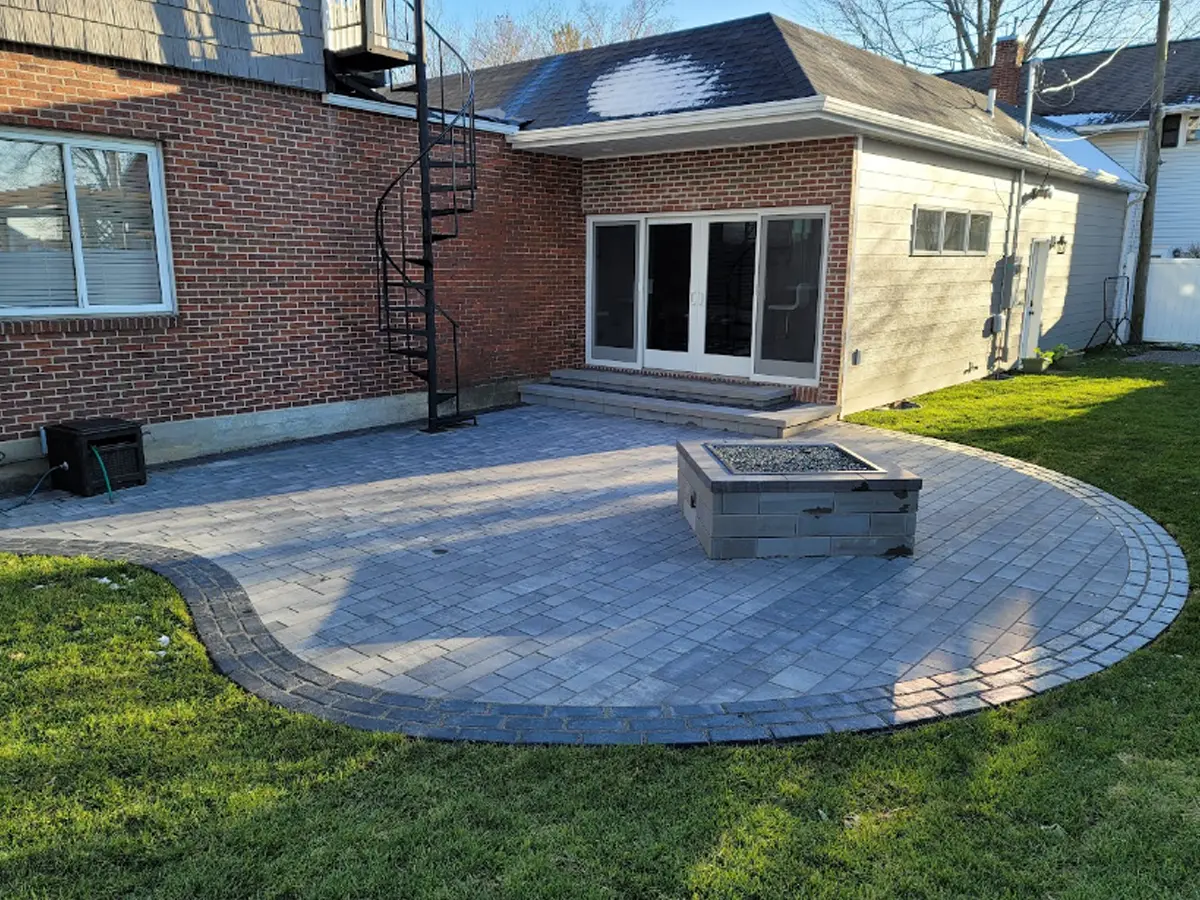 Rounded Paver Patio in Defiance, Ohio
This 675 sq. ft. paver patio project included:
The project was quoted at $44,500, where the gas fire pit was $5,500.
* The average cost is subject to change since the time of publishing due to unforeseen fluctuations in material and labor costs.
Enhance your patio customization with a range of options, including fire pit installation, outdoor kitchen design and construction, and the integration of landscaping. These additions will not only enrich your outdoor space but also elevate its visual appeal, allowing you to fully enjoy and admire the beauty of your surroundings.
Paver Patio And Outdoor Living Space Testimonial
Don't Let Any Concern Stop You
Homeowners in OH often come across two challenges when it comes to getting the patios they want: dealing with the costs and finding the time.
As an authorized Unilock contractor, we specialize in designing and constructing durable paver patios that require minimal maintenance. Our installations are built to stand the test of time, providing you with exceptional value for your investment that can last up to 25 years. Additionally, we offer advantageous financing options to further enhance your experience.
Usually, we can wrap up patio installations in about two weeks. But, for larger projects, we guarantee completion within six weeks. You'll get an accurate time line after our on-site consultation, and it benefits both of us to finish your project according to our schedule.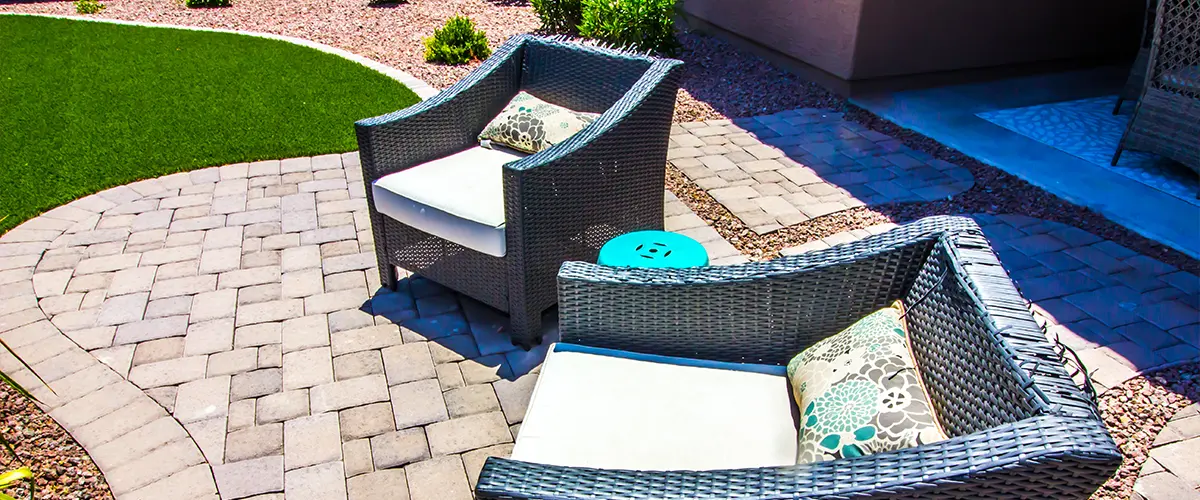 Patio Pavers In Napoleon FAQs
The Simplest 3-Step Paver Patio Installation Process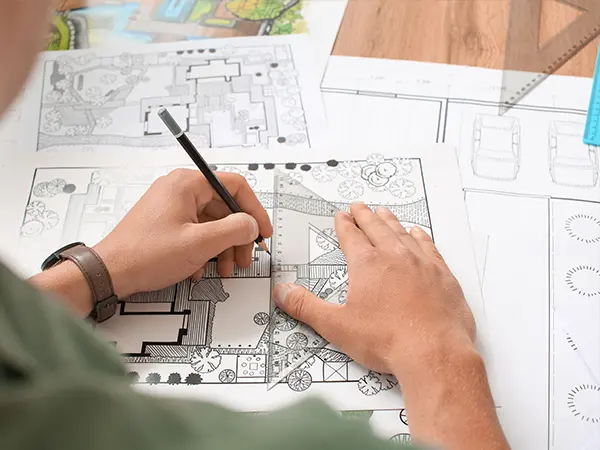 Contact us so we create a lifelike 3D rendering for your project and adjust it as needed.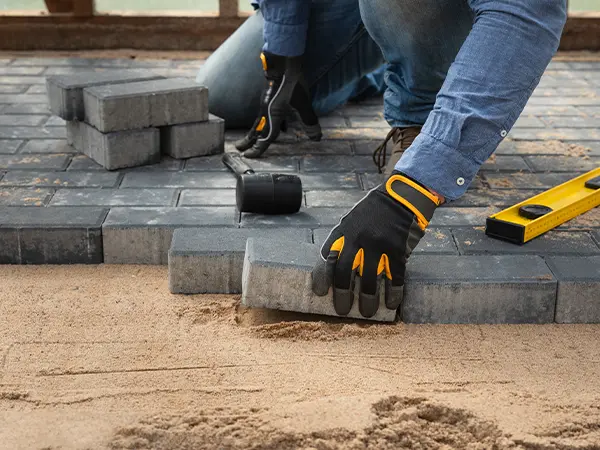 Once the design is perfected, our team gets to work and handles everything.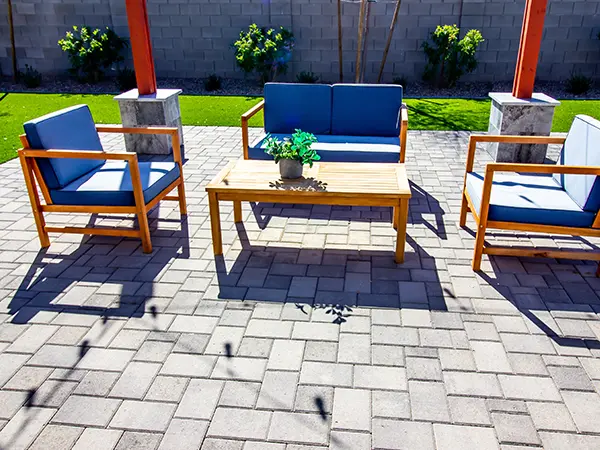 Plan your next barbecue, as your patio is ready to entertain everyone in your family!
Let's Make Your Paver Patio Project Happen!
Contact us to explore how we can elevate your outdoor space. We specialize in using premium materials to design a stunning patio that suits your relaxation desires. Whether you envision a cozy lounging area, a captivating fire pit, a luxurious hot tub, or a refreshing pool area, we've got you covered. Let us transform your backyard into a haven of tranquility and beauty.
Contact us at (419) 298-5377 or leave us a message to share your vision. We are eager to demonstrate the endless possibilities for transforming your backyard into something truly extraordinary!
My dad's backyard was overgrown and a real mess. They did an excellent job cleaning it up and making it look fantastic!
Responsive and great customer service, would definitely recommend them.
I now have a weekly service set up.
My wife and I are very happy with the service which we had performed by Farrell's. Clayton is very personable and understanding. 
Juan and Orlando did an amazing job with the patio.
In February, we had a water line break in our front yard and we had a mound of clay for a couple months. Now, the mound has been leveled and hydro seeded. We are looking forward to a nice lawn.
Other services you might be interested in...
Napoleon, OH, is a charming city located in Henry County, known for its cohesive community and rich history. The city boasts several landmarks that reflect its historical and cultural heritage. Among these is the Henry County Courthouse, a stunning architectural marvel that stands as a testament to the city's storied past. Another notable attraction is the Napoleon Area Historical Society Museum, where locals and tourists alike can delve into the fascinating history of the area. The city is also home to beautiful parks such as Glenwood Park, offering residents and visitors a place to relax and enjoy nature.