The Best Landscaping In Bryan, OH
Want to be inspired every time you look in your backyard? Get a landscaping project started with your local pros!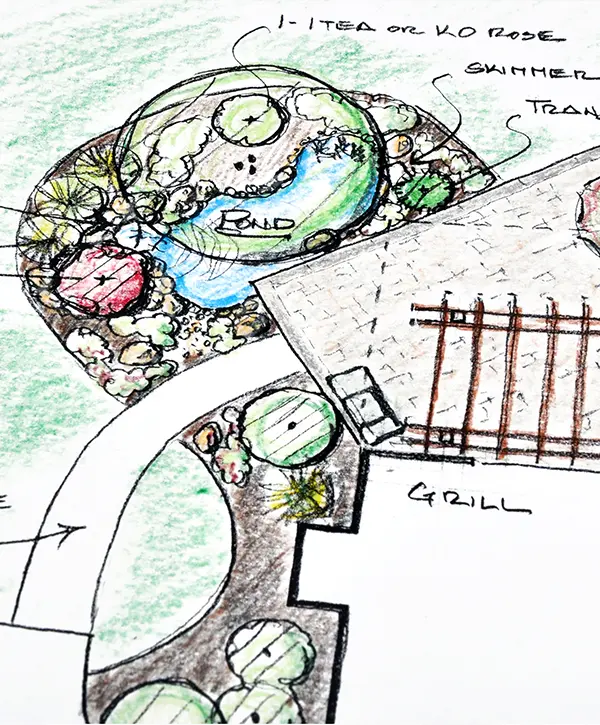 Could your yard benefit from landscaping in Bryan? Then this is the perfect place to start your inquiries! 
We're a local family owned and operated business designed to cover every landscaping need you have. From artificial turf installation to beautiful flower beds, you get a dedicated and passionate team with 45+ years of landscape installation.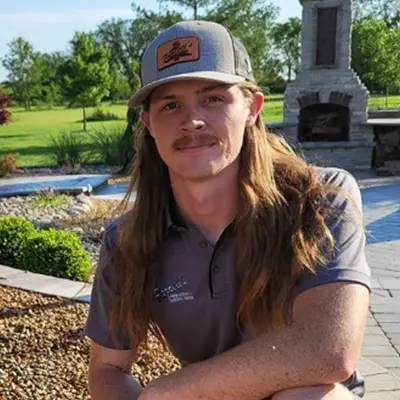 Clayton Farrell – Owner of Farrell's Lawn & Garden
Clayton has been an active part in the family business for as long as he can remember. As the proud owner of Farrell's 4-decades-old legacy, he continues to show his talent and commitment by designing, installing, and maintaining Ohio's and Indiana's landscapes.
Your new Landscape Design Is One Step Away!
You'll learn everything that goes into a landscape installation, what to expect in terms of costs, and how all these different services can change how you use your outdoor space for the better.
Thanks to our landscaping services offered, you can benefit from: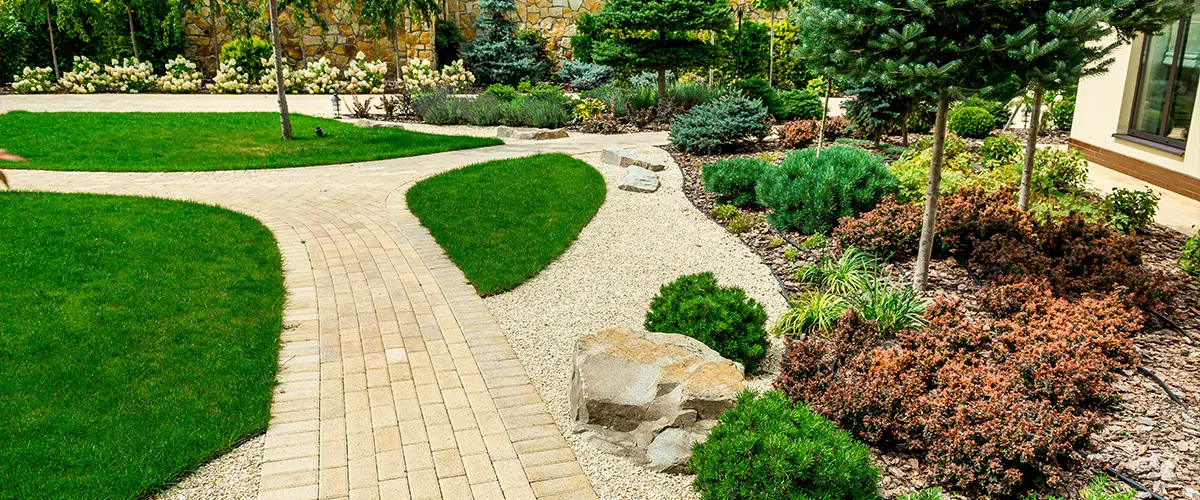 With our complete landscape service, you can enjoy:
Landscaping Ideas for Your Beautiful Bryan Home
Our portfolio is proof of our craftsmanship, and it serves as a source of inspiration for many of our clients. Here are some landscape designs that'll help you decide what you want for your own backyard!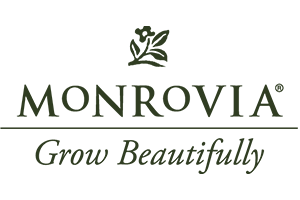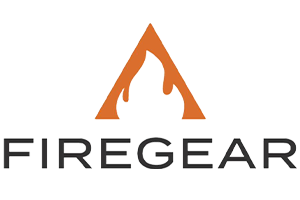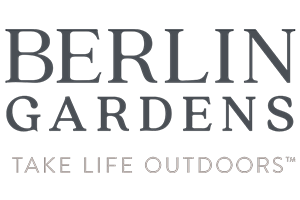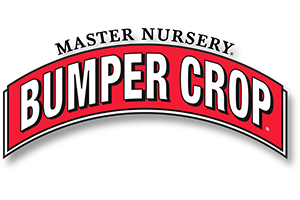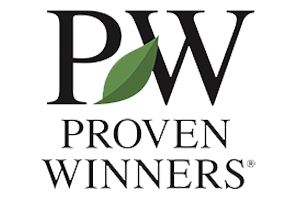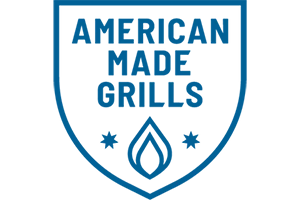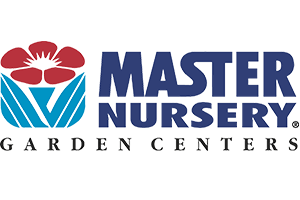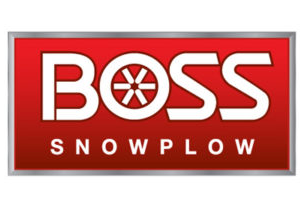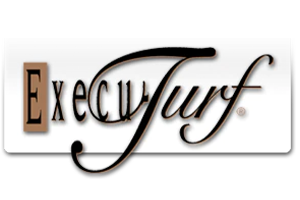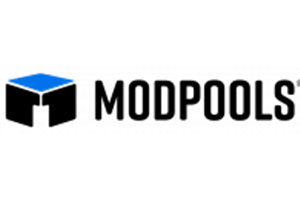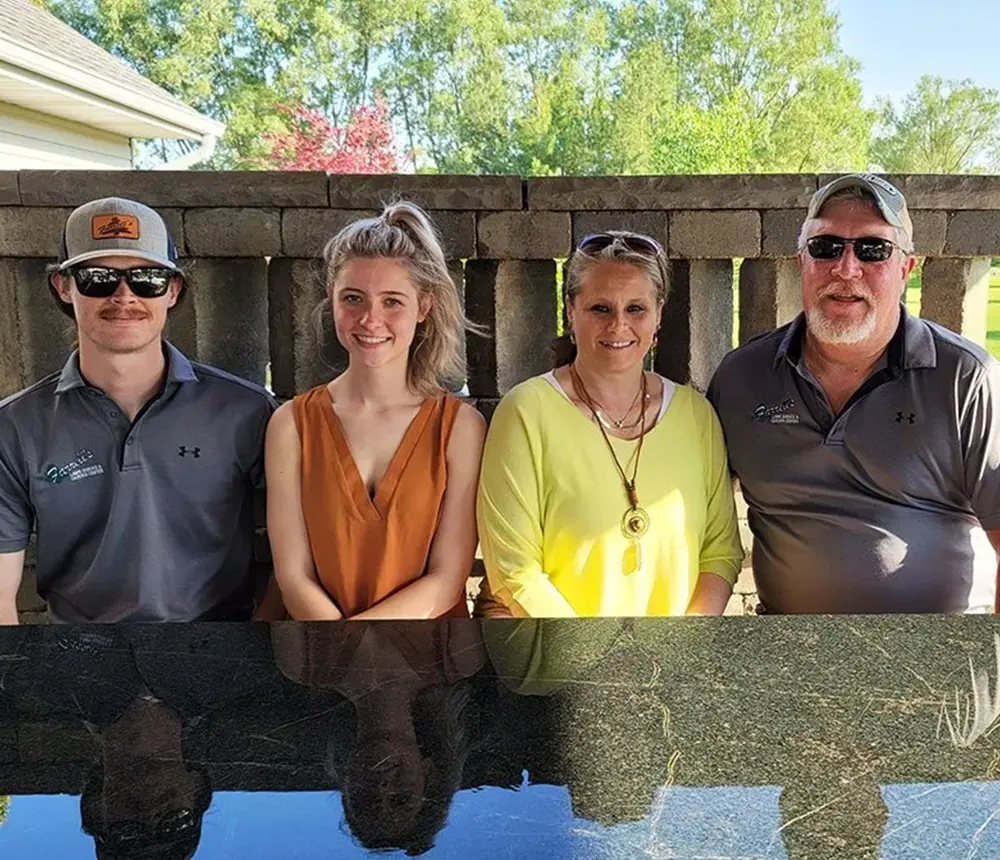 Reach out to us via our convenient contact form (takes 1-2 mins). Alternatively, you can give Clayton a call at (419) 298-5377 and have him take a look at your space and listen to your vision.
Here's what some of your neighbors say about us!
We've done hundreds of landscapes designs and installations for homeowners in Bryan, OH, and surrounding areas. People are over the moon with their new outdoor space, and so will you!
The interaction's that I have had with the owner of Farrell's L&G have always been courteous and professional. I would highly recommend them for you needs!
Great people to work with. Applied grub killer to lawn and it is working great. On-time and on-budget. Highly recommend Ferrel's
Average Landscaping Cost In Bryan, OH
A medium-end planting service in Bryan costs around $20k and includes features such as accent tress, ground cover stone, a decorative retaining wall, and more.
When it comes to landscape installation in Bryan, Ohio, the costs can vary depending on the complexity and scope of the project. Here are some factors that can influence the prices: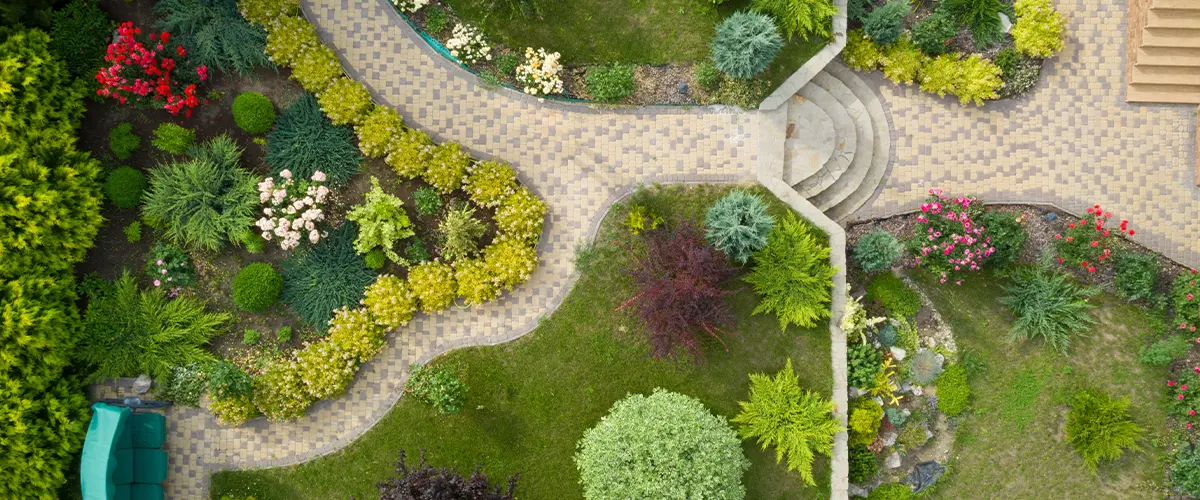 Prices can be higher when...
Prices can be lower when...
Average Landscaping Design And Installation Cost
| Size | What's Included | Average Price* |
| --- | --- | --- |
| Basic Landscaping | Low-maintenance plant design, natural edging, efficient tear-out processes, and the addition of ground cover mulch | $8,000 |
| Average Landscaping | A more complex plant design, accent trees, brick edging, full tear-out or new home preparation, ground cover stone, and small decorative retaining wall | $20,000 |
| High-End Landscaping | A complete magazine look landscape with full planting beds, large brick border, high-end ground cover stone, decorative or natural retaining walls, drip irrigation, and exterior lighting package | $60,000 |
* Please note that these prices serve as general guidelines, and the actual cost of your landscape installation project may vary based on specific factors and requirements.
Want landscaping in Bryan, OH, without the trouble of saving money beforehand? We've partnered up with EnerBank USA to bring you a highly convenient and hassle-free 12 Month Same-As-Cash Loan. You can benefit from 0% interest if you pay it back in 365 days.
This Is Your Chance To Become As Happy As Our Clients!
You'll Have Everything Taken Care Of!
Based on our extensive experience, we understand the common concerns homeowners have when considering landscape installation. Budget and time are two significant factors that often weigh on their minds.
Investing in your outdoor space is similar to investing in a cozy living room or a stylish kitchen. A well-designed landscape adds value to your home, enhances enjoyment, and creates lasting memories. We'll work within your budget to create a stunning outdoor area you'll love.
With effective project management and clear communication, we ensure that everything goes according to plan and in a timely manner. Our experienced team works diligently, minimizing disruptions to your routine. Plus, we can work even when you're not home, as long as we have access to your outdoor area.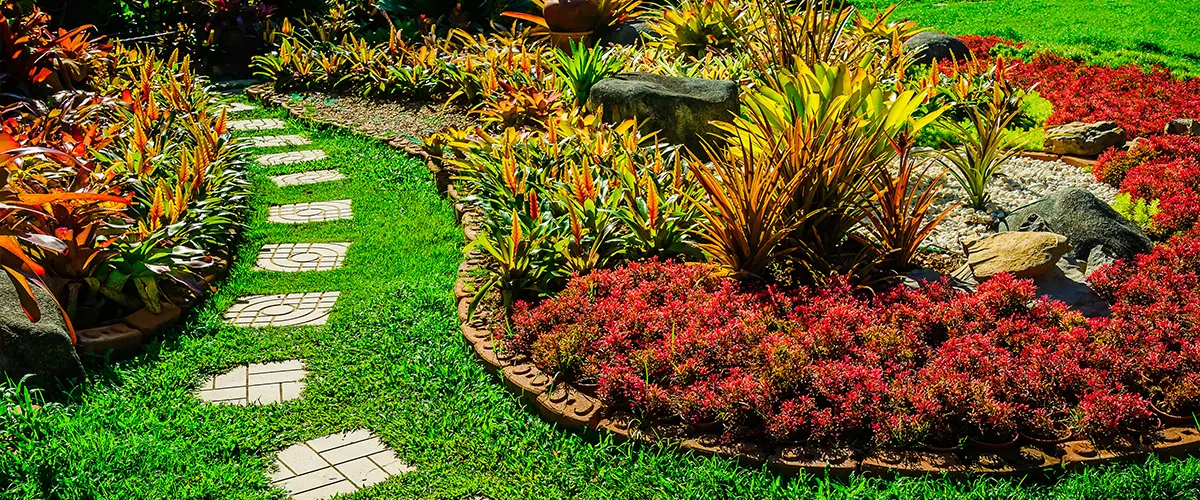 Complete Landscape Installation In Just 3 Easy Steps
Go through a simple process that's designed for your convenience. Enjoy a fast, reliable, and high-quality service that brings with it none of the anxieties you're trying to avoid!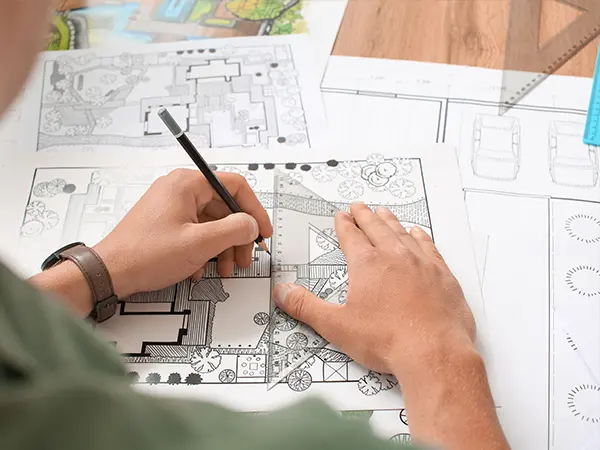 We'll take a look at your space, write down your needs and vision, and create a 3D plan for your landscape.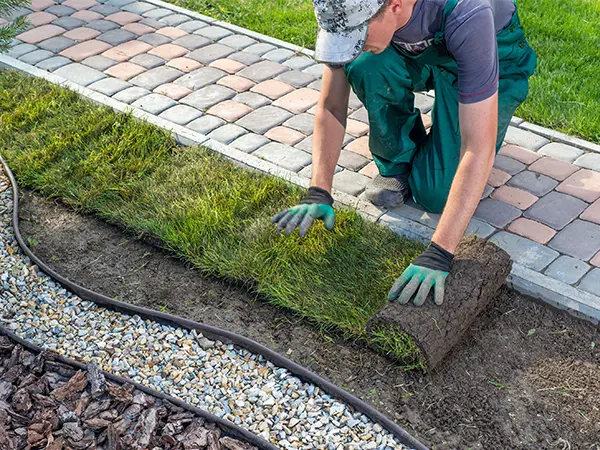 When we have an installation date set, we'll come to your home and work around the clock to make sure you get your dream yard faster.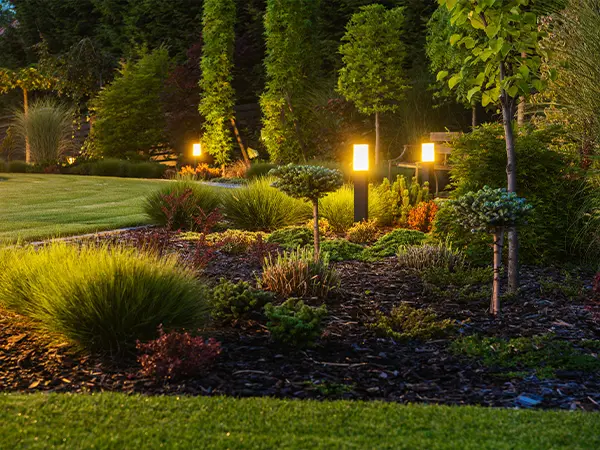 Forget about going out every time you want to relax. You now have an outdoor space to entertain your loved ones.
Landscaping In Bryan FAQs
The average price for a landscape in Bryan is around $20k but can go higher or lower based on the landscaping features you want to add or remove from the design.
Yes, our owner, Clayton, has been designing landscapes since he was in highschool and has all the expertise needed to create 3D designs of your outdoor space and adjust them along the way based on your requirements. You can completely visualize your space before we start working on your project.
It usually takes about a week for us to finish your design. When we're done, you can fully see your outdoor space, including your patio and any landscaping features you want to have.
Get Your New landscape Design Started Today!
Contact us at (419) 298-5377 if you want to transform your outdoor space with ease and confidence through our comprehensive landscaping services, flexible financing options, and an expert team dedicated to bringing your vision to life.
Workers were responsive and professional. In my opinion, good value for the cost!
Ferrell's always does a great job maintaining my lawn. Their mowing services are fast, reliable and priced great! My lawn always looks great!
Other services you might be interested in...
Bryan, Ohio, is a charming city known for its friendly community and picturesque surroundings. Nestled in Williams County, Bryan offers a blend of small-town charm and modern amenities.
Nature enthusiasts can visit the Parkersburg Wildlife Area or indulge in a glass of wine at the Stoney Ridge Winery. The Black Beard's Bay Waterpark is a popular spot for families with kids, who can later visit the Spangler Candy Company.