About Farrell's Lawn & Garden Center
Changing the way you live outdoors since 1977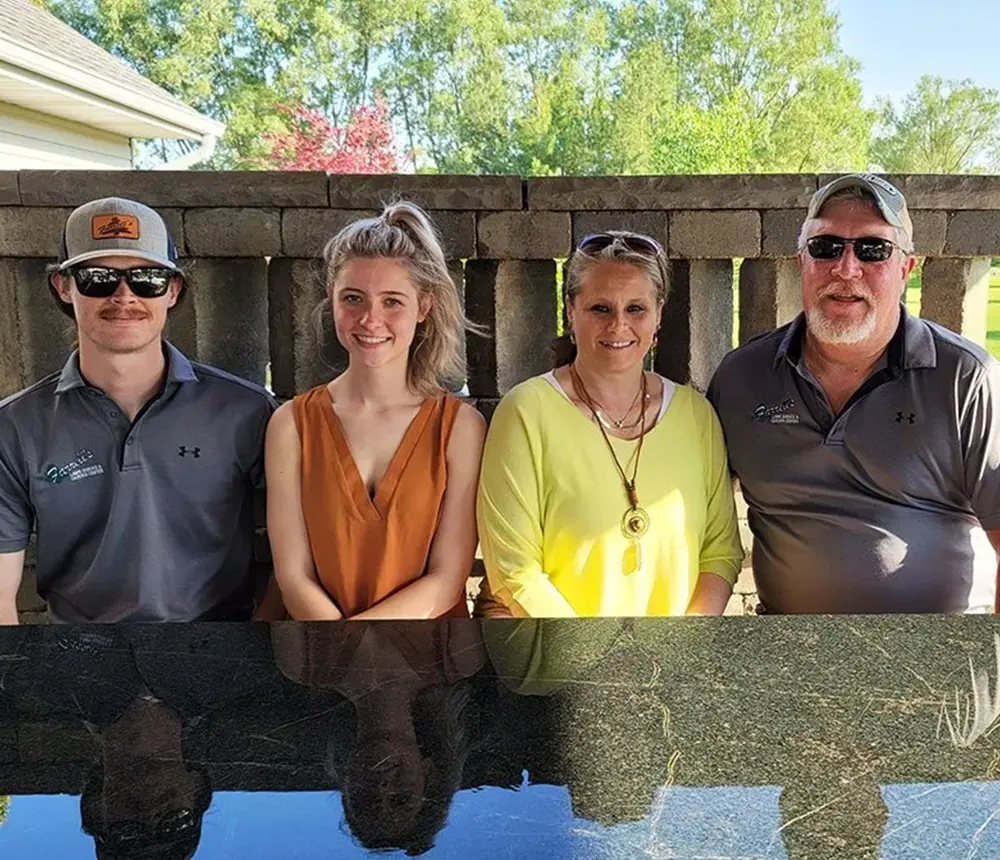 Scroll down to discover our core values and how they're an asset to you
45 Years Of Serving Our Community Through Landscaping
In 1977, Tony Farrell laid the foundation of Farrell's Lawn & Garden Center with a humble lawn mowing service. Over the years, our company has flourished into a remarkable Garden Center and gift shop, a full-season maintenance service, and complete design-build landscaping services across northwest Ohio.
Today, Tony and Wendy's children continue Farrell's legacy. Clayton has been designing landscapes since his middle school days and leads the team in fulfilling their mission of transforming your landscape. Kaytlin runs the Garden Center, where you can find everything that you need for your garden.
From creating expansive patios to installing and maintaining vibrant lawns, we're proud that our work positively impacts your life.
Reliable Landscaping Expertise At Your Service
warranty on plant material
FLG is by far a state of the art company when it comes to your new outdoor living space, small landscape job or whatever you have in mind. They will do it and do it right. Very communicative and nice people to work with.
Meet Your Dedicated Landscapers
Our values guide our actions, shape our relationships, and define who we are as a company. We believe in:
Passion: We put a lot of thought and planning into every project and we're proud to overdeliver anywhere we can. Whether it's after hours or over the weekend, we go above and beyond to make things perfect for you.
Attention to Detail: We pay close attention to the little things that make a big difference. From the first call to the final installation, we focus on understanding your needs and desires to create a space that exceeds your expectations. Our crew is meticulous in their work, ensuring everything is straight, aligned, and cut to perfection.

Trust is the foundation of our team. We value openness, honesty, and teamwork, and that made homeowners trust us with their homes for over 40 years. With a team of 30+ members, we aim to complete your project on time and with the highest level of quality.
We constantly strive to be at the forefront of innovation in landscape design and installation. This help us complete jobs faster and cost-effectively, and our 3D technology allows you to visualize the final outcome and make changes before we get to work.
With taking pride in our work comes taking ownership for both our successes and mistakes. Our goal is to deliver the best possible results to our customers, and if something goes wrong, we make it right.
Experience the Farrell Difference
When you choose Farrell's, you get more than a paver or lawn installer. Enjoy a comprehensive range of licensed services to transform your outdoor space entirely, from concept to design and installation, without you having to hire multiple contractors.
My dad's backyard was overgrown and a real mess. They did an excellent job cleaning it up and making it look fantastic!
Responsive and great customer service, would definitely recommend them. I now have a weekly service set up.
My wife and I are very happy with the service which we had performed by Farrell's. Clayton is very personable and understanding. Juan and Orlando did an amazing job with the patio.
In February, we had a water line break in our front yard and we had a mound of clay for a couple months. Now, the mound has been leveled and hydro seeded. We are looking forward to a nice lawn.
Clayton was GREAT to work with, very professional and friendly. He listened to what we wanted and designed the perfect patio area.
He consulted us with any and all idea proposals and price changes. Always on time and stayed in touch thru email or text as questions/concerts arose.
We can't wait for the work to be completed. We will update our review after the work is complete and rate the construction crew.
Partner With A Landscaping Team That's Got Your Back
Delivering Excellence Since 1976