Are you struggling to get the most out of your outdoor living space? Outdoor kitchens, according to a report by the American Home Furnishing Alliance, have surged in popularity over recent years.
This article aims to equip you with 10 features that can turn your outdoor kitchen into an efficient entertainment haven, boosting its functionality significantly.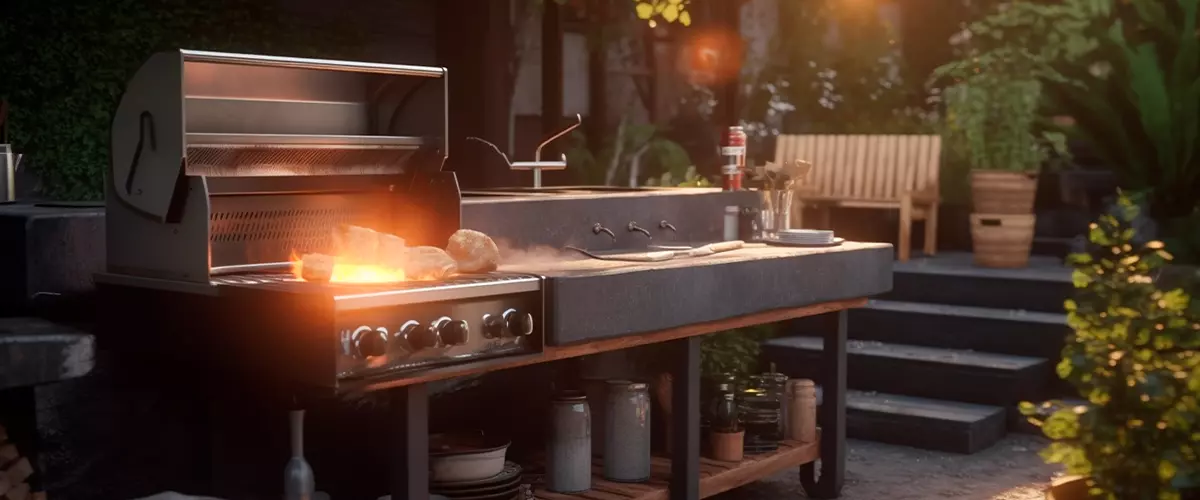 Layout and Design Of Your Outdoor Kitchen
Create a functional outdoor kitchen by considering the layout and design, including elements like the work triangle, different zones for cooking and preparation, designated stations for specific tasks, and adding a pergola for shade and ambiance.
Understanding the concept of a work triangle can significantly enhance your outdoor kitchen's functionality. This principle, probably used in your indoor kitchen as well, suggests that the cook's three main work stations – grilling/cooking area, sink and refrigerator- should form a triangle.
Positioned this way, they provide optimum efficiency which allows for easy movement and reduces the strain when standing at one station for too long. Convenience is key in any cooking space, but even more so outdoors where elements might interfere with your meal preparation time.
An efficiently designed work triangle brings ease to your outdoor cooking experience while adding to your backyard aesthetics.
Organizing your outdoor kitchen into functional zones is a key design element that can drastically improve efficiency. Consider establishing separate zones for prep work, cooking, serving, and clean-up to streamline workflow.
Drawing inspiration from small outdoor kitchen designs can be particularly useful when space is limited. For instance, a well-planned compact layout may include dedicated areas for grilling (equipped with an outdoor grill or smoker), food preparation (complete with countertops, outdoor kitchen island, an outdoor bar, and prep space), dining and relaxing.
A patio designed with specific garden kitchen zones prevents traffic jams around the major appliances like your barbecue area or grilling station. It also helps in maintaining cleanliness by keeping raw ingredients away from finished meals.
Creating uniquely designated stations in your outdoor kitchen boosts both efficiency and functionality. This approach allows you to divide your cooking spaces into areas of specific utility, which can streamline your outdoor meal preparation process. Here are the key stations you might want to incorporate:
This space will house essential elements like your grill or smoker, a stovetop or oven if available, and possibly a brick pizza oven for added culinary flair. Key considerations for this station include ventilation, heat resistance surfaces, and safety measures.
A functional outdoor kitchen needs ample counter space for food preparation. The prep station should be near the grill and equipped with cutting boards, knife storage, and perhaps an under-counter fridge for quick access to ingredients.
Located near the dining area, this station would comprise a counter or bar top where finished dishes are kept ready for guests to serve themselves.
Includes an outdoor kitchen sink and maybe even a dishwasher. This is crucial as it aids in efficient clean up after meals.
Cabinets and shelves provide valuable storage space for plates, glassware, utensils, grilling tools, spices, condiments and other necessary items in close proximity.
Whether you're serving lemonade on hot days or cocktails during evening gatherings, dedicated beverage stations come in handy with refrigeration options and bar tools storage.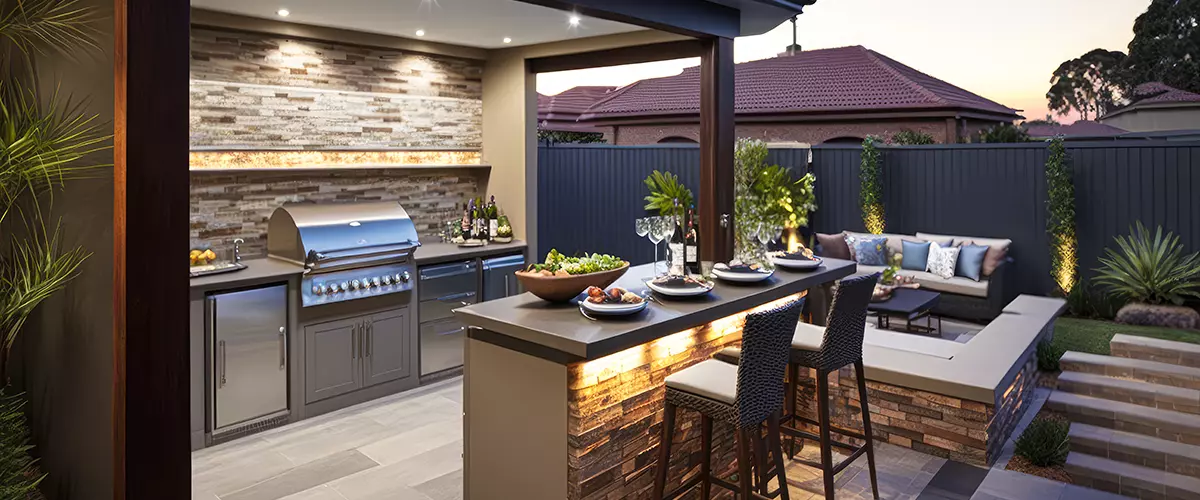 A pergola is a versatile and stylish addition to any outdoor kitchen space. Not only does it provide shade on those scorching summer days, but it also adds a touch of elegance and charm to your backyard.
With its open structure, a pergola allows you to enjoy the natural light while still providing some protection from the elements. It creates an inviting atmosphere for entertaining guests or simply relaxing with family and friends.
Whether you choose a wooden or metal design, incorporating a pergola into your outdoor kitchen will enhance the overall aesthetic appeal and make your space feel like a true oasis.
Cooking Appliances For Your Outdoor Kitchen
In your outdoor kitchen, the right appliances can make all the difference. From grills and smokers to refrigerators and sinks, these essential features will take your cooking game to the next level.
One of the most essential features of any outdoor kitchen is a grill, a smoker, or even a pizza oven. This versatile cooking appliance allows you to enjoy the flavors and experience of outdoor cooking right in your backyard.
With a variety of sizes and styles available, you can find the perfect grill or smoker to suit your needs and elevate your outdoor cooking game to new heights. You can also get an outdoor fireplace in your new space.
One essential feature to consider for your outdoor kitchen is a refrigerator. Having a refrigerator in your outdoor space allows you to keep food and beverages cool and easily accessible while entertaining guests or spending time outside.
This not only adds convenience but also ensures that everything you need is within reach, eliminating the need to constantly go back inside.
One essential feature in any outdoor kitchen is a sink. Having a sink allows you to easily clean and prep your food without having to go back and forth inside the house. It provides convenience and efficiency, making your outdoor cooking experience much smoother.
Whether you're rinsing vegetables or washing utensils, a sink is a practical addition to your outdoor space. Choose one with durable construction that can withstand the elements.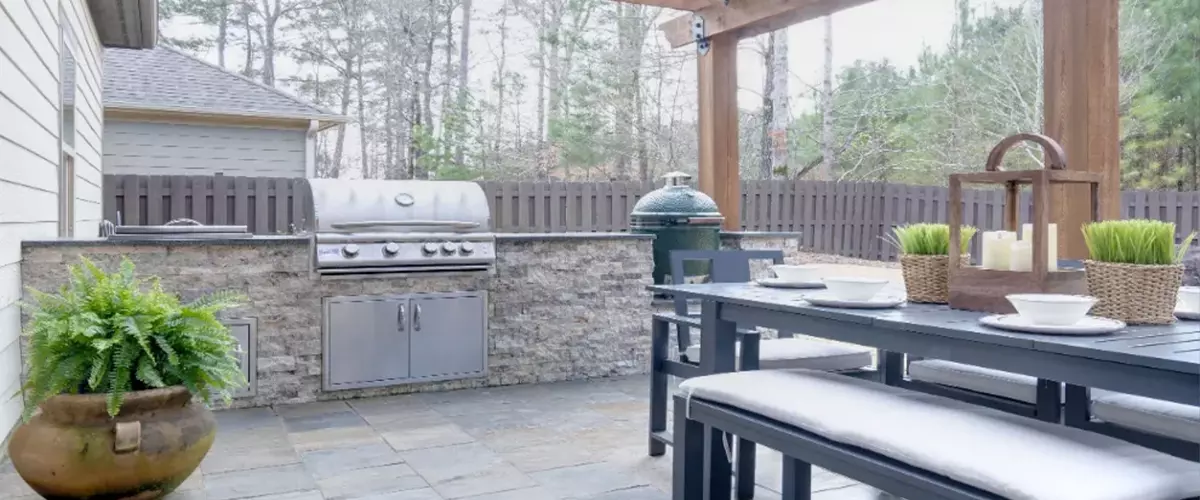 Just like your indoor kitchen, you'll want to take advantage of cabinets and shelves, as well as ample countertop space to keep your outdoor kitchen organized and clutter-free.
Cabinets and shelves are essential features of any outdoor kitchen, providing much-needed storage space for all your cooking essentials. With a variety of options available, including weather-resistant materials like stainless steel or polymer, you can choose cabinets and shelves that not only look great but also withstand the elements.
Countertops and Prep Space
Having ample countertop and prep space in your outdoor kitchen is essential for a smooth cooking experience. A generously sized workspace allows you to comfortably prepare ingredients, chop vegetables, and assemble dishes without feeling cramped or limited.
Opt for durable materials like granite, stainless steel, or concrete that can withstand the elements while providing a stylish and functional surface. Consider adding integrated cutting boards or designated areas for food prep to maximize efficiency while keeping everything organized.
Outdoor furniture is a crucial element in creating a functional and stylish outdoor kitchen. By incorporating the right pieces, you can enhance both the comfort and aesthetics of your space.
Look for durable, weather-resistant materials such as teak or aluminum that can withstand the elements. Choose seating options like lounge chairs, dining sets, or bar stools to accommodate different types of gatherings and get a beautiful outdoor entertaining experience.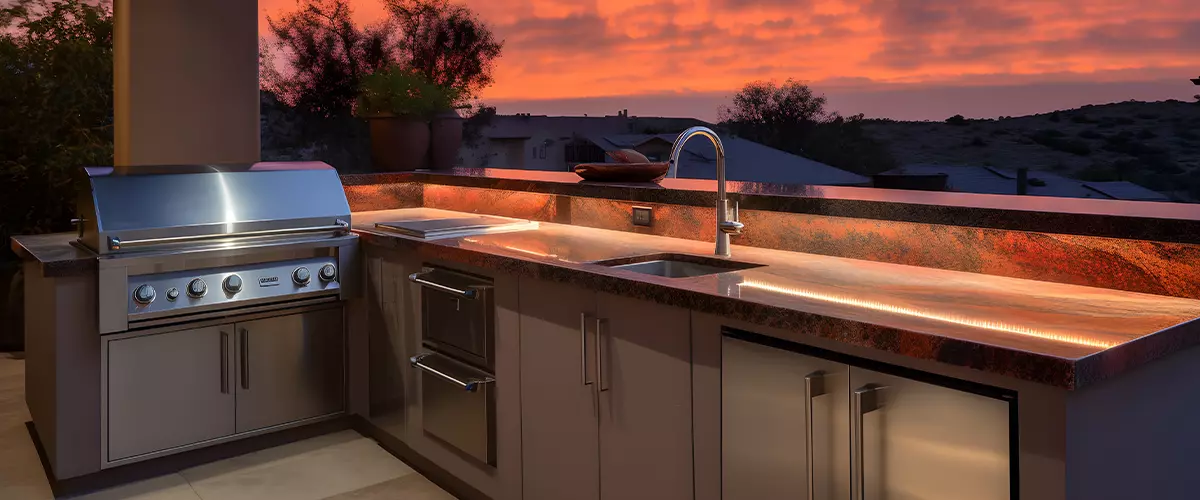 Incorporating these 10 outdoor kitchen features will not only enhance the functionality of your space but also elevate your overall outdoor experience.
From a well-designed layout and efficient appliances to ample storage and versatile accessories, a thoughtfully planned outdoor kitchen can transform your backyard into an ultimate entertainment hub.
Here at Farrell's Lawn And Gardem, we're building some of the most popular outdoor kitchens in Bryan, Archbold, Defiance, and surrounding areas in OH. We're reliable pros that take your project a step further!
Give us a ring at (419) 636-5429 and let's discuss some of your outdoor kitchen ideas.
Frequently Asked Questions